As the 2013 Sundance Film Festival draws to a close, realscreen offers a comprehensive round-up of this year's deal-laden event, with all the key documentary news from the past 11 days.
If this year's Academy Award nominations reinforced anything, it was that Sundance remains the preeminent festival at which to launch a feature documentary.
Eleven of Oscar's 15 shortlisted Best Feature docs played Park City while en route to Hollywood's biggest night, including all five eventual nominees.
As such, there's a good chance that the next Searching for Sugar Man, 5 Broken Cameras, How to Survive a Plague or The Imposter could emerge from the 40 or so docs lucky enough to have secured premiere slots at the Utah festival.
Certainly buyers were taking no chances. This year's Sundance proved to be a mammoth deals-fest, with no less than 14 docs finding buyers over the course of the festival. So far.
In a profile published just before Sundance kicked off, realscreen marked out Submarine Entertainment co-founders Josh and Dan Braun as dealmakers to watch during this year's Sundance, and indeed, they were: the Brauns were involved in brokering four of the biggest deals at Park City, for hot docs The Summit, Twenty Feet from Stardom, Blackfish and Dirty Wars.
Kicking things off in earnest before Sundance started, Ro*co Films announced it had picked up international distribution rights for After Tiller and American Promise, while LA-based Gravitas Ventures acquired worldwide VoD rights to Dave Grohl's documentary Sound City.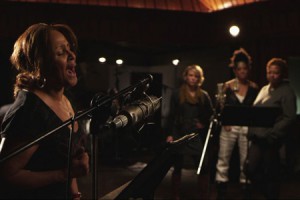 The first major deal of the festival then came on its first full day, with RADiUS-TWC acquiring North American rights to Morgan Neville's Twenty Feet from Stardom (pictured above), the festival's opening day U.S. doc, which focuses on the world of back-up singers.
RADiUS will release the film theatrically in the U.S. this year, with a target date of late summer, and Elle Driver/Wild Bunch went on to pick up all foreign rights to the film.
In an exclusive interview with realscreen, Neville discussed the origins of the film. "What shocked me was that nobody had done anything on back-up singers," he explained. "There are no books, websites, nothing. It was this invisible art and all it took was opening a door into the back-up world and suddenly we were immersed in these people's lives."
On the back of the Stardom deal, doc sales began to flow in earnest. Icarus Films acquired all North American distribution rights to Tinatin Gurchiani's The Machine Which Makes Everything Disappear, while Alison Ellwood's History of the Eagles and Nick Ryan's The Summit also found buyers, with U.S. net Showtime acquiring exclusive broadcast rights for the former, and distributor Sundance Selects snagging North American rights for the latter.
Elsewhere, HBO Documentary Films acquired U.S. TV rights to Pussy Riot – A Punk Prayer, while Sundance Selects nabbed North American rights to Dirty Wars. Both films would go on to win Sundance awards.
And Mundial – an international sales joint venture from IM Global and Canana – acquired international rights to the opening day World Cinema Documentary competition title Who Is Dayani Cristal?, while K5 International picked up international sales rights for Shaul Schwarz's Mexican drug war doc Narco Cultura.
RADiUS-TWC then made a second doc purchase at the fest, snagging all English-speaking rights to Inequality for All.
Sundance 2013 also marked the debut of CNN Films as a notable docs buyer. The feature docs arm of the international news network first used the fest to announce that it had picked up the forthcoming doc on U.S. film critic Roger Ebert, directed by Steve James (pictured below, left) and backed by Martin Scorsese (right).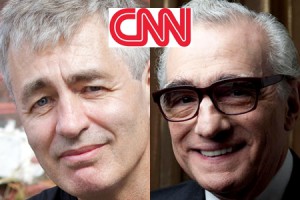 The company then went on to make its first proper acquisition of the festival, partnering with Magnolia Pictures to acquire the U.S. rights to director Gabriela Cowperthwaite's whale-focused doc Blackfish.
Magnolia plans a summer theatrical release for the documentary, followed by a U.S. broadcast premiere on CNN later this year.
Finally, on the penultimate day of the festival, RADiUS-TWC acquired North American and French rights to Zachary Heinzerling's Cutie and the Boxer, shortly after it picked up the U.S. Documentary Directing Award.
The flurry of deals far exceeded the expectations of most trade publications, with The Hollywood Reporter trumpeting that "documentary prices are soaring."
The trade reported that a low seven figures "became the de rigueur price" for docs at the fest, with at least four titles – Pussy Riot, The Summit, Stardom and Blackfish – selling for more than US$1 million. By contrast, only one doc sold for more than $1 million during last year's fest.
One doc that hasn't yet penned a deal is the festival's big sleeper hit, Blood Brother (pictured below), which Preferred Content and WME are selling.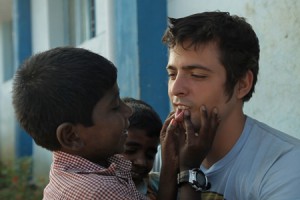 The doc, notably absent from most pre-festival tip-lists, managed the impressive feat of scooping the two biggest prizes in Park City, taking both the U.S. Documentary Grand Jury Prize and U.S. Documentary Audience Award.
Steve Hoover's film looks at Rocky Anna, a man who decides to leave his comfortable life in America to live at an orphanage in India with children infected with HIV.
Talking to PBS's 'POV Blog' as the festival kicked off, senior programmer David Courier said Blood Brother was one of the surprises of this year's crop of submissions – it arrived without fanfare, and he had heard nothing of the doc before receiving the entry submission.
"If anyone doubts that their film could ever get into Sundance without any connections, they should think again," said Courier. "This film just rose up among the thousands of submissions. The cream really does rise to the top."
Of the other award-winners, two films were given the U.S. Documentary Special Jury Award: Jacob Kornbluth's Inequality for All, and Joe Brewster and Michèle Stephenson's American Promise.
On the international front meanwhile, the Audience Award for World Cinema Documentary went to Jehane Noujaim's Egypt-focused protest doc The Square (Al Midan); while the World Cinema Grand Jury Prize for Documentary went to Kalyanee Mam's doc A River Changes Course.
(The full list of award-winners is here)
In addition to profiling Stardom director Neville, realscreen spoke with a number of other filmmakers who had documentaries at the festival.
One theme running through this year's Sundance seemed to be a recognition of the unsung heroes of the music industry. In addition to the back-up singers of Stardom, Dave Grohl's Sound City, and Greg 'Freddy' Camalier's Muscle Shoals also introduced audiences to the engineers, producers and session players that helped create some of the most popular American music of the past 50 years.
First-time director Camalier told realscreen an early goal for his doc was to have it "feel cinematic."
"Having watched a lot of music documentaries, I didn't want to follow the more widely trodden path of how one might tell that story," he explained. "I also wanted it to feel cinematic – that was an early goal. Then I wanted to tell more than just the music story, but it takes a little time for the storylines to emerge that are going to be compelling."
Elsewhere, The September Issue director RJ Cutler (pictured below) opened up about his controversial latest doc, The World According to Dick Cheney.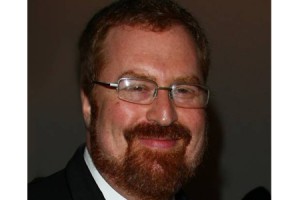 The Showtime-backed film drew some criticism from critics for a perceived softball approach to questioning the former U.S. vice president; however, Cutler defended his interview style to realscreen, saying: "It's not my role in the film to be one of [Cheney's] critics.
"It wasn't my intention in interviewing him to put him on trial… If you just get into a Fox News versus MSNBC debate, it gets very uninteresting very quickly. Here is an opportunity for us to really come to understand this man who is arguably the single most powerful and influential non-presidential figure this country has ever known, and is ever likely to know. And that's saying a lot."
Also in conversation was Oscar-winning director Roger Ross Williams, at Park City with his doc God Loves Uganda.
The film explores the connections between American evangelical churches and politicians in the sub-Saharan African country of Uganda who advocate sexual immorality laws, including a controversial bill that would make homosexuality punishable by death.
Talking to realscreen, Williams explained his decision to make a doc focusing on the missionaries, rather than LGBT activists fighting against homophobia in the region.
"As someone who has come from a religious background, I'm much more interested in the people who want to kill me," he said. "I'm much more interested in understanding the other side and I'm much more interested in being in a place where I'm uncomfortable with my subjects.
"In my own mind, I've demonized these people as evil people, but as I got to know them I knew I was going to grow and learn something – and I did. I became friends with both the anti-gay pastors and the American evangelicals."
On the short documentary front, the festival announced its award-winners on Wednesday (January 23), with Polish director Grzegorz Zariczny's doc The Whistle taking the Short Film Grand Jury Prize, and American director Michael Almereyd's Skinningrove winning the Short Film Jury Award for non-fiction.
Park City also saw The New York Times holding a special screening of its 'Op-Docs' series. Jason Spingarn-Koff (pictured below), the curator of the newspaper's short documentaries initiative, spoke to realscreen about the program.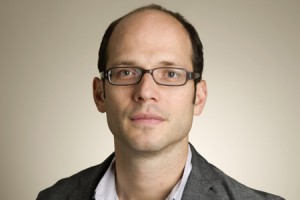 "We're still exploring the limits of what Op-Docs can be in terms of subject matter and style," he explained. "We don't do lifts from films. We don't do trailers. It's the same mix we do on the print side in Op-Ed in terms of cold submissions, commissions and soliciting work from people we know or hear about."
Finally, the films. As always, there was the question of which docs 'broke out' at Sundance. Obviously, with reviews being subjective, it can be difficult to say for sure – beyond the awards and sales indicators – which docs were this year's 'winners.'
While Blood Brother, post-awards ceremony, looks to be an obvious hit, bear in mind that a film like Sebastian Junger's documentary on friend and photographer Tim Hetherington, Which Way is the Frontline from Here?, arrived at the festival already sold (to HBO) and playing out of competition.
That film won raves from many who saw it, as did fellow HBO docs The Crash Reel, from Lucy Walker, and the aforementioned Pussy Riot. Whale doc Blackfish also got high marks from critics and Tweeters alike, as did The Summit, Cutie and the Boxer and audience award-winning Egypt doc The Square.
Are the Oscar nominees of tomorrow buried among that bunch? Time will tell.