As last week's Realscreen Summit fades into memory, we offer a definitive round up on all the key news that came out of its biggest edition to date.
If you were one of the more than 2,200 people packed into the Renaissance DC Washington Hotel last week, you can be forgiven if the odd news story passed you by.
Amid the milieu of panels, pitching, meetings and cocktails, the biggest gathering of Realscreen delegates to date took place, over four sold-out, jam-packed days in the American capital.
And while realscreen will shortly be making available transcripts from all of the panel sessions for those too knee-deep in networking to catch some of the A-list commissioners on hand, allow us in the meantime to recap the highlights of the week that was.
In one of the most popular sessions of the 2013 Summit, and what Spike TV exec VP of original series Sharon Levy called the "biggest and coolest all female panel," the producers behind Duck Dynasty, Killer Karaoke and Here Comes Honey Boo Boo discussed the challenges of producing comedic reality.
The session saw Lauren Lexton, Authentic Entertainment's co-founder and executive producer of Honey Boo Boo, telling attendees that the series benefited at launch from a built-in fanbase. "For Honey Boo Boo, it would've died in regular focus groups, but it had been focus grouped on YouTube," she said.
Elsewhere, the producers behind some of the most popular Real Housewives series, along with Bravo's Shari Levine, shared the formula that has led to a lasting franchise.
Levine, the network's senior VP of current productions, revealed the recipe for success for Housewives, which includes five to six over-the-top, unapologetic women, with fabulous homes, families and a cute pet.
She also addressed the Real Housewives version set in DC, which only lasted one season. "Although it was an interesting first season, there was a sense of no place to go," she said, adding: "Their numbers were pretty good, but it wasn't a buzzy show."
Another hot session was the 'Amping Up Unscripted' panel, which featured input from a number of new factual players. In the session, Belisa Balaban, Participant's senior VP of unscripted programming, explained how Participant's as-yet-unnamed TV network will launch entirely with unscripted programming, before transitioning into airing some scripted.
Also talking on the panel, Vinnie Malhotra, senior VP of development and acquisitions at CNN Worldwide, stated that the content he's looking for at CNN, as it embarks upon adding unscripted fare to its slate, goes "beyond the front page," and will include sports, arts, style and business.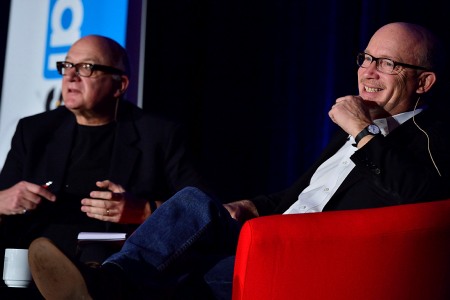 Meanwhile, in a wide-ranging Tuesday morning keynote chat with BBC 'Storyville' editor Nick Fraser (pictured above, left), acclaimed filmmaker Alex Gibney (above, right) revealed that he is working "furiously" to re-cut and re-work his long-in-the-making doc on Lance Armstrong, following the cyclist's recent interview with talk show host Oprah Winfrey.
"Now we're furiously, not only re-cutting, but also interviewing other people," the Oscar-winner told Summit attendees. "I think it'll be interesting – we have stuff in there which nobody else has."
He went on to say that after the International Cycling Union stripped the seven-time Tour de France winner of his titles, it was "probably a lucky thing that we didn't wrap up too quickly" and finish the film at that point.
Finally, the Summit's closing session focused on one of the most topical and controversial issues facing reality TV today.
In "The 'Constructed' Conundrum," panelists from LMNO, Collins Avenue, All3Media, Nat Geo, CMT and Style Network all discussed the issue of what is fake and what is real in reality television.
In a conversation moderated by NHNZ executive producer Phil Fairclough, the execs recounted the stories behind memorable moments from reality series such as Dance Moms, Golden Sisters, Diggers, Jerseylicious and The Only Way Is Essex, and discussed the various ways in which producers can potentially impact the on-screen action.
In the end, the panel was split on the necessity of having the 'constructed' conversation in the first place. Some felt that the issue was "over-thought," while others said it needs to be discussed to ensure producers do not go too far down the road and spark a backlash that could impact everyone.
"It is an issue," said LMNO Productions president and CEO Eric Schotz. "There are different kinds of reality. Some of it is highly constructed and some of it is documentary. Reality is the only genre where we throw everything into the same pot."
The Summit's closing day also drew large crowds as a stable of boxers took the stage (pictured below) – and the championship title – at this year's "So You Think You Can Pitch?" competition.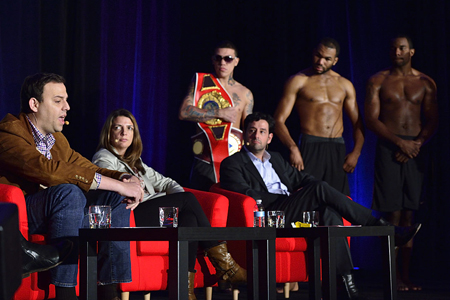 Dafna Yachin of Philadelphia-based production company Lunchbox Communications wowed judges with her pitch for The Stable, a docuseries about a group of young boxers who must overcome various personal and economic obstacles to realize their dreams of athletic (and television) glory.
On the deals and personnel front, the 2013 Summit saw two major announcements coming from Core Media Group, the NYC-headquartered conglom that owns the Idol and So You Think You Can Dance franchises.
First, the company announced that would be launching a London outpost, headed by former ITV exec Simon Shaps, who was attending the Summit in DC. Shaps will be charged with forming his own in-house team to create formats "to be sold across the global marketplace, like the UK, and be brought back to the U.S."
On the heels of this, Core also announced a production partnership with Sean Hayes and Todd Milliner's Hazy Mills Productions to develop "scripted and unscripted shows, along with original digital content."
Shaps' move was one of several unveiled at the Summit. News also broke in DC that Temple Williams, the former general manager of 51 Minds Entertainment, would be stepping into the role of chief operating officer at reality and scripted television prodco DiGa. Williams will run production, operations, administration strategy and new business development.
In addition, Burbank-based Original Productions made some changes, with Sarah Whalen (pictured below, left) promoted to senior VP of programming and John Gray (below, right) upped to VP of programming.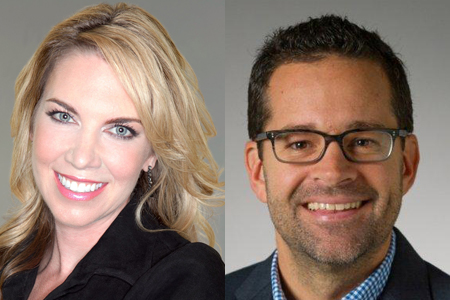 Elsewhere on the deals front, Discovery Networks International (DNI) commissioned Zig Zag and Barcroft Productions to make Body Bizarre, a six-part series that travels the globe in search of individuals living with mysterious medical anomalies.
"Body Bizarre is a unique show," said Zig Zag CEO Danny Fenton. "It's the product of a very positive collaboration with Barcroft Productions and we're delighted to be announcing the show's acquisition 12 months on from launching the show at last year's Realscreen [Summit]."
DNI also renewed five of the series that emerged from its production and development unit in 2011.
In addition, British distributor DRG picked up a doc series about Air Force base Brize Norton and Aberdeen Harbour, and a documentary about a Celtic gold cauldron with links to Adolf Hitler.
The titles are part of the company's continued focus on building a catalog of heritage documentaries, science, history, reality and lifestyle programming. Ali Hill, DRG's head of acquisitions for factual and factual entertainment, told realscreen: "We're looking for strong series ideas that can be built into brands and headline-grabbing one-offs, particularly accessible science and history."
With so many delegates packed into the Summit for the Renaissance's swansong (the conference moves to the DC Hilton hotel in 2014), it should come as little surprise that this year's conference was the most Tweeted to date. In case you missed it, check out a round-up of some of the wittiest 140-character missives here.
Realscreen next heads to Santa Monica, for its annual summer event, Realscreen West, taking place June 5/6 at the Fairmont Miramar. Registration opens here soon.
With files from Kelly Anderson and Kevin Ritchie. Photo: Rahoul Ghose