Ahead of the 85th Academy Awards taking place this Sunday (February 24), realscreen's Adam Benzine offers his take on this year's Best Documentary Feature category, in which Searching for Sugar Man (pictured) looks almost certain to triumph.
Barring an upset of monumental proportions, Malik Bendjelloul's Searching for Sugar Man will take home the Academy Award for Best Documentary Feature on Sunday night.
With current odds of 1/25, the doc is by far the frontrunner, well ahead of The Gatekeepers (14/1), The Invisible War (20/1), How to Survive a Plague (20/1) and 5 Broken Cameras (40/1).
The film, which explores the fate of 1970s singer-songwriter Rodriguez, looks set to follow a similar route to victory taken by previous Oscar winners Man on Wire and The Cove, which both cleaned up on the festival circuit before taking the Academy Award.
While Sugar Man hasn't won quite as many prizes as those two films did in their respective years, its haul is still considerable: Two Sundance awards, two IDFA awards and two IDA prizes, along with honors from BAFTA, the DGA, the PGA, the Critics' Choice Awards, Cinema Eye Honors and the NBR, as well as other festivals and critic circles.
On a 15-strong Oscar shortlist that featured some very heavy topics (sexual abuse, climate change, the Israel/Palestine conflict, bullying, AIDS), Sugar Man stood out as an isolated, feel-good breath of fresh air. Major Hollywood studio support from Sony Pictures Classics likely helped its cause, but it was the film's message of triumphing against the odds that undoubtedly won over audiences globally.
One of the interesting things about Sugar Man's ascent is that the film isn't a typical 'issue doc,' per se. The film does tangentially touch on two major issues – apartheid, and poverty and unemployment in the U.S. today – but they are not the film's central theme.
Winners of the Documentary Feature Oscar tend to tackle a major issue. Consider: The Cove (animal slaughter), Inside Job (the economy), Bowling for Columbine (gun crime), Taxi to the Dark Side (the Iraq war), An Inconvenient Truth (climate change), etc.
One notable exception was last year's Oscar-winning feature doc Undefeated. Although that film was somewhat focused on race and class in sport, it was – like Sugar Man – primarily a redemption story, focusing on the overcoming of difficult circumstance.
Between these two films – and recent nominees such as Exit through the Gift Shop – perhaps there is an indication that Academy members are shifting or softening tone with the kind of documentaries they appreciate. Contrast these films with the six winners from 1995 to 2000, four of which were Holocaust documentaries.
If one film could overcome Sugar Man on Oscar night, it would likely be Dror Moreh's masterpiece The Gatekeepers (pictured below), which – in this writer's opinion – is one of the finest documentaries of the past five years.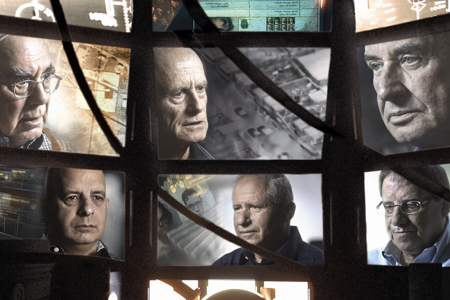 The film, which earlier this month picked up the Cinema for Peace prize at the Berlin International Film Festival, sees six former heads of Israel's Shin Bet security service discussing the moral dilemmas they faced during their tenures in frank and open fashion.
Moreh's doc has enjoyed something of a late surge in the Oscar race, with at least 10 prominent U.S. film critics, including two from The New York Times, putting it on their best of 2012 lists. And while its awards haul falls far behind Sugar Man's, it has notable prizes from the National Society of Film Critics, the LA Film Critics Association and New York Film Critics Circle Awards.
Ultimately, Sugar Man's likely victory is all the more impressive given the outstanding pedigree of documentary that emerged in 2012. I was fortunate enough to see 14 of the 15 Oscar-shortlisted feature docs last year, and many of them – The Gatekeepers, Mea Maxima Culpa, The Imposter, 5 Broken Cameras, Ethel, The Invisible War – would be worthy and expected winners on any other given year.
One thing worth noting from this year's Oscar shortlist is the continued importance of the Sundance Film Festival for docs seeking awards glory. Ten of this year's 15 shortlisted docs played at the festival in January 2012, and The Gatekeepers screened there last month.
Only four docs missed out on Park City: Bully (straight to theatrical), Mea Maxima Culpa (TIFF world premiere), This is Not a Film (Cannes) and The Waiting Room (True/False), and none of those films made it to the final round of nominations.
As such, there's a good chance the many of next year's Oscar nominees will have already had their world premiere in Utah.
Finally, a note on the more unpredictable Best Documentary Short category. Kief Davidson and Cori Shepherd Stern's Open Heart – which follows eight Rwandan children with serious heart disease as they travel to Sudan for treatment – looks to be the favorite here, with pack-leading odds at 4/11.
On its heels is Sean Fine and Andrea Nix Fine's Innocente, at 10/3, with Cynthia Wade and Robin Honan's Mondays at Racine (9/1), Sari Gilman and Jedd Wider's Kings Point (16/1), and Jon Alpert and Matthew O'Neill's Redemption (20/1) following in tow.