Ahead of TNT's premiere of Boston's Finest tonight (February 27), Jarrett Creative's Julie Insogna-Jarrett (pictured centre) and Seth Jarrett (right) tell realscreen how the show started with co-exec producer Donnie Wahlberg (left) phoning the mayor of Boston, and why this is not your average unscripted cop show.
Last November, Julie Insogna-Jarrett and Seth Jarrett, co-owners and exec producers at New York-based Jarrett Creative, along with frequent producing partner and actor Donnie Wahlberg, had a pitch meeting at TNT.
They were aware that the network was moving into unscripted and had pitched Boston Metal (which eventually sold to National Geographic Channel). "They said, 'We love the Boston space, so if you continue to develop in that world, come back to us,'" Insogna-Jarrett recalls.
"We'd been developing a lot of things with Donnie, and the Boston police department just kept coming up," adds Jarrett. "When we first met with [TNT] about unscripted, they were very clear in what they were looking for. They were looking for big shows that could really hold up against their scripted content, and there's nothing bigger than a police department in terms of amazing stories and characters."
In order to get the access to the Boston police department, Wahlberg, who is originally from Boston, called the city's mayor, Thomas Menino, to tell him of the intentions for the show. After Menino agreed, a sizzle featuring access to the Boston police department was made for TNT, and Boston's Finest (pictured below) was given the green light.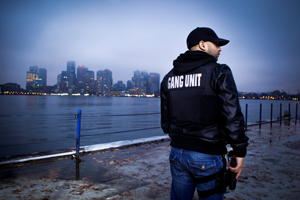 "We're one of, if not the first, shows about police officers in the unscripted space to really go home with the officers," says Jarrett. "It gives you so much more of a complete picture of who these men and women are. It's not just 'here's our assignment today, we're going to catch this person,' and at the end they catch the person. It's really how their work life and home life intertwine."
"It's not about the victims or the criminals, it's about the cops," adds Insogna-Jarrett.
Boston's Finest is the product of six camera crews embedded with three units in the police department over the course of four months. The crew filmed in the police cars with the officers as they performed their duties, and also went home with them to capture their time with spouses and children.
"I would say at the end of the day we probably filmed close to 25,000 hours of footage. It's more than we've ever shot on any show," exlpains Jarrett.
As for their producing partner Wahlberg, Jarrett says he brought much to the table, from his insider knowledge of Boston to his comprehension of the law enforcement, gained from working alongside real officers on the CBS scripted series Blue Bloods.
The production company, meanwhile, has its slate full with plenty more unscripted, having just sold as-yet-undisclosed shows to TLC and A&E, and by this summer will have 100 episodes of Celebrity Ghost Stories wrapped for Bio.