When realscreen calls Dan Tapster, the UK-based executive producer for Beyond Productions of the massive factual hit MythBusters, to discuss the show's phenomenal 10-year run, he's amiable and chatty. But he's aware that the day's pace will accelerate in a couple of hours.
"This time of day is always the calm before the storm – before San Francisco wakes up," he says with a laugh, referring to the U.S. MythBusters headquarters, which includes its stars – Adam Savage, Jamie Hyneman and fellow co-hosts Kari Byron, Grant Imahara and Tory Belleci – and a production team of 30.
It's a storm that's raged for a decade, since the show's debut on Discovery Channel in 2003. But while it's been an occasionally wild ride, it's also been an incredibly rewarding, and entertaining one.
Building the Myth
The busting began when Peter Rees, then a producer and writer with Sydney-based Beyond, originated the idea for the series and developed it with input from others at the prodco before taking it to the U.S. cable net, which bought a three-hour order.
From there, it was a matter of finding the right cast – someone with the know-how and capability to test the veracity of the numerous urban myths and rampant rumors that would be either confirmed or disproved.
Enter American special effects expert Jamie Hyneman. Coming to the special effects world after growing tired of past jobs as a dive master and a charter boat company operator, Hyneman took his natural inclination towards working with his hands and got his foot in the door as an assistant at an effects shop in New York. He subsequently moved to California and became part of the booming effects industry there, working on several movies, television shows and commercials and eventually opening his own shop, M5 Industries (formerly the model shop for Colossal Pictures).
Rees had previous contact with Hyneman via the science series Beyond 2000, which featured a segment on robot combat competitions. Hyneman was interviewed for the program as one of his creations, Blendo, was gaining notoriety on the Robot Wars circuit.
"It was the first of the 'spinners,'" says Hyneman of Blendo. "The exterior shell weighed around 150 pounds and spun at about 500 RPM, which meant the blades were traveling at about 80 miles an hour or so. We'd drive the thing out and the opponent would come out, explode, and then we'd be asked to leave because of all the shrapnel."
Hyneman was asked to submit a casting tape, and as luck would have it, a special effects colleague, Adam Savage, was getting his hands dirty with video editing software. Savage, who had also worked for assorted effects houses in New York City and California over the course of his career, had worked in Hyneman's shop ("That was the first time I worked in an effects shop with an atmosphere that I really liked," Savage recalls) and the two remained in contact after Savage went on to an R&D post at a toy company. Hyneman told Savage about the TV opportunity, and a new dynamic duo was born.
"I went into Jamie's shop and filmed a couple of hours which we cut into a 14-minute demo reel, and they came back to us about three weeks later," recalls Savage, who says he probably still has that reel stashed somewhere. "And we've been filming ever since."
"I make no bones about it – I'm pretty much who I seem to be on the show," Hyneman admits. "I'm somewhat taciturn and definitely have never sought the spotlight, but I thought I could be part of a 'yin and yang' type thing, and that Adam would fit the bill as someone more animated than I was. And he was also a fast and versatile builder."
The first three episodes contained nine myths, according to Savage, with tests ranging from exploding toilets and radio-receiving tooth fillings to the important question of whether eating poppy seed bagels can make you test positive for heroin use.
"We filmed for six weeks," recalls Savage. "It was hard work, but it was fun, and at the end we didn't know what kind of show it was going to be. When it started to air they told us the ratings were good and they picked it up almost immediately, like in a couple of days."
"It very much started off with the object being to film Adam and Jamie as if they were a couple of dudes figuring stuff out in the shed, or the garage," offers Tapster, who began his time in the MythBusters camp as a writer in 2004, and moved into the EP role in 2006 when Rees left the series. "As a result it was kind of filmed that way and everything was a little rough and ready.
"But what became apparent by season two and three was that Adam and Jamie weren't just an average couple of dudes," he continues. "As they say in the disclaimer, they are experts with a level of expertise when it comes to building and manufacturing things, with an incredibly impressive knowledge of science and the scientific process. Once that became clear, one of the things I wanted to do was significantly up the production values."
Blowing Up Globally
Another thing became clear as the show progressed – the global appetite for MythBusters. The program currently airs in every region that carries Discovery Channel, as well as on free terrestrial TV in Eastern/Central Europe, Denmark, Finland, South Africa, Norway, Sweden, Australia (where it is available on multiple platforms), Greece, Spain and Brazil, among other territories. "There is not one territory that doesn't have MythBusters on the schedule somewhere whether it is [via] terrestrial, cable or satellite," Munia Kanna-Konsek, head of sales at Beyond Distribution, asserts.
"Apart from every series being renewed by Discovery, all broadcasters who have started with the series continue to license the next series being produced once the holdbacks have expired," she adds. "Anywhere around the world at any one time, it is possible to find episodes from series one being broadcast through to series nine. That is phenomenal."
As for the reasons behind the massive popularity, Nancy Daniels, EVP of production and development for Discovery Channel, has a hunch. "All the stars aligned, and with a hit show, that's often what needs to happen," she says. "You have a clean concept, and then layer in great talent with amazing chemistry who are passionate about the subject matter."
Daniels has been part of the team behind MythBusters for a couple of years, following her move to Discovery from sister net TLC in early 2011. But she recalls the buzz around the show in its early years, as well as her own favorite tested myth from past episodes (for the record – a 2006 episode in which the team tested the effects of using cell phones on planes).
"It's just always been such a fun ride," she says. "I think the whole team has been able to keep that passion and enthusiasm in the show, and the audience has stuck with it."
It's Not All Fun and Games…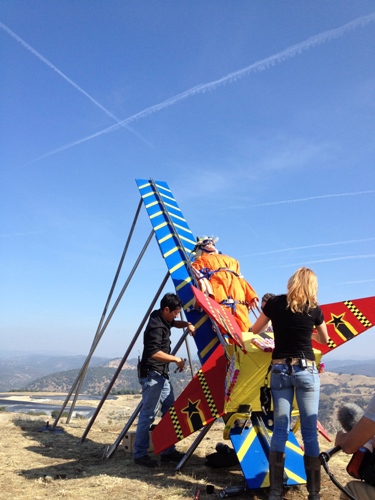 That passion and enthusiasm comes in handy for a series as demanding as MythBusters. While the tests may look like fun and games, they're all the result of intensive brainstorming, experiment design, builds (undertaken with Build Team members and co-stars Byron, Belleci and Imahara – pictured at work above), and considerable production wrangling. Indeed, Savage says the most challenging part about producing MythBusters isn't procuring insurance (according to a recent "MythBusters by the Numbers" tabulation, compiled by Tapster, the series has conducted approximately 808 explosions as of the fourth quarter of 2012); it's keeping the ol' gray matter in ship-shape.
"We shoot in three-month blocks and take about a week or so off at the end of each block," he explains. "And by that point, we really need that break because our brains can get quite mushy.
"We're not only on the show but we're also genuinely building almost everything you see us building," he adds. "We're also figuring out what we're going to say and designing experiments, and designing the following experiments [for the next show]. It's definitely taxing, but anything you love is going to be taxing, because you're going to want to put everything you can into it."
Daniels says she's consistently amazed by what the teams – the San Fran production team overseen by the UK-based Tapster, and the post team in Sydney – are able to pull off, especially considering the globe-hopping nature of the process.
"They've found their rhythm, so I don't really question it," she says "But when I first heard about it, I thought, 'That's remarkable.' I know how hard it is just to be bicoastal."
"The biggest challenge of making MythBusters is that there are always budgetary challenges and time constraints," offers Tapster. "I will often think, how the hell did we pull that off with the time and money available to us? And there are times when I won't know the answer.
"The treadmill that is MythBusters runs very fast," he adds. "Not only do you finish a myth on a Friday and start the next one on a Monday; that happens with the seasons as well."
Looking Ahead
Now, that treadmill is gearing up for a 10th anniversary season kicking off this spring, with a date yet to be officially announced. Upcoming episodes will feature special theme shows (including one featuring cast members and myths from the AMC series Breaking Bad – no word on whether that episode will be titled "MethBusters" – and a collaboration with the cast of Discovery's Deadliest Catch), more fan-submitted myths, and a revisiting of some of the myths tested on the first episode, including a third attempt at making a rocket-equipped car fly.
Each party points to the collaborative nature of the relationship between the talent, prodco and network as a contributing factor to the show's longevity.
"As an executive coming in to a successful show you have to, in some ways, leave it alone, and in other ways, come at it from a fresh perspective in making suggestions, and be a collaborative supporter," says Daniels.
"It helps that we're low impact, and we're not divas," says Savage. "We tackle the big problems and don't sweat the small ones, for the most part."
But for the production team, the cast and undoubtedly a significant number of viewers, the continuing allure of the show as it closes in on testing its 900th myth remains rooted in its original concept, which Tapster refers to as "the gift that keeps on giving – hosts trying to use science to answer questions that people are interested in."
"We've thrown synthetic poop at a fan to see what would happen, lit flatulence on fire… these are things that you don't need to know how to do," sums up Hyneman. "But the adventure of trying to figure it out is a joy – it's celebrating how the world works and how we can interact with it."