Globetrotting chef Anthony Bourdain (pictured) discusses Parts Unknown, his new food-centric travel series for CNN, which seeks out "the things that happen in between" breaking news events.
When realscreen rang up Anthony Bourdain in New York City, the grizzled chef-turned-TV personality was due to jet to the Democratic Republic of the Congo to tape an episode of his CNN travel series, Anthony Bourdain Parts Unknown.
Shooting in the war-ravaged Central African nation would have been a logistically difficult feat for No Reservations, the globetrotting food series he hosted on Travel Channel for eight seasons. CNN, on the other hand, specializes in the unstable. And Bourdain, a blunt, no-nonsense foodie with a taste for far-flung locales and an avowed disdain for formulaic television and product placement, seems like a natural fit for the news network's new, more expansive mandate.
With Parts Unknown, the 56-year-old Bourdain and his production partners at Zero Point Zero have a wide brief to use food as a springboard into, as he puts it, "the things that happen in between" breaking news events.
So far, the early numbers seem auspicious. The Myanmar-set first episode won its time slot among younger viewers upon its premiere on Sunday night (April 12), attracting 282,000 viewers in the 25-54 demo and placing second behind Fox News in overall viewership, with 747,000 people tuning in.
How will Parts Unknown expand what we've come to expect from food and travel formats?
CNN is a smarter network with a wider brief and organization and experience on the ground in a lot of places that would've been very difficult if not impossible to go to with another network. I'm not necessarily looking to make smarter or more serious television, but I see the CNN move as a very liberating one in that I don't have to be necessarily shoving food in my face every 15 minutes if something else interesting pops up.
I'm very conscious of the fact that I'm not a foreign correspondent, journalist or a foreign policy expert. Wherever I go, I will be be trying to look at that destination through the prism of food and food culture. As we've seen many times in the past, one thing does tend to lead to another and we've never shied away from that.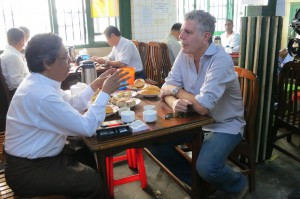 What can you do differently?
On No Reservations we went to the hill country of Laos and sat down with a rice farmer who was missing two limbs. You want to ask, "Gee fella, how did you lose your limbs?" He told us he stepped on old ordinances left over from the Vietnam War.
That's something we could've spent more time on had it come up in the CNN series. We can provide a little more background, and a little more context that's useful not just for viewers but for me to establish why things are the way they are.
That said, we'll be doing completely indulgent food-centric shows in places like Montreal, Spain and Paris. When I talk about 'liberating,' we can do knuckleheaded fun and completely food-centric/food porn shows.
How do you see your show as fitting in with CNN's journalistic mandate?
Look, I'm an essayist. I'm not a journalist. I completely avoid thinking about that. I think there is real value in a show set in a place like the Congo or Beirut and seeing how people live, eat and lead their ordinary lives. Then later when the hard news story happens – as it inevitably does – people have a sense of who these people are. They're not statistics.
Something that constantly surprised me on No Reservations was when I'd go to a place like Saudi Arabia and see how different the people were than what I had been led to expect from hard news reportage, which only tends to swoop in when stuff happens. It's the things that happen in between that's primarily of interest to me.
Also [CNN] gives us access. People in places where a lot of bad things have happened are much more happy and open to discussion with someone whose agenda is to see how they live, what they like, what they eat and what makes them happy. They tell you things about themselves that they might not tell to someone showing up to cover the latest disaster.
You traveled to Libya for this series. What was that experience like?
It was a very tense, very difficult shoot. We had to change our entire style of shooting because we were very restricted in in our movements for security reasons. To do an ordinary thing like hang out and BBQ some goat by the seashore with militia dudes, you learn things that you don't expect.
Who are these people in Libya that toppled Gaddafi? Many were medical students in Montreal who came back to fight when they saw what was happening. They were shop owners, kids, skateboarders and computer wonks who were playing PlayStation the week before and then operating a mortar the next. The extent to which youth culture played a part in Libya was a constant surprise. It's a much more mixed bag than you would think.
How do the episodes in Libya and Congo fit with the episodes set in the States?
They don't necessarily. These are personal essays. The primary credo of all my shows is that whatever we do this week is complete undermining of what we did last week, meaning that if there is any expectation that what you see on the show is in any way going to resemble [what you see] next week, we would really like to foil that expectation.
Traditionally, American viewers tune out shows about international cuisine and foreign culture. What's the best way to interest Americans in the stories you like to tell?
I'm not thinking, "Will people like this?" Otherwise I'd be doing BBQ shows for the rest of my life or riding a pony around a parking lot… Somebody out there is watching and that makes me happy.
I'm hardly the most optimistic guy in the world, but there's a huge block of people that are not being addressed by conventional wisdom and we have been slipping through those cracks very nicely over the years. I'm feeling pretty confident about the number of people who are going to be watching. The great majority of our audience has always been outside of the U.S., in any case.
You've written in the past about your opposition to product integration. How much of an issue has that been during your TV career?
At Travel there was pressure. We survived three or four different owners of that network. They were changing hands every couple of years and so I'd be asked again as a new administration came in: "Are you sure you won't consider this?" I didn't do it largely out of vanity; it's not an integrity issue. I like people to believe that I mean what I'm saying and that is very much undercut by a paid relationship with a sponsor.
Has working in TV made you a better chef?
No, it's made me more appreciative of simple, good things. When one travels as much as I do you see how hard people work to put any kind of a meal on the table and, more to the point, how amazing the food can be in places where people have very little. It's made me a more appreciative eater.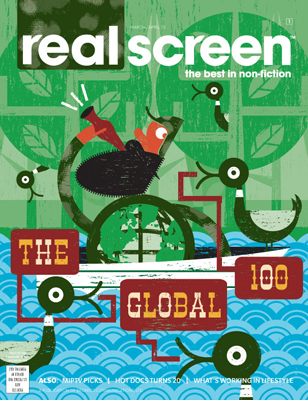 A version of this interview first appeared in the current March/April 2013 issue of realscreen magazine. Not a subscriber? Click here for more information.