While Honey Boo Boo and The Real Housewives tend to grab the most headlines these days in terms of factual programming, lifestyle content is still going strong, with viewer interest high for the home, food, and style sub-genres. Realscreen approached execs from lifestyle specialist networks to get the inside track on what they're looking for in shows and talent, and what trends producers should keep an eye on.
Sarah Weidman
Senior vice president, original programming and development, Style Network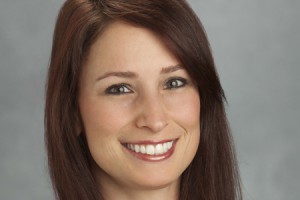 How many hours of programming are you looking for?
We are currently on target for about 470 hours of programming in 2013. About 40% of the schedule is original programming, and 60% is acquired. All of our original hours are produced by third party production companies. We are not currently coproducing any programming.
What is your programming strategy?
Style celebrates women's insatiable appetite for looking great and living stylishly. Whether it's an obsession with fashion and beauty, a fascination with home design and entertaining, or an escape into an aspirational lifestyle, viewers come to Style for passionate and memorable characters who flaunt their personal style and unique point of view. With a focus on those pillar categories (fashion/beauty, home/entertaining and aspirational lifestyles), we're always looking for big personalities, loud formats and memorable stories that share our unapologetic obsession for all things style.
What are the trends you're seeing in the style space?
People are looking for tips and how-to in many ways. Digital and short-form content can satisfy a lot of those cravings. We're weaving those bits of information into our docuseries and format shows in ways that feel experiential and narrative-driven – not simply [like] traditional, informational television.
Is the subject of "style" changing?
A lot of people think style is limited to fashion. But to us, style means lifestyle. It's how you live your life – from your fashion choices and beauty secrets, to your home aesthetic and how you nest, to the activities you enjoy that make you feel fabulous and like you're living your best life. A person's style is a much more comprehensive story that covers all aspects of how they choose to live stylishly.
Andy Singer
General manager, Travel Channel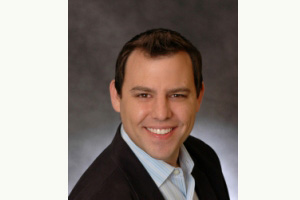 How many hours are you looking for?
I would say that we commission hundreds of hours a year.  It's nearly all commissioned.  We really don't do many copros, although we do have a few acquisitions – it's not really a part of our larger strategy.
How would you define your programming strategy today?
For a long time, prior to Scripps buying Travel Channel, we were seen as a vacation network, with pretty pictures. We had a few series on the air, notably No Reservations with Anthony Bourdain and Man vs. Food, [but] our goal has been to reimagine what Travel Channel means to the viewer. Look at a show like Hotel Impossible, which is perfect for the brand because hotels make sense on Travel Channel, and Airport 24/7: Miami dives into a world that nobody had really done before, with full access.
When you look at some of these examples – hotels, airports, museums – this subject matter clearly makes sense for Travel Channel but we're finding unique ways to tell these stories that aren't about vacations, [and] are about destinations, journeys or interesting worlds within the travel category.
Are you investing more in multi-platform extensions?
Yes – in fact we just launched a really exciting initiative, called Trip of a Lifetime. It's a multi-platform experience that allows viewers to go onto Travel Channel.com, put together an itinerary, submit that online and enter a sweepstakes to win a US$100,000 vacation. We also did a special produced by High Noon Entertainment that launched the sweepstakes. It took Travel Channel hosts to Italy and Croatia and we showed examples of how they'd travel if they had $100,000 to spend. We have an award-winning app with The Layover. There are more of those types of things coming.
What sort of talent are you looking for?
Talent is incredibly important to us, but it can't be any talent. It has to be talent that really owns their space, believes in their space, and makes sense on Travel Channel. Our viewers are interested in destinations, but they're destinations or worlds through the point of view of credible hosts or experts. We call them "friends in the know."
Kathleen Finch
General manager, HGTV and DIY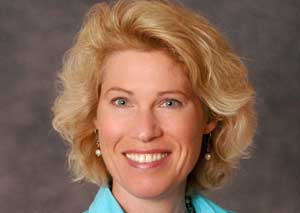 How many hours of programming are you looking for?
The total number is 800 hours for HGTV and 400 hours for DIY. It's a total of about 1,200 hours of programming and obviously we share some of our programming back and forth, so I like to tell the production company to think about it as 1,200 hours of home-centric programming.
Some of our highest performing shows are acquisitions, we love to do copros, we love original, [and] we really are open to any idea and any business model.
What are the programming strategies behind HGTV and DIY?
One of the kinds of programming that is working extremely well for us, and I'm definitely in the market for, is what I like to call hybrid hours, which [means] taking the three things that an HGTV lover loves the most –"real estate, renovate and decorate" – and combining them into one hour of programming. That's what Property Brothers (pictured, top) is, [and what] Love it or List It and House Hunters: Renovation are. We have a number of new series that we're launching next year in this vein.
We really like to see hammers being swung on DIY. The way we like to think about the two networks is that in a household, HGTV is a little bit more geared towards the wife, and DIY is a little bit more geared towards the husband.
What trends are you seeing in the home space?
One of the biggest trends we're seeing is the upcycling or repurposing trend. We have a brand new show we just launched called Flea Market Flip and Salvage Dawgs [which launched in November], and there's this whole movement of either renovating an old beautiful home to make it incredible again, or buying flea market or yard sale finds and repurposing them. I don't want to use the word "green" because green doesn't drive viewership, but that sort of upcycling and repurposing trend is really catching on in our programming.
What sort of qualities do you want in talent?
We are looking for people who are obviously telegenic, highly credible and who just have that certain something that makes viewers stop [on the channel]. I want to make sure that all producers know that they shouldn't feel like they have to have a fully fleshed out show pitch to bring us if they have found a good talent. If you have a great talent, we can work with a producer to create a vehicle for them. We are very aggressively looking for talent, and in fact, sometimes if a producer has a great talent and we don't have a show [for them], we could perhaps just pay a bounty to the producer for bringing us that talent.
Clare Laycock
General manager, UKTV's Really, Good Food and Home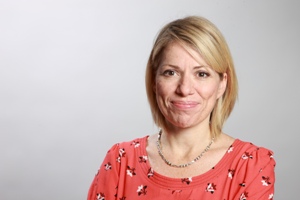 What are your programming strategies?
Home's programs revolve around having all of the best-loved property superbrands that are out in the UK market, from the BBC and from Channel 4, and we mix those up with our own shows, where we [have] more factual "escapist" property shows, and building and construction shows.
On Good Food, all our programs revolve around big name UK chefs. Everything we do is done with passion, so we have real foodies on staff.
Really's been through a bit of an evolution. Its content has been broadened out so now it's not traditionally a lifestyle channel; it's more of a mixed entertainment channel or "lifetainment" channel, if you want to use that horrible word. We have a mixture of fact ent, a lot of ob-docs, some shock documentaries, and some scripted content, but all targeted to a female-skewing audience.
What trends are you seeing?
People want the same from their home content [as they did before], which is strange because we're in a bit of a recession and people are not moving houses as much as they were. [They want] a mix of fantasy escapism, property porn, lots of houses abroad, blue skies, mixed with your traditional makeovers. Maybe the makeovers have become a bit bigger and we're talking construction of buildings rather than fluffing some pillows and changing some wallpaper, but as long as the formats are authentic, simple and there's a good narrative there, that's really the right formula for Home.
In food, the trends that we're pushing reflect what's going on in the food industry and the restaurant world. Scandinavian cuisine is a current trend and there's a series this year which is our first foray into that [with the working title of Valentine Warner's Scandinavian Cookbook]. Certainly there's high-end fast food, and the other thing that will come, but we're not there yet, is South American food. Cake never goes away.
On Really, the thing we're looking at is scary stuff and we're also going to be looking at more true crime. The return of the ob doc series is something that we're looking at.
Brian Lando, SVP programming and special projects
Jennifer Quainton, VP programming
Food Network & Cooking Channel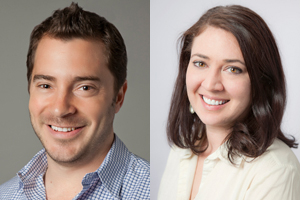 How many hours of programming are you currently looking for, for both Food Network and Cooking Channel?
Food Network is just under 500 hours of programming a year. Cooking Channel is averaging 200 hours of programming a year.
Food Network is almost entirely commissioned programming. Cooking Channel is more open to coproductions and acquisitions. Copros and acquisitions make up about 25-30% of the CC TV content.
What are the programming strategies for the two nets?
Food Network is an entertainment network, actively looking for stand-alone, clear, exciting formats, and eagerly exploring surprising and unique food worlds with big characters. Food Network is open to new and diverse content – comedy, drama, etc. Cooking Channel is food-centric, yet moving into more story-driven and format shows. Neither network is going after your traditional food instructional show.
Travelogs are still a prominent part of food programming internationally. How have they evolved?
Travelogs are only as good as the character or characters who we are travelling with. They have evolved by becoming more character- than subject-driven.
What are you looking for in terms of talent?
Food Network is looking for surprising, larger than life characters that touch the food world in an engaging and entertaining way. Cooking Channel is looking for passionate food personalities with specific points of view in the food space.
Successful show themes we have seen talent succeed in focus on the likes of: southern cuisine, BBQ/grilling, seafood, & healthy [food].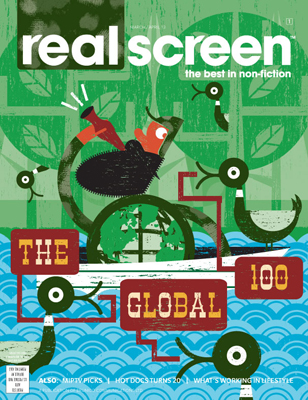 This feature appeared in the current March/April 2013 issue of realscreen magazine. Not a subscriber? Click here for more information.