AJ Schnack (pictured), the co-founder of Cinema Eye Honors and the director behind docs such as Gigantic and Kurt Cobain: About a Son, had the distinction of premiering two films at Hot Docs this year.
Political doc Caucus, which had its world premiere at the Toronto festival, focuses on the 2011-12 Iowa Caucus campaign, in which eight Republican politicians – including Rick Santorum, Herman Cain, Michele Bachmann and eventual presidential candidate Mitt Romney – began the fight to become the Republican nominee to battle incumbent President Obama.
Taking its cue from classic political docs such as Primary, The War Room, A Perfect Candidate and Street Fight, the film offers a commentary-free, vérité portrait of the months-long campaign to win over on-the-fence Iowans, often to comic effect.
Meanwhile, the SXSW award-winning We Always Lie to Strangers, which was co-directed with True/False Film Festival co-founder David Wilson, looks at the residents of Branson, Missouri – a remote Ozark Mountain town that is also one of the biggest tourist destinations in the States.
With Branson having a rich history of family-style entertainment and more than 100 staged music shows, the filmmakers follow the town's residents as they face economic uncertainty and ever-shifting social issues.
With two docs screening at North America's biggest doc festival, Schnack jokes that he "represents about 1%" of Hot Docs' 200-odd film line-up. Here he discusses the process of making both films.
How did you manage having two films on the go at once?
I spent basically the last year editing; it was pretty insane. I was able to do long stretches on one and then go to long stretches of the other. It wasn't a case of working a week on one and then working a week on another, it just ended up happening that they both finished around the same time.
Caucus is more of a self-contained film in that it's set around one main event – the Iowa caucuses of the 2012 U.S. presidential election. Did all the shooting for that take place in one stretch?
Well, we started shooting in May 2011 and shot all the way to January 2012, so we spent a little more than two months on the ground in Iowa during that time period. Most of the time it was just me and Nathan [Truesdell], my filmmaking partner, but then at the end, the Ross brothers came in and helped us at the finish with the shooting, for that last week.
What can people expect from Caucus [pictured below], and how do you think people will view the film, as that period of time fades into memory?
Well, those are the questions I'm asking myself – what will the response be? I'm really excited to premiere it here; all of my friends in Toronto tell me that folk here follow American politics pretty closely and were really interested in the last election, so it's kind of a good test case to see how people respond.
We tried to make the kind of film that, no matter where you were on the political spectrum, you could watch. Not that it would validate your impressions; hopefully everyone's ideas are going to be challenged a little bit, but I don't think people will think it's slanted in one way or another, we really did just try to observe what happened in Iowa.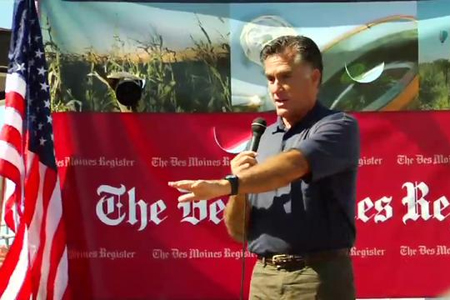 Were there certain political docs that you drew inspiration from?
Sure, Primary is the obvious example. I mean, we called it Caucus, for God's sake [laughs]. And The War Room as well. What we were excited about is that the Republicans don't ever get that story – no one is going out and making the hero Republican underdog story, and in the end we got one.
I certainly didn't go to Iowa thinking that I would be making a "Rick Santorum is Rocky Balboa in Rocky 2" movie, but that's kind of what ended up happening – seeing a working class guy fighting against people who had a ton more money than him, against all odds, trying to win Iowa. It was, in the end, a bigger story that we expected it to be.
And it was a great cast of characters: you're never going to do better than Michele Bachmann, Herman Cain, Newt Gingrich, Mitt Romney… I mean, c'mon. They're amazing.
Will you be aiming for theatrical or TV with the doc?
I think it's going to be the kind of thing that people will like seeing with other people. It's very funny – it plays as a comedy, so it might be really fun to be in theaters, but people watch The Daily Show and a lot of political things that are humorous at home or online, so I don't have a preconceived idea of what the medium that gets it to audiences is going to be.
In addition to Caucus, Hot Docs is also screening We Always Lie to Strangers [pictured below], which you co-directed with David Wilson. Have you two known each other for a long time?
About 11 years. I went to school at the University of Missouri, and when I made my first film, Gigantic, it was invited to screen at the old Ragtag [cinema] at True/False. It was there that I met David, who's wise beyond his years, despite being very youthful-looking [laughs].
Anyway, we became friends really fast, and it was exciting to see what he was doing in a town that I had a lot of love for. He had shown me some short films he had made, which I really liked, and we became good friends. He was starting True/False and I was starting Cinema Eye Honors, and when he said "I want to do film about Branson, let's go down there and do you want to do it with me," it seemed like a very interesting idea to me to explore.
Did he have a creative vision in mind for the project which you supported, or did you both bring ideas to the table?
He'd always done films about subcultures, so on our first trip we were looking at things like, "Are there kids in the town who are really into punk rock?"
What was interesting is that when we got down there and met with kids, yeah they were into different kinds of music, but they were also really into Branson – they had a lot of respect for what the town meant, and that was a real interesting turning point in how we had looked at the project.
For a while I think we were maybe looking for the "underbelly," but then we realized that the actual story was that the people who were running the town were very sophisticated and smart at what they do, and cosmopolitan, and that became a much more interesting idea of how to do a story about Branson.
But that evolved a little bit over time, it took us a while. [People in Branson] are very good at putting on a very public face. Even though we have Missouri roots and we were very sweet, it took us a little while to crack through them.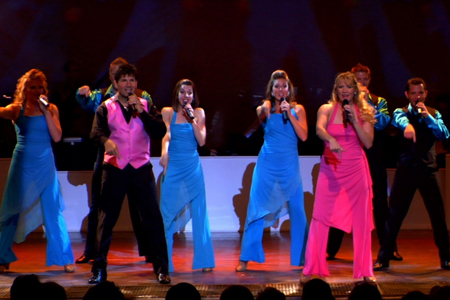 How did you fund Strangers?
Our executive producer, Matthew Mills, his company funded almost all of the movie. He was with us at the very beginning and with us at the very end. That was a difficult project because it was over many years, constantly starting and stopping.
One of the things that strikes me about both films is that you're predominantly telling the story of right wing-leaning characters, who are often underrepresented in documentaries. Was there any skepticism of you as filmmakers as you approached those subjects?
Oh yeah. I don't think as much in Branson, because they're pretty sophisticated – I think they were more about, "Are you just going to come in and make fun of us?" But in Caucus, definitely the candidates and their staff hear "documentary" and say: "You're going to 'Michael Moore' us. You're here to just totally make fun of us."
But Nate and I, we grew up in the Midwest, and I'm sure if I go home and see my friends from high school, half of them or more would've voted for Romney. And these are people I love.
I think I, and certainly a lot of people who live in coastal places, we can tend to forget all these people who live in communities where not everybody has the same political point of view, but they live their lives, they work together, and there's not this thinking that they're "The Other." That's why it's so important that we spent all that time in Branson. I don't think we could've made Caucus without making the Branson film.
So going into Iowa, it became really important to us to just observe, and see something that we don't think gets covered that much in documentary. And not everybody comes off well, but that's fairly typical in politics – some of them made some key errors.
Check out the trailer for Caucus below:
And the trailer for We Always Lie to Strangers:
We Always Lie to Strangers has its final Hot Docs screening on Sunday (May 5).