Jeanie Finlay was catching up with the newspaper after a weekend away and came across an incredible story of a duo that'd fooled the UK into thinking they were American rap artists. Right away, she knew she was going to turn that story into a film.
Going by the name of Silibil N' Brains, Gavin Bain and Billy Boyd were unlucky at cracking into the hip hop game in Scotland in 2003, and decided to change tack and pretend they were an American duo, complete with a shaky California-based back story modeled entirely on what they'd seen on television. Eventually their compounded lies fell apart and Bain outed their secrets.
Finlay's The Great Hip Hop Hoax tells that story through animation, footage shot by Bain and Boyd, and present day interviews with music executives, family members, and the duo. The film had its world premiere at SXSW in March, and screens at Sheffield Doc/Fest in a delegates-only screening on June 14, before its European premiere at the Edinburgh Film Festival.
Here, Finlay, the director of Sound It Out and the upcoming Orion, tells realscreen how she was able to document the story of a "crazy bromance infected by lying."
When did you decide to make this film?
It's been a really long gestation on this project. About four years ago, Gavin was in the paper telling his story. I just really loved the idea of newsmaking and lying all the time. I'm a really rubbish liar so the idea that you commit to a lie, and it's not just telling one lie, it's absolutely embodying it – it seemed really rich.
After I read the story I contacted Gavin on MySpace – which tells you just how long ago it was – and we started filming right away. We had no money, and he was really great on camera but then he committed to a fiction project. We found Billy to tell his story, and for a while we were going to do a film with just Billy, and then the other project didn't materialize. About 18 months ago, I was promoting my last film, Sound it Out, and [Bain] got in touch and said "Do you still want to make that film?"
How'd you fund this film?
I took it to Met Film and Jerry Rothwell and Al Morrow, and it's a coproduction between Glimmer Films, my indie, and Met Film. They're just really good people and I wanted to work with them.
We went to Meet Market at Sheffield and BBC Scotland's [commissioning editor] Ewan Angus listened to my pitch and at the end of 15 minutes made an offer. BBC Scotland came on board three or four years ago and waited patiently and then 'Storyville' came on board at the Edinburgh pitch.
Where did all the footage from Silibil n' Brains come from?
It came from Billy and Gavin. It was amazing because we have bits and bobs from different people, like members of the band, and when we had full access to both people, they provided their archive. We have this bag of tape that had been digitized by an intern, but there wasn't that much. I had them send a box of tapes to Nottingham and there were about 10 tapes that hadn't been played because there were too many labels on them. I picked all the labels off, and my editor and I were in the edit deck [with] all of the footage we needed, because they just filmed everything all the time.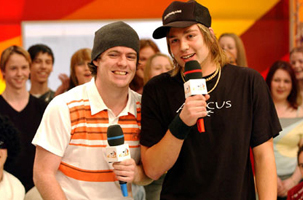 When they were Silibil and Brain, they spent their whole time building the myth, so they would do these little skits and put them up on YouTube and on their MySpace page, which was pulled when the band was dropped. They were one of the first bands to make their own content and were really ahead of the curve, and thankfully for us they had all of this footage of them lying on camera and embodying these characters.
There was this moment where they do a Sony audition and you hear [someone] saying "Where are you from?" and the answer is "California," and Gavin's never been to America. He's lying about places he's never seen. Those moments seem really great because it's unfolding in front of my eyes.
Do you see a thread of music between Sound it Out and The Great Hip Hop Hoax?
I would say they were more portraits of people. Music can help heighten emotion and tell a story, but music is a bit part player in my films. It's not the driving force.
I'm running a panel at Sheffield called Just Don't Call it a Music Doc, as I was advised by a high level commissioning editor to not label my documentary a music doc because they'll never be in competition. We've taken it seriously, because they're often shoved in a genre. But as you know, Searching for Sugar Man went a really long way to change that.