Burt's Buzz, a Canadian film screening at TIFF, explores the face behind iconic American brand Burt's Bees. Here, director Jody Shapiro (pictured) tells realscreen how actor Isabella Rossellini set everything in motion.
As part of Isabella Rossellini's Sundance Channel short film series, Green Porno, the actor was commissioned by the Burt's Bees company to produce a number of short films about bee colony collapse disorder.
From this, she introduced Shapiro – who directed and produced several of the Green Porno shorts – to Burt Shavitz (pictured below), the man behind the natural skin care line Burt's Bees.
Once Shapiro met with Shavitz, he immediately knew he wanted to capture his story on film.
"I found him to be a truly original character, one of the folks that has remained truly authentic to himself," Shapiro tells realscreen. "One of the first things he said to me was that he considers himself evolutionary, not revolutionary. He never wanted to change the world, and I thought that was ironic for somebody who's been involved with so many things over his life that kind of has changed the world in small ways."
Shavitz, who has been a beekeeper, a photographer, an eco-hero and an icon, currently lives off-grid and is media-shy, which Shapiro was warned about when he decided to make the doc.
"I took a very nice long and slow approach with him," he recalls. Once filming began, a similarly paced method was employed. "He's an old guy, so we had to take our time with him. I wanted this be Burt's story and most of [filming] was being patient, getting him at his own time to flesh that out."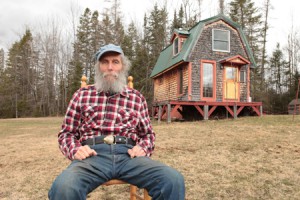 What bonded them together was a mutual love of vintage motorcycles, and the director was able to open up his film subject enough to get Shavitz to discuss other areas of his life he didn't talk about much, including his photography and his relationship with Roxanne Quimby, who was the driving force behind the company.
Shapiro says he filmed off and on for a year, with the conversations continuing for about a week every season, and he even followed Shavitz on a promotional trip to Taiwan.
The Film Sales Company recently signed on to represent the completely self-funded film internationally, while FilmBuff signed on for theatrical and VoD distribution in the U.S.
With regards to TIFF, Shapiro says: "Burt's coming to town and I think he's got a fantastic story. This drifter who never claimed to be ambitious really got involved in a lot of interesting stuff, and when I was telling people about the film, people didn't know he was a real person.
"I was thinking, how often do you get the opportunity to pull the mask off the logo, [to show] that Burt is real and living and breathing, and the fact that he lives in these two worlds: the simple hermit and this icon that people carry around in their pockets?"
Burt's Buzz screens on September 13 at 12.00 p.m. at the Toronto International Film Festival.