Filmmaker Alan Zweig (pictured) was the surprise winner of the Best Canadian Feature prize at the 2013 Toronto International Film Festival, for his doc When Jews Were Funny. Here, he talks to realscreen about the making of the film.
Four months after premiering his doc 15 Reasons to Live at Hot Docs in Toronto, Canadian filmmaker Alan Zweig (pictured) has returned to the spotlight, launching new effort When Jews Were Funny at the Toronto International Film Festival (TIFF).
The documentary explores issues around the history of Jewish comedy, from the early days of the Borscht belt to the present. As its starting point, Zweig explores the question of why so many of the comedians he watched on TV in the 1950s and '60s were Jewish, and asks whether Jewish comics essentially created modern American humor.
The film yesterday (September 15) picked up the TIFF award for Best Canadian Feature (and with it a CAD$30,000 prize). Just prior to the festival, Zweig spoke to realscreen about the making of it…
This is your second documentary to premiere in Toronto this year – that's some work ethic you've got…
Well, it's more a case of, when it comes it comes, and when it doesn't it doesn't. I just had the very strange luck of not having anything for a while and then when it rained it poured.
I essentially had to do two films at the same time – I shot this one in-between breaks on the other one [15 Reasons to Live], and then as that one was done cutting, I started cutting this one.
It's not that amazing that I did two films in two years, but it's kind of a thrill to have one film at Hot Docs and then four months later have another one at TIFF.
What brought you to the topic of Jewish humor and Jewish comedians?
A lot of it had to do with resisting; I really did actively resist, on some level, playing on my Jewish background, much like – ironically – a lot of people in my film. But for me I think it was for a different reason. It was not that I thought that it would hurt my career, as they often did, it was simply that I sort of thought it was, not exactly embarrassing to be Jewish, but embarrassing to go there.
It's like when I left home I just thought, you know, being brought up Jewish will definitely impact my view of the world, but so will being a filmmaker.
In the last few years, things happened that made me think, 'Oh, actually I guess I do have issues around this that are unresolved.' So I just was looking for a way to talk about my Jewish identity and I thought that using the window of Jewish comedians would make it a little more accessible to people.
I have to point out that the film starts off talking about Jewish comedy but goes into other issues of identity, the past, the future, things like that.
What can people expect from the doc?
I think people can expect a film that's pretty funny, but definitely by the end pretty touching. It's about an era that probably can't be recaptured. And people including myself have nostalgia and deep feelings about that.
I don't think the general public really thinks of Jewish culture as having gone through a profound transformation, but it really has.
In that sense, I really hope the film is not just for Jews but for anybody – especially people from immigrant cultures – who've experienced that. In Toronto, third generation Italians probably worry that they're not Italian anymore, et cetera.
The film is really more about the transformation of a culture – [the people in the film] may not be the most qualified people to talk about that the subject, but they're the most articulate people and the funniest people. And partly I just wanted to meet some of these guys while they're still alive.
Are there well-known people that appear in the film?
Yeah – I wish there were more. But you have Shecky Greene, Shelley Berman, Jack Carter, Norm Crosby, Howie Mandel [pictured below], David Brenner, David Steinberg… and if you're a comedy fan now, people like Marc Maron, Judy Gold, Andy Kindler – people who are stars in the comedy world.
We tried for every Jewish star there was, but I think some of them actually were afraid that the film was a sort of history of Jewish comedy, and were over that.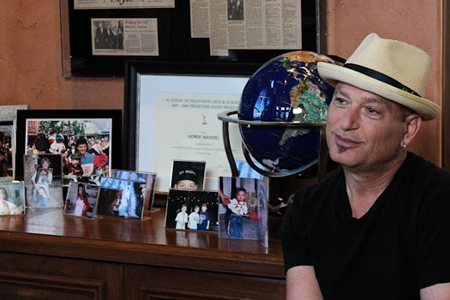 So the film does not take a linear path through the history of Jewish comedians on TV and radio?
No, not at all – to be honest when I started to make the film, I didn't really want to make a film that was just a history of Jewish comedy. And when I started to make it, I was glad that I didn't take that approach – it would have been very difficult to nail down.
There is a certain historical fact that there were a disproportionate number of comedians, especially in the Ed Sullivan era, that were Jewish. And that means something, but I'm glad that I didn't have to prove anything.
The film is more about, how did that happen, and how does that connect to me and my upbringing. Also, the people that I talked to actually had very little insight themselves into their own history, so to make the film that you're talking about, you would have to interview experts. And I did interview a couple, but I used them sparingly.
How did you fund the documentary?
The film was funded initially through this CMF [Canadian Media Fund] program – the English POV program, which basically helps you get CMF funding without a broadcaster. And then after that, you have to get a broadcaster – so our broadcaster is Super Channel. Then we got money from the Rogers Telefund.
Do you have a joke you can tell us?
I have a favorite Jewish joke that I didn't put in a film: Basically there's an old Jewish guy walking around and he's going, 'Oy, my feet hurt, oy, my feet hurt,' and somebody asks him, 'Why do your feet hurt so much?'
He says, 'Because my shoes are too tight,' and they say, 'Well then, maybe get shoes that fit?' And he says, 'Well, I could do that, but when I walk around all day with these tight shoes, and I get home and take them off… ah! That feeling is so great…
Check out a clip from When Jews Were Funny below: