Pictured L-R: Karim Amer, Jehane Noujaim and Dina Amer in Toronto, shortly after The Square won TIFF's audience award. (Photo: Adam Benzine)
Despite scoring festival wins at Sundance, TIFF and Sheffield Doc/Fest, the team behind The Square have had a challenging year, constantly having to reshoot and re-editing their film as the Egyptian revolution progresses. Here, they talk to realscreen about the difficulty of getting to a final cut.
For most documentary filmmakers, having a world premiere at Sundance and winning one of the festival's top awards would mark a rewarding climax for several years of hard work. Now is the time to kick back, and bask in the acclaim.
But for director Jehane Noujaim and the team behind her Egyptian revolution documentary The Square, picking up the Audience Award for World Cinema Documentary in Park City this past January only served as an indicator that they were on the right track.
The Sundance win was followed by a further seven months of filming, right through to August 2013, during which time the film was radically reworked and remixed, with the entire third act changing.
This culminated, bizarrely, in a second world premiere for the film at the Toronto International Film Festival (TIFF) in September. And there too, the film won the audience prize, taking home the People's Choice Documentary Award.
On the heels of this win, on-demand platform Netflix acquired the film in a headline-grabbing deal earlier this month.
The Square is not the first documentary to focus on the protests that have taken place in Cairo's Tahrir Square: Jon Alpert and Matthew O'Neill's In Tahrir Square was shortlisted for an Oscar in 2011, and in the same year festivals in Toronto and Venice hosted Tahrir 2011: The Good, The Bad and the Politician; while Montreal and New York screened Tahrir: Liberation Square.
Those quick-turnaround films, however, focused largely on the 18-day revolution that took place in Egypt from January 25 to February 11 two years ago, while Noujaim's film offers a broader look at an array of characters – including Magdy Ashour, Ahmed Hassan (pictured below, right), and the British-Egyptian actor Khalid Abdalla (below, left) – campaigning on the frontlines of Cairo's street protests.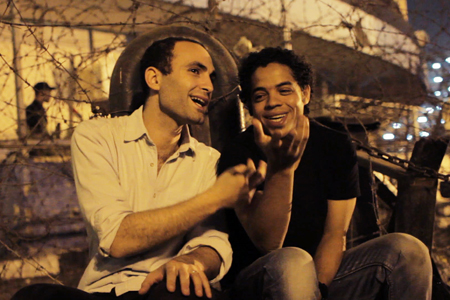 For Noujaim, whose past films include Rafea: Solar Mama, Control Room and Startup.com, the documentary marked a return to shooting in Egypt, where she had previously made 2007′s Egypt: We Are Watching You. As signs of discontent started to flare in early 2011, she reconnected with some of the women featured in that film, who advised her that Cairo "was reaching a breaking point."
"I had many friends saying, 'I don't know whether you should fly in there, the whole country is upside down, I don't know if we could help you if you got arrested,' et cetera," Noujaim tells realscreen, talking in Toronto several hours after her film's big win at TIFF.
Despite the risks, she decided to travel to Egypt, where she was promptly arrested within hours of arriving. "Our car was stopped, they found five DVDs of the previous film I'd made three years before, and because of that, were suspicious and took me in for about eight hours of questioning," she says.
"I was then released and went directly to [Tahrir] Square where, over the following two weeks, I basically met my entire crew and the subjects of the film as well."
It was in the Square that Noujaim first met Karim Amer, who would go on to produce the film, and his sister Dina, who serves as the film's interview producer. Karim, who at the time was designing one of Egypt's biggest hospitals, originally caught Noujaim's eye as a potential subject for the film, she recalls with a laugh.
"This film had to be birthed in the Square," she says. "It had to be Egyptians making it; there was no way I could bring in my Puerto Rican producer from Control Room [Rosadel Varela], who I dearly love, to produce this. It needed to be Karim."
Over the next two years, her team – which included five main camera operators – would go on to shoot a colossal 1,500 hours worth of footage. "The entire journey of the past two years has been a struggle of figuring out what the story of this film is, because it's not an obvious story," Noujaim offers.
Karim Amer adds that at a certain point, the team's office – located five minutes from the Square – "became a citizen journalism hub.
"We were just filming everything, because our footage is also a record of history," he says. "You don't even know if it's going to be useful, you just feel like something important is happening and it should be documented."
While the collaborative approach helped secure some of the film's key footage, it made for a long and difficult editing process, which burned out five different editors. (Stefan Ronowicz led "the building of the initial structure," as Noujaim puts it, after which Misho El Manasterly and Pierre Haberer worked up to the Sundance cut. Thereafter, Christopher De La Torre and Pedro Kos worked on the film between Sundance and TIFF).
"You can crowdsource a shoot, but you can't crowdsource an edit," Karim notes dryly.
And while being so close to the center of Egypt's protests put the team on the frontlines, it also brought risks. Noujaim offers that almost everyone who worked on the film was "either chased by the police or the army, or shot at, or wounded, or arrested" at some point.
Dina Amer adds: "There was always this looming threat of whether they might burst into the office and take the footage. And it was difficult to concentrate, because there were constantly new developments happening outside our window."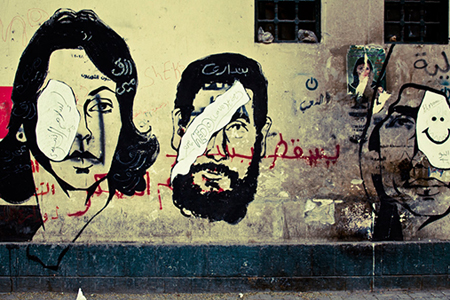 In part, The Square feels contemporary because, two years on from the initial protests, filmmakers in Egypt still face risks.
On August 16, Canadian documentarian John Greyson was arrested in Cairo, along with doctor Tarek Loubani, and incarcerated without charge for 51 days. Their detainment led to vocal support from an array of filmmakers, including Alex Gibney and Sarah Polley, whose profiles helped to draw attention and likely aided their release.
Back in 2011, another complication facing Noujaim and her team was the fact that the director was having to work on her BBC doc, Rafea: Solar Mama, at the same time, which meant "going back and forth between a remote village in India and a huge revolutionary eruption in Tahrir Square."
In addition, the Cairo team had little in the way of funding, beyond an initial Sundance Institute grant, and was basically "running on fumes," as she puts it.
That said, Karim offers that "the access we got was very much based on our ability to say, 'We're independent; we're not with Al Jazeera, we're not with CNN, we're the same guys you've seen here every day over two and a half years, and we're unfunded.'"
Filming and editing continued, and by June 2012, Muslim Brotherhood candidate Mohamed Morsi had replaced Hosni Mubarak as Egypt's president, drawing to a close 30 years of authoritarian rule.
The Square got accepted into Sundance, "but as we were on our way, two weeks before we left Cairo, Morsi declared dictatorial powers, and everybody was back in the streets again," Noujaim explains.
"It was a betrayal. So for us to feel comfortable releasing a film which ends with a joyful celebration of the election of Morsi was impossible."
"We were going to cancel Sundance," adds Karim.
In the end, a decision was made to continue with the Utah premiere but reclassify the film as a work-in-progress. The move proved to be a crucial one.
"The audience award we won at Sundance was a gigantic boost to everybody on the film," says Noujaim. "I don't know if we would have been able to last another year, filming and editing, without that boost."
The new version of the film – which played at TIFF, opens the Montreal International Documentary Festival (RIDM) today (November 13), and will play in Berlin next year – is markedly different from the original Sundance opus. And watching both titles side-by-side raises the question: when filming a current affairs topic, when is a film ever truly done?
"When I feel it's done is when you have gone through the emotional journey and arc of your characters," Noujaim reflects, "which I now feel we have."
Still, she notes the irony of the double world premiere.
"Do I ever feel that I will have multiple world premieres of a film again? No," she says. "But it was crucial for this film for the story to continue."
The Square kicks off the 16th annual RIDM in Quebec today (November 13) at 7 p.m., with additional festival screenings on November 15 (with French subtitles) and November 17 (with English subtitles).
This article appears in the forthcoming November/December issue of realscreen magazine. Not a subscriber? Click here for more information.