With the World Congress of Science and Factual Producers (WCSFP) kicking off tomorrow (December 3) in Montreal, realscreen launches the first of three science-focused factual case studies, beginning with Mona Lisa Productions' international coproduction Life on Us.
Lyon-based Mona Lisa Productions, which specializes in science docs, is training its microscope on the terrain of the human body in the one-off Life on Us (pictured above).
Co-directed by Pierre-Francois Gaudry and Smith&Nasht's AnnaMaria Talas, Life on Us uses Mona Lisa's patented shooting technology which incorporates the Philips ESEM (Environmental Scanning Electron Microscope), and treats the human body as if it were a landscape, complete with its own eco-system and inhabitants.
"The subject seems quite compelling to me for a large audience: embarking for a microscopic safari on the human body approached as a living planet," says Gaudry. "[We are] considering 'Planet Us' as a natural world, with a balance that has been built over million years of evolution, and showing the importance of the biodiversity on our body."
The feat of pulling it off didn't come without challenges, says Gaudry, especially considering the richness of the subject.
"When you start to explore how the human body is organized, colonized by all these creatures, the complexity of the interactions of our body with all these organisms, and the impact of such organisms on us, it's simply endless and vertiginous," he says. "There are still so many things to be discovered and so much research going on, trying to uncover the secrets of our body."
The technical challenges in capturing certain images, in particular the collection of samples of diverse organisms, required the collaboration of specialists in biology and scientific imaging. "Sometimes we were lucky, sometimes not," Gaudry admits. "It was, each time, a kind of experiment."
The microscopic techniques included a big focus on ESEM use, which allowed the team to work with living organisms, and binocular techniques to recreate atmospheres of the biological world. For example, strands of hair on the body, upon being magnified 4,000 times in electron microscopy, can resemble palm trees or a bamboo forest.
"It is clear that ESEM footage is still very attractive to broadcasters, almost 20 years after Mona Lisa first revealed footage of living 'cannibal mites' and other species," says Eric Vernière, who handles international pre-sales at Mona Lisa.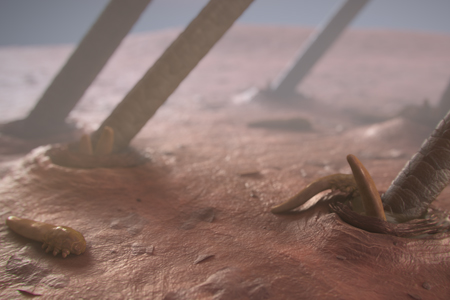 (Photos by ©Thierry Berrod)
Much like human beings, Life on Us, in addition to its 90-minute format, comes in many shapes and sizes. Mona Lisa is producing a hosted main format for ARTE, but it is also available in a 2 x 43-minute format and a 52-minute version to be adapted to the time slots of European terrestrials. Smith&Nasht also produced a different 2 x 60-minute series using the same material, funded by Screen Australia and SBS.
In addition, there's the Life on Us interactive adventure produced for the web, iPads and Androids, from partner Kids Up Hill and Mona Lisa for ARTE Web.
Bringing science to primetime is something Catherine Alvaresse, deputy director of knowledge and discovery for the factual programming unit of ARTE France, believes strongly in, but the content needs to be compelling.
"Science on primetime needs to be spectacular, engaging, unique, and with very strong storytelling," she says. "Furthermore our primetime [programming slots] are 90 minutes and therefore the narration needs to be built as a real adventure thriller to last 90 minutes. Life On Us definitively contains all of that."
"Life On Us talks about us in a very intimate way but with a spectacular approach," she adds.
Realscreen's Claire Macdonald and Barry Walsh will be attending the 2013 WCSFP, which takes place from December 3-6 in Montreal, Canada
This feature originally appeared in the November/December 2013 edition of realscreen magazine. Not a subscriber? Click here for more information.