CNN said it is in the docs business for the long run, during a Realscreen Summit panel exploring risk-taking in documentary making.
When asked if there was a chance CNN's recent aggressive commitment to docs might be short-lived, as was the case with the Oprah Winfrey Network – which cancelled its OWN Documentary Club after just a year – CNN Worldwide's senior VP of development and acquisitions Vinnie Malhotra said that the major difference between the two channels was that CNN is already a firmly established network, and not a start-up.
"The difference is infrastructure," he offered, explaining that CNN was already able to use its well-known name as a platform on which to build its docs output.
Malhotra spoke on a panel entitled 'Risk-Takers and Trouble-Makers' (pictured below) featuring HBO Documentary Films VP Sara Bernstein, American Documentary/'POV' executive director and producer Simon Kilmurry, and filmmaker Ondi Timoner, to discuss how networks balance risks versus rewards in documentary programming. The session was moderated by realscreen associate editor Adam Benzine.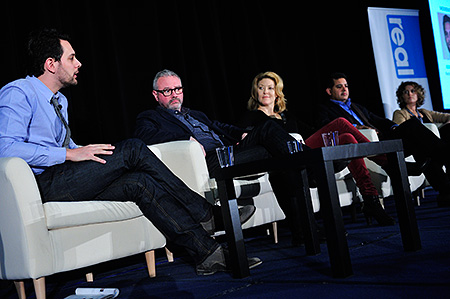 "If you had a feature-length documentary and wanted to get it on TV, your options were PBS or HBO. But now there's CNN," said Malhotra, pointing out that the network commissioned six films in 2013, but has lined up 10 to 12 for this year.
"We're not going anywhere in terms of the films or the series," said Malhotra, whose team helped produce Gabriela Cowperthwaite's Seaworld doc Blackfish, Steve James's Roger Ebert doc Life Itself, and recently bought Todd Miller's Dinosaur 13 at the Sundance Film Festival.
"That type of storytelling is very important to the evolution of CNN as a brand," he said.
The social justice agenda shared by Blackfish and HBO documentary Pussy Riot: A Punk Prayer – both were short-listed for the 2014 Oscars but missed nominations – then facilitated a discussion of risks intrinsic to socially conscious films.
"Every doc is a risk," said Bernstein. "Most of the HBO films rarely know where they're going to end. We have a long tradition of taking risks with our films."
She pointed out that HBO filmmakers traveled to Russia as soon as members of Pussy Riot were arrested, and doc-makers behind the network's gay marriage doc The Case Against 8 - which picked up the doc directing prize at Sundance on Sunday (January 26) - followed legal cases for the past five years.
When asked whether doc-makers were the new breed of investigative journalists, Malhotra said, "Doc-makers aren't new journalists, but very unique and special journalists," adding that Blackfish is essentially the in-depth story behind a headline about a killed Sea World trainer.
Timoner added that filmmakers are able to get that kind of access because they invest the time with their subjects.
The two-time Sundance Grand Jury Prize winner said that's what she hopes to do with her interactive video portal A Total Disruption, which documents the work of innovators and entrepreneurs and could potentially lead to a documentary in the future.
"Trust grows over time," said the Dig! director. "You try to go for the prism of truth, and make the audience the jury."
As for the future of doc-making in such a dynamic technological period, Kilmurry said American Documentary/"POV" has created teams for community engagement and digital content, in addition to trying out an experimental sandbox.
Bernstein, however, maintained that although HBO now competes with Netflix, "it's always going to come down to great content."
"It's about how these films push topics into the Zeitgeist," she added.
Malhotra shared the sentiment, saying, "I think if a film is strong enough, it will hit every platform."