While a pesky polar vortex put a chill in the air in Washington DC last week, the action within the Washington Hilton and surrounding vicinity was hot and heavy for the 16th annual Realscreen Summit, as 2,553 delegates converged on the American capital to do business and discuss the hot-button issues surrounding non-fiction and unscripted content, ranging from the risks and rewards in producing live content to evolving methods of storytelling in unscripted event programming.
In a year that saw more international press covering the Summit than ever before, one of the top headlines emerging from the Hilton's ballrooms came from Tuesday's "View From the Top" panel, in which Lifetime EVP and GM Robert Sharenow proclaimed that unscripted television is in the midst of a "creative crisis" and that for reality TV, "the renaissance is long over."
"That sense of real creative energy is not there right now," he commented. "Whereas 10 years ago the scripted world was as boring as it could get and non-fiction was in there with all these innovative formats, now it's completely reversed.
"It's a creative crisis," he continued. "There is a high motivation on the buyer's and seller's parts to keep doing the same thing."
Moderated by NHNZ development and production EVP Phil Fairclough, the panel – also featuring FremantleMedia North America CEO Thom Beers; Animal Planet, Science Channel and Velocity group president Marjorie Kaplan; Leftfield Entertainment CEO Brent Montgomery; Bunim/Murray Productions chairman Jonathan Murray; and National Geographic Channels president Howard T. Owens – also discussed their pet peeves ("When you script reality it becomes a lot more mediocre," offered Murray), as well as the programming that each panelist enjoys watching (for the record, Sharenow is a Chopped fan, while Beers gave props to Undercover Boss – perhaps unsurprising, given the recent speculation about an upcoming acquisition of All3Media by FremantleMedia).
The Summit officially kicked into high gear with the opening keynote session on Monday – an interview with CNN Worldwide topper Jeff Zucker conducted by former New York Times writer and current CNN senior media correspondent Brian Stelter.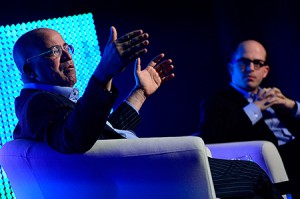 Zucker used the interview as an opportunity to emphasize that while CNN will continue its strategy of integrating documentaries such as the ratings giant Blackfish and original series such as Anthony Bourdain: Parts Unknown and the Morgan Spurlock-hosted Inside Man with its news programming, it won't come at the expense of comprehensive coverage of the top news stories.
Giving an example, he pointed to the fact that the network cancelled a planned screening of a film so that it could cover the death of former South African leader Nelson Mandela, pushing the film's planned premiere back to the following Sunday night. When such breaking news scenarios occur, he said, "it's not even a close call."
It wasn't all traditional TV talk, with the Summit also presenting a session entitled "The Digital Report Card." Moderated by Trium Entertainment founder and CEO Mark Koops, and consisting of FremantleMedia North America exec VP of digital content Gayle Gilman, Condé Nast Entertainment Group exec VP of programming and content strategy for digital channels Michael Klein, Xbox Entertainment Studios head of unscripted programming Ari Mark, and Upwave exec producer Chris Vivion, the session explored the rush towards original online content, its impact on producers, and the evolving opportunities for unscripted content in the digital space.
"We can throw out the rules and not worry about the clock or format… You're going to be able to do things that you just can't do with cable networks," said Mark during the session. "I don't see a downside."
Also, a discussion on the viewing and media consumption habits of millennials, dubbed "The Millennial Mind", brought together Brain Games host Jason Silva, Astronauts Wanted chief strategist Nick Shore, MTV programming and content strategy EVP Robyn DeMarco and Intelligence Group chief strategy officer Jamie Gutfreund for an eye-opening session.
The format world was discussed in depth via the "Format Focus" panel. The session – moderated by Eyeworks USA president Brant Pinvidic, and including Armoza Formats CEO Avi Armoza, Core Media Group president Marc Graboff, Wall to Wall head of international Jonathan Hewes, Keshet International MD Alon Shtruzman, and Zodiak Los Angeles CEO Tony Yates – looked at what might be coming next in the format space, as well as methods to reinvigorate long-time favorites.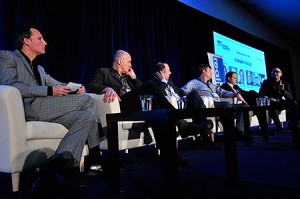 "Israel will stay hot for a while, but we're all looking everywhere," said Graboff about the hunt for the next big thing. "We'll go to the moon for a format."
From a genre perspective, in addition to the growing presence of reality producers, programmers and agents, there was also representation from some of the more traditional areas of the non-fiction landscape, including natural history and feature documentary. During the session "Climate Change? The State of the Non-Fiction Nation," moderated by Warehouse 51 head Carl Hall, Discovery's exec VP of landmarks and specials, Andrew Jackson, discussed his network's evolving approach to the genre in the wake of splitting from production partner the BBC last year.
"Natural history has been immensely important to the channel and remains so," he said. "We're trying to move to a new place. We're trying to find what the next thing is that comes along."
On the doc front, the "Risk-takers and Troublemakers" session – moderated by realscreen associate editor Adam Benzine and featuring CNN Worldwide's senior VP of development and acquisitions Vinnie Malhotra, HBO Documentary Films VP Sara Bernstein, American Documentary/'POV' executive director and producer Simon Kilmurry, and filmmaker Ondi Timoner – explored the risks undertaken by documentarians when they tackle big issues and volatile topics, and the collaboration between such filmmakers and the networks that air their work.
"Every doc is a risk," offered panelist Sara Bernstein, VP at HBO Documentary Films. "Most of the HBO films rarely know where they're going to end. We have a long tradition of taking risks with our films."
With a considerable delegation of UK producers on hand, spearheaded by UK Indies and Pact, the Summit hosted a session examining the new levels of partnership between UK prodcos and U.S. networks, "America 101." Moderated by National Geographic Channels CEO David Lyle, the session saw Nutopia CEO Jane Root, Zig Zag Productions CEO Danny Fenton, KEO Films managing director Debbie Manners, Pact chief executive John McVay and Firecracker Films CEO Mark Soldinger cover everything from intellectual property rights and working with agents, to business etiquette.
In addition to the always popular "30 Minutes With" sessions that feature programming execs from a wide range of networks, the Summit also offered two sessions that highlighted the commissioning needs of assorted cablers. "Meet the New Boss" – moderated by Atlas Media Corp president and executive producer Bruce David Klein, and including TLC general manager Nancy Daniels; truTV president and head of programming Chris Linn; and HGTV, DIY Network and Great American Country general manager of home category Allison Page – saw each network head discuss what they're looking for and how their networks are evolving.
Meanwhile, another regular Summit session, "Amping Up Unscripted", brought together FYI and LMN Channels president Jana Bennett, Al Jazeera America senior executive for documentaries Kathy Davidov, ReelzChannel SVP of programming Steve Cheskin, Weather Channel VP of original content and development Mary Ellen Iwata, and realscreen editor and session moderator Barry Walsh to discuss how each network is ramping up the amount of unscripted and non-fiction content in their schedules, as well as the best ways for producers to pitch to them.
Iwata also addressed the current carriage spat between The Weather Channel and satellite provider DirecTV in the session. With DirecTV no longer carrying the network, claiming that the addition of reality programming to the network detracts from its weather coverage, Iwata maintained that ""reality TV is not the problem. There are other issues in the DirecTV dispute."
"It won't affect my role. When there's no weather, we still have to get a rating in primetime," she added.
Another perennial Summit fave, the live pitch competition "So You Think You Can Pitch?", proved to be as popular as ever. Hosted by Jack Osbourne, the packed pitch-fest saw four producers vying to win a top prize of custom music scoring for their projects from Vanacore Music, in addition to a pass to the 2015 Realscreen Summit. For the second year in a row, Dafna Yachin of Lunchobox Communications emerged as the victor for her project Hot Spots: The Race to Save the Planet.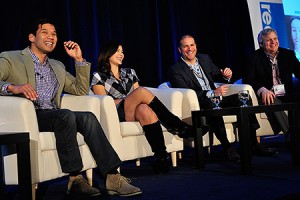 And for the first time, A+E Networks' H2, in partnership with realscreen, presented the H2 Development Lab at the Summit, in which network programming head Paul Cabana and VP of programming and development Mike Stiller were joined by Committee Films VP Maria Awes and Stephen David, head of Stephen David Entertainment, to both reveal the five winners of a US$20,000 development prize, and to discuss the collaborative process behind bringing successful projects to life on the network.
(All photos by Rahoul Ghose)