The Full Frame Documentary Film Festival is to honor the work of American director Steve James (pictured above) at this year's festival, and has tapped two-time Oscar-nominee Lucy Walker to program its annual Thematic Program.
The North Carolina-set festival will honor James with the Full Frame Tribute and will feature a retrospective of his work, which includes acclaimed documentaries such as Hoop Dreams, The Interrupters, Stevie, and the recent Sundance hit Life Itself.
Meanwhile, the 2014 Thematic Program will look at the role of the subject in documentary film, through a series of works curated by Brit director Walker, whose feature docs include The Crash Reel, Waste Land, Countdown to Zero and Devil's Playground.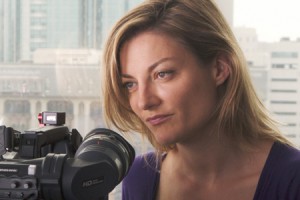 Walker (pictured left) also has a notable portfolio of short-form work: She earned an Oscar nomination for Best Documentary Short for The Tsunami and the Cherry Blossom; her 15-minute short The Lion's Mouth Opens premiered at Sundance last month; and her six-minute short David Hockney IN THE NOW (in six minutes) is set to air at SXSW next month.
"There's a deep tie between our Thematic Program and Tribute this year in that Steve James is responsible for introducing audiences to some of the most memorable documentary subjects of all time," said the festival's director of programming Sadie Tillery.
"We're proud to recognize his remarkable films and the powerful stories he's captured over the years."
James added: "Full Frame has always been one of my absolute favorite festivals because of its devotion to artistic and challenging documentaries and to making filmmakers feel loved and appreciated. "That love extends from the passionate festival-goers to Full Frame's incredible staff and programmers."
The festival has previously given its Tribute Award to filmmakers including Jessica Yu, Stanley Nelson, Marcel Ophuls, Rory Kennedy and Liz Garbus; while previous Thematic Programs have been overseen by filmmakers such as Amir Bar-Lev, Ross McElwee, DA Pennebaker and Alan Berliner.
Specific titles for the Thematic Program and Full Frame Tribute, along with additional attending guests, will be announced next month. Both Walker and James will attend the 17th Annual festival, which will be held from April 3-6 in Durham, North Carolina.