Finding Fela (pictured), The Case Against 8, Dinosaur 13 and Notes on Blindness are among the documentaries slated to play at this year's Sundance London, which runs from April 25-27.
In addition to screening a selection of docs from January's Sundance Film Festival, the London-based music and film festival – now in its third year – will host a number of related music events at The O2 in Greenwich.
These will include a free performance from Dele Sosimi, one of the original members of Fela Kuti's band, alongside an Afrobeat orchestra, to tie in with the European premiere of Alex Gibney's Finding Fela.
Elsewhere, the Art of Film Music panel will discuss the process of composing original music for films, while solo artist and Pulp frontman Jarvis Cocker will join the Hybrid Vigour Documentary panel alongside former Orange Juice frontman Edwyn Collins, which will explore "how British documentary is pushing the boundaries in challenging the genres of music, biography and archive film."
Sundance Institute president and founder Robert Redford said: "That audiences in London have responded so positively to the films presented at the first two Sundance London festivals speaks to the power and universality of the stories told by our artists as well as the audience's openness to exploring new ideas."
In all, Sundance London will feature 21 feature films and 18 short films across five sections.
The non-fiction selections, with synopses provided by the festival, follow below:
FEATURE FILM PROGRAM
The Case Against 8
(Directors: Ben Cotner, Ryan White) – International Premiere
A behind-the-scenes look inside the case to overturn California's ban on same-sex marriage. Shot over five years, the film follows the unlikely team that took the first federal marriage equality lawsuit to the U.S. Supreme Court.
Winner of the Directing Award: U.S. Documentary at the 2014 Sundance Film Festival.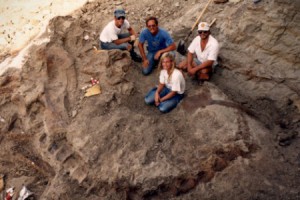 Dinosaur 13 (pictured, left)
(Director: Todd Miller) – International Premiere
An unprecedented saga in human history unfurls in this true tale of the world's greatest dinosaur discovery and the ensuing battle to possess a 65-million-year-old treasure.
Finding Fela
(Director: Alex Gibney) – European Premiere
Fela Anikulapo Kuti created the musical movement Afrobeat and used it as a political forum to oppose the Nigerian dictatorship and advocate for the rights of oppressed people. This is the story of his life, music, and political importance, from the award-winning director of Taxi to the Dark Side and We Steal Secrets: The Story of Wikileaks.
In conjunction with the film, the festival will host a free performance from Dele Sosimi, one of the original members of Fela Kuti's band, alongside an Afrobeat orchestra on April 27.
Lambert & Stamp
(Director: James D. Cooper) – UK Premiere
In this crazy, chaotic gospel of chance, aspiring filmmakers Chris Stamp and Kit Lambert set out to search for a subject for their underground movie, leading them to discover, mentor, and manage the iconic band known as The Who and create rock 'n' roll history. (Documentary)
Under the Electric Sky (EDC 2013)
(Directors: Dan Cutforth, Jane Lipsitz) – UK Premiere
This 3-D film chronicles the love, community, and life of festival-goers during Electric Daisy Carnival Las Vegas, the largest music festival in the U.S. Behind-the-scenes footage and exclusive interviews with Insomniac's Pasquale Rotella reveal the magic that makes this three-night, 345,000-person event a global phenomenon.
SHORT FILM PROGRAM
Love. Love. Love.
(Director: Sandhya Daisy Sundaram)
Every year, through the endless winters, her love takes new shapes and forms.
Winner of a Short Film Special Jury Award for Non-fiction at the 2014 Sundance Film Festival.          
Notes on Blindness
(Directors: Peter Middleton, James Spinney)
In 1983, writer and theologian John Hull became blind. To help make sense of his loss, he began keeping an audio diary. Encompassing dreams, memories, and his imaginative life, Notes on Blindness immerses the viewer in Hull's experience of blindness.
Of God and Dogs
(Director: Abounaddara Collective) – European Premiere
A young, free Syrian soldier confesses to killing a man he knew was innocent. He promises to take vengeance on the God who led him to commit the murder.
Winner of the Short Film Grand Jury Prize at the 2014 Sundance Film Festival.
I Think This is the Closest to How the Footage Looked
(Directors: Yuval Hameiri)
A man with poor means recreates a lost memory of the last day with his mom. Objects come to life in a desperate struggle to produce a single moment that is gone.
Winner of the Short Film Jury Award: Non-fiction at the 2014 Sundance Film Festival.
The Last Days of Peter Bergmann
(Director: Ciaran Cassidy) – UK Premiere
In 2009, a man claiming to be from Austria arrived in the town of Sligo, Ireland. During his final days, Peter Bergmann went to great lengths to ensure no-one ever discovered who he was and where he came from.