Steve James (pictured, right), the acclaimed director behind Hoop Dreams, The Interrupters and Life Itself, came to Toronto on Saturday (March 22) for a non-fiction masterclass organized by the DOC Institute, an initiative from the Toronto chapter of the Documentary Organization of Canada (DOC).
The half-day event saw former Hot Docs director of programming Sean Farnel (pictured above, left) quizzing the Chicago filmmaker on his career, from his breakthrough first feature Hoop Dreams, to his latest film, which looks at the life of film critic Roger Ebert.
Here, realscreen offers five key takeaways from the day.
1) It can take time to build trust
James said that it took a considerable amount of time to get to a place where the families of Arthur Agee and William Gates, the stars of Hoop Dreams, were comfortable with the longitudinal filmmaking process.
James said he made no promises about the prospects for the doc, and no guarantees about money or fame, but presented his aims honestly and clearly. A willingness to stick it out over the long haul (Hoop Dreams was filmed over a five-year period) showed the family that the filmmakers cared, and led to some of the 1994 doc's most intimate moments.
"I think the more people feel in control of the process, the more open they are," James said.
He also talked about getting to a place of comfort and naturalness with your subjects onscreen, and used a date analogy for the filmmaking process. On a first date, when you invite someone over to your home, you're wearing your best clothes, you've tidied the place, and you make your best dish.
"What you want is to get to the 10th time you come over," James said. "The house is a mess, they're wearing what they normally wear, and if you want something to eat, there's food in the fridge."
2) Being an insider has value, but so does being an outsider
Throughout his career, James has faced questions about the fact that he is a white filmmaker who is often telling black stories, such as 2010′s No Crossover: The Trial of Allen Iverson and the aforementioned Hoop Dreams and Interrupters.
James said that the questions are fair ones and fully agreed that more must be done to encourage black and minority filmmakers to tell their own stories. However, he pointed out that "outsiders" will often spot remarkable things that "insiders" will not.
"There are certain things that, being an insider, you become numb to," James offered. As a case in point, he cited the scene in Hoop Dreams in which one family was immersed in darkness after having the power cut to its home.
In the Criterion Collection DVD commentary for the film, one of the doc's two key subjects, Arthur Agee, reflected that he perhaps would not have included that scene if he had been making the film, since having power cut to a house for failing to pay bills on time was quite a regular and unremarkable occurrence in his neighborhood. It wasn't a big deal.
"But of course, societally, it is a big deal," James said. "I don't know that an insider would've got that. They might have, but it's still a different perspective."
4) Apted, Maysles and Kopple were early influences
"I'd seen 28 Up in grad school. I just remember watching that and thinking, 'This is amazing,'" James reflected.
In addition to Michael Apted's iconic series, he also cited Barbara Kopple's early work and the films of Albert and David Maysles as early influences.
Of Kopple, he praised "the way that she became so immersed in these stories, and didn't shy away from their complexity."
4) Sometimes, turning the camera off can be helpful in the long run
James recalled a key scene in The Interrupters in which a young man, having recently been released from jail after a three-year stint, wanted to meet with the owner of the barbershop that he had robbed at gunpoint, to apologize.
The barbershop owner was reticent, and as the filmmakers probed, they learned that the reticence came from the shop owner's worry that the apology was only being done from the camera, and was not genuine.
Although it pained him to do it, James called the barber and insisted that the apology being proffered was a heartfelt one and that, to prove it, he would not film the scene, in order to facilitate the moment.
It all worked out though – the show of faith was enough and, just before the young man set off for the key scene, the barber said the crew could film the moment after all.
"You have to sometimes be willing to say, 'Fine, I won't shoot it,'" James reflected. "I had to be prepared to walk away from it."
5) Hoop Dreams has two subjects because the filmmakers were hedging their bets
While it might seem impossible now to imagine Hoop Dreams (pictured below) without the dual narratives of Agee and Gates, James said that originally, he and fellow filmmakers Peter Gilbert and Frederick Marx followed and filmed both boys "as a hedge," thinking that only one of their stories would be interesting enough to make the final cut.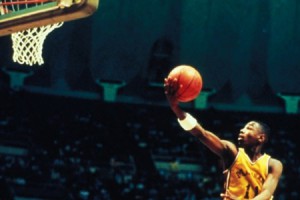 For more information about the DOC Institute, click here.