In realscreen's latest Changemakers feature – our spotlight on the companies and individuals behind innovations directly impacting non-fiction TV and film – filmmaker Ondi Timoner (pictured) tells us how she wants documentarians to embrace new technologies that will enable them to create, collaborate, and innovate.
After one too many solitary years quietly toiling on features, documentary maker Ondi Timoner now brings audiences along for the journey. Since the launch of her weekly talk show Bring Your Own Doc and Kickstarter-funded online portal A Total Disruption, the director has been championing self-distribution, and encouraging aspiring filmmakers to share
their work as they go.
Timoner – who won the Sundance Film Festival's Grand Jury Prize for 2004′s Dig! and 2009′s We Live In Public – wants to make the documentary world more accessible by encouraging filmmakers to be in the public eye throughout all stages of a project.
"We need to pull back the veil that used to be, 'She went away and made this film and I don't know how she did it. She must be a magician,'" Timoner says.
One way of demystifying docs has been through Bring Your Own Doc (B.Y.O.D.), which explores an aspect of documentary making or profiles a filmmaker in each episode. Over the past two years, Timoner has interviewed everyone from Paradise Lost director Joe Berlinger to Detropia filmmakers Heidi Ewing and Rachel Grady, and she anticipates that B.Y.O.D. – which is hosted on YouTube – will be the web's largest evergreen archive of documentary storytellers.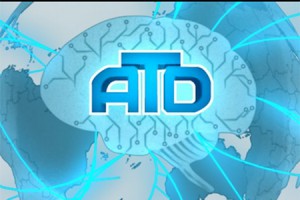 What has prompted Timoner to vouch for self-distribution, however, is her web portal A Total Disruption (pictured), which documents what the filmmaker calls the "Internet revolution." It's a topic she's always been interested in – and covered in We Live In Public – but this time around, she was hesitant to take the conventional production route.
"Because I do B.Y.O.D., I know what my colleagues are doing, and I realized no one was casting that wide a net to try and capture the total disruption that we're experiencing," Timoner explains.
So instead of a feature documentary, Timoner raised US$144,449 on Kickstarter for a web channel that would host the content she was determined to produce, such as interviews with entrepreneurs and video series on different aspects of the Internet age and innovation.
The series The Future Is Now, for example, documents the latest groundbreaking tech inventions, while Startup Life features case studies and tutorials on starting a business. Part of her objective, says Timoner, is that if she decides to make a documentary about the web channel – a project she says is "most likely" – she'll already have a captive audience, an approach she thinks more documentarians ought to adopt.
"If I make it a film one day, everyone will know what A Total Disruption is, and everyone will be curious to see the synthesis of all these pieces that have fed them this knowledge over these years," Timoner explains.
The director is encouraging documentary makers to refrain from keeping projects to themselves until they're completed and instead share as they go – a strategy facilitated by free Internet platforms such as YouTube and Vimeo and cheaper, more accessible technology such as iPhones.
"If you're going to be making a documentary and it's going to take you three, four or 10 years, it's an option now to go ahead and share some of that material, and maybe make a [webisode] about different characters or a scene that you did. Or make it like gonzo journalism where you literally are taking people through the work," she advises.
As for traditionalists who may say assiduous self-distribution could sacrifice the quality of the content, Timoner cautions that a promotional strategy should never come at the cost of the work.
"I think the focus still has to be between you and the subject," she says without hesitation. "And the focus for me will always be to tell the most authentic, visceral and best final film possible. But if I can have a member of the crew shoot a little behind-the-scenes stuff and – so easily with digital technology – just put that thing out there and share a little bit of this, why not?"
Collaboration pays off, Timoner assures. And, though she admits it wasn't a natural transition, she's practicing what she preaches.
"The more collaborative we become, the better for everybody. The better for the ecosystem, and the better for you – the filmmaker – as a brand," she maintains. "And it feels scary. It feels like, 'I'm not ready to share this yet,' but it's the best thing you can do.
"And it'll change your life."
This article first appeared in the March/April 2014 edition of realscreen magazine, which is out now. Not a subscriber? Click here for more information.