Ahead of the Canadian premiere of The Overnighters (pictured), director Jesse Moss talks to realscreen about examining issues of worker migration and small-town tolerance in his Sundance-winning documentary.
What are the limits of the biblical mandate to 'love thy neighbor?'
This is the central question facing Pastor Jay Reinke (pictured above), the star of the hit Sundance documentary The Overnighters - a complex and broad-ranging vérité film that touches on issues of tolerance, employment, poverty, immigration, drug addiction, sexuality and modern-day Christianity.
The film, from producer-director Jesse Moss, had its world premiere in Park City in January, where it won a U.S. Documentary Special Jury Award for Intuitive Filmmaking and was one of the fest's most talked-about non-fiction films.
It went on to play at Full Frame, True/False and Tribeca, continues its festival run at Hot Docs in Toronto tonight (April 25), and has been acquired for North America by Drafthouse Films, which is planning a theatrical release later this year.
The documentary follows events in Williston, North Dakota – a modern-day boomtown, which has become flooded with job-seekers as its hydraulic fracturing infrastructure and oil industry has rapidly expanded in recent years.
Like a modern-day Grapes of Wrath, the film illustrates how unemployed men from across the U.S. come in droves to the small town, desperately seeking work, only to find that there is no affordable accommodation anywhere.
With the local council having voted to ban these migrants from sleeping in their own parked cars, Pastor Reinke opens up his church to allow the 'Overnighters' to sleep on the floor – a move that provokes much anger and protest from local residents. As he reminds them of the biblical imperative to take in the homeless, he finds little support or sympathy from a community that does not welcome such a large influx of unfamiliar faces.
Moss, a California-based documentarian whose previous films include Full Battle Rattle and Con Man, tells realscreen he stumbled upon the town's situation while reading a local paper, the Williston Herald, online.
"Local newspapers are often a great source of stories that the national press overlooks," Moss explains. "As a student of American history, I was fascinated by the idea that there could be a modern-day boomtown like Deadwood; kind of a frontier town."
After reading about the 'Overnighters' program, Moss contacted Reinke, who was warm and enthusiastic about the possibility of meeting up and filming. After traveling out to Williston to talk with the pastor, Moss ended up shooting in the town for just under two years, making approximately 16 trips to North Dakota, each of which would typically last for a week or 10 days.
He filmed on his own, and had no financial backing. For the first six months of shooting, however, the filmmaker ran into the same problem as everyone else descending upon the town: "There was really nowhere to stay as everything's booked up by the oil companies – so I asked Pastor Jay if I could sleep in the church and he said, 'Of course.'"
Sharing the floor with as many as 50 other men at a time, Moss was able to convince some of the migrants to open up and share their personal stories, explaining why they had left their homes and loved ones to come to North Dakota.
It is from here that Moss began to mine the rich material that makes The Overnighters such an interesting, complicated and vertiginous documentary. Beyond the pastor's program, the film offers a broad look at the motivations and difficulties faced by workers, many of whom become homesick and depressed.
"What was missing was a real longitudinal story or look at what the experience was day-to-day, month-to-month, year-to-year for guys who came up there looking for redemption and opportunity," Moss says.
A third of the way through, the doc also presents the first of several twists when it reveals that the pastor has been sheltering a registered sex offender, who is seeking work in the town. The incident becomes a flashpoint with the Herald – a vocal opponent of the church's program – and the debate intensifies when Reinke decides to move the man from the church to live with his own family, in a house that includes his own two young daughters.
Such small town controversy brings to mind the work of two-time Oscar-winner Barbara Kopple, who Moss worked with when he was younger, and who he says was a great influence on him.
"Harlan County, USA remains the real touchstone for me, and an inspiration," Moss says. "I like that the film really found the human story, and was set against this much bigger story of labor strikes and worker rights.
"I felt like that was a little bit of the story that was missing for me in North Dakota, and I really liked – as a storyteller – that the pastor was in this fulcrum between the newcomers and the community. He was right in that pinch point, and he was risking a lot."
In addition to portraying the challenges faced by the homeless men, the film also reveals Pastor Reinke to be a complicated figure who is himself battling demons. As the church's program and the pastor's family come under increased scrutiny, the film delivers a shocking final twist.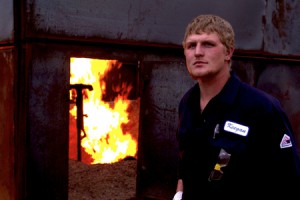 Having been granted intimate access to an extremely sensitive situation, in which he was able to film men who are dealing with employment, mental health and substance abuse issues, one of the challenges facing Moss (and his editor Jeff Gilbert) was deciding what to include and what to leave out.
"I didn't arrive from day one and ask for or expect to film those kinds of moments, but over time and through a relationship – really a collaboration with your subject – you're so closely tied to each other," Moss reflects. "That's not to say there weren't difficult conversations when we really did have to sit down and talk. There were a lot of conversations. What helps though is that this was such a long-term project – it's not 'news'; I wasn't coming in and leaving them. It was a two-year project and they knew that there was time to process the experience."
Among the hard calls Moss made were deciding to show a man who appears to be mentally unstable; identifying the aforementioned registered sex offender; and including a difficult conversation between the pastor and his wife.
Talking to realscreen at Sundance, Reinke said that while he was on the whole happy with the film, both he and his wife were uncomfortable with the inclusion of that particularly hard conversation, which appears late in the documentary.
"The truth was pretty harsh and dark, and I think that required a lot of intimate moments with people," Moss says. "Everybody in the film is aware that they're in the film, they all signed a consent agreement… everybody is in the film because they cooperated.
"My experience in 20 years of documentary work is that if you represent yourself honestly, and you work with integrity, then people are surprisingly open."
Regarding the pastor, Moss adds that "there will be attention paid to his personal fall, and where that puts him, but at the end of the day I hope the conversation returns to the choices he made to help the 'Overnighters'… and how we all think about the choices that we make to help people that need help, and what it means to 'love thy neighbor.'"
The Overnighters plays at Hot Docs in Toronto tonight (April 25), tomorrow (April 26) and next Friday (May 2)
This article first appeared in the March/April 2014 edition of realscreen magazine, which is out now. Not a subscriber? Click here for more information.