Crude and Paradise Lost director Joe Berlinger (pictured) is examining the U.S. criminal justice system again, this time for television. Ahead of The System's premiere on U.S. net Al Jazeera America this Sunday (May 18), the filmmaker talks to realscreen about going on-camera for the first time.
The eight-episode series The System, originally slotted to air on Al Jazeera America in March but put back to mid-May, will explore themes within the American justice system by using individual cases that personify the overall system.
Berlinger, who was approached by the network because they wanted to work with him, felt it was important to look at the larger criminal justice system, as opposed to a more narrow view of 'cops gone bad,' as the network originally suggested.
"I think this is a very interesting time in the criminal justice system, because there's a growing dialogue about reform," he says. "The show steps right in and looks – without being overly critical, we're not saying the system is broken and justice is never served – at some of these problems.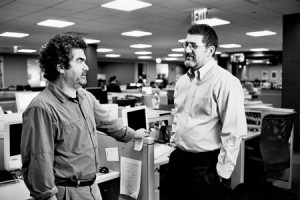 "We have the highest incarceration rate in the world, draconian drug laws that are trapping people in the system, barriers to employment of people coming out of the system, and rehabilitation as a concept is all but dead," he adds. "The prison system is being used to be the de facto 'treatment option' for mental illness and drug addiction and is extremely racially disproportionate. I wanted to take a step back and look at all of these issues."
Each episode takes one issue – mandatory minimum sentencing, flawed forensic evidence, false confessions, faulty eyewitness testimony, juvenile justice, proactive policing, prosecutorial misconduct and parole – and features at least one ongoing unresolved case that grapples with these issues.
And for the first time, the window onto these issues is Berlinger himself, as the filmmaker goes in front of the camera.
"That was a spontaneous decision made at the last minute," he says. "It was new to me and I'm not 100% comfortable, but hopefully it will work. We were trying to figure out a way to give the show a different feel and format, but I did not want to have a host or a narrator who was disconnected to what was going on, so it came up organically that this could be about a filmmaker's journey.
"Having me as an on-camera guide who's wrestled with the issues, it allows me to impart to the audience the deeper layers," he adds. "I'm working out my thoughts on these issues just as the audience is, and trying to figure out how to make sense of what's right and wrong and what should be done.
"Having me doing that as I'm covering the stories as opposed to presenting it in a more cinema vérité way, which is usually my style, or having some other on-camera host, I think it allows the audience to work through the issues with me."
The first episode of The System, entitled "False Confessions," premieres Stateside on Al Jazeera America on May 18 at 9 p.m. EST