With the departures of David Lyle and Howard T Owens last month, chief marketing officer Courteney Monroe (pictured) has stepped up to become the new CEO of National Geographic Channels U.S. In her first major interview as chief exec, she tells realscreen what to expect.
National Geographic Channel (NGC) unveiled an unexpected one-two punch in mid-April, first announcing that president Howard T. Owens would be leaving, and then – a day later – that chief exec David Lyle would also exiting.
With their departures, the U.S. cable network's board has put its faith in chief marketing officer Courteney Monroe, promoting her to CEO. Monroe has been with the network since 2012, and before that spent more than 13 years as HBO's exec VP for consumer marketing and digital platforms.
The promotion, which took effect on May 1, puts her in charge of all American operations, including Nat Geo Wild, Nat Geo Mundo, and the flagship U.S. channel. "I'm still very new to this," she reminds realscreen, talking by phone from DC just a few weeks into her new role.
"I'm on an active listening tour, both internally and externally, to hear what people think is working best about the National Geographic Channel, and where people see the biggest opportunity," she says.
Alongside her elevation, NGC U.S. has also appointed a chairman, bringing in David Hill – who currently serves as senior exec VP of 21st Century Fox and is a member of the NGC board of directors – to provide "counsel to the executive and programming leadership team," according to the network.
While some trades have interpreted this as a move which will see Hill "taking the helm," Monroe is keen to assert that she will be the one holding the reins.
"David's amazing, and he is so passionate about the National Geographic Channel brand," she says. "He is very much rooting for our success and is there to help us as much or as little as we need. I report to the board of directors, so it's still very much the reporting structure that David Lyle had. But it's great to have David [Hill] available in an advisory role to help in whatever way we need him too."
With the brand having undergone an overhaul in 2011 through the arrival of Lyle and Owens, Monroe says she is not planning on radically altering the network's formula, but instead plans to build upon the existing set-up.
"I see this not as pursuing more transformational change, but about how we can take the channel to new heights off of the great foundation that has been built," she explains. "How do we focus our efforts on the things that have worked best for us and continue to strive to be the smartest, most authentic, most visually spectacular factual channel in cable?
"David Lyle and Howard Owens really brought a huge amount of transformational change to the National Geographic Channel, in terms of the programming we develop and the fact that we now work with the best in the business in the production and creative community – people who just three years ago were not even bringing their ideas to us."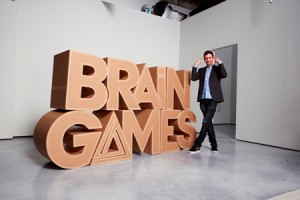 NGC U.S. will continue to push "smartertainment" titles such as Brain Games (pictured, right) and Going Deep with David Rees, which hit the sweet spot with the network's target audience, but Monroe feels there is still an opportunity to "hone it a little bit more" in terms of viewer appeal.
"We do have a core non-fiction audience that tends to skew male," she says. "We won't be walking away from our core audience, but I do think we may be looking at pockets of potentially underserved audiences that we can uniquely serve."
One difference between Monroe and her predecessor – which has also caught the eyes of press – is that the new CEO comes from a marketing background, and does not have hands-on experience as a program-maker. While Monroe admits that she is "a brand person first and foremost," she believes the skills she's gained at HBO and NGC to date will stand her in good stead for the challenges ahead.
"Marketing professionals are always very focused on, 'who's the target audience, what is it they're hungry for, what's the best way to reach them and satiate them, and what's the space in the marketplace that our brand can really win?'" she says. "And I think that's very much my focus as well; saying, 'let's be very clear about the audience we're going after.'"
And to producers thinking of pitching to NGC, Monroe's message is: "We want to be daring and not derivative."
She adds: "I am acutely aware that the way to be distinct is to take risks, and that is what energizes me and the creative people at our channel. For 126 years, National Geographic Explorers have gone to places that nobody else have by being incredibly daring and audacious in their vision, and that's very much in the heritage and the DNA of the brand.
"Those are the values that I want to embody."
This article appears in the soon-to-publish May/June 2014 edition of realscreen magazine. Not a subscriber? Click here for more information.