Increasingly, media producers are transforming the documentary experience through interactive docs and buzzy transmedia elements. But how can integrating transmedia reinforce a project, and what audiences can it reach? Realscreen talks to the National Film Board of Canada, PBS's Frontline, and film and digital producer beActive to learn when transmedia works best in the doc world. 
For anyone looking to understand the controversy surrounding the Northern Gateway Pipeline – the recently approved cross-provincial route that will bring Canadian oil to the Pacific – Montreal-based filmmaker David Dufresne's online docugame Fort McMoney may provide answers. About four weeks' worth of them.
Filmed over 60 days in Fort McMurray, the Alberta city at the heart of Canada's oil sands, the interactive documentary and strategy game lets users decide the fate of the city through virtual interactions with real-life denizens and debates with other players – all played out over a four-week period.
Since its November launch, the Fort McMoney website has been viewed more than 500,000 times and drawn 30,000 active players.
The project – an international copro between the National Film Board of Canada (NFB), Montreal creative agency TOXA, and French broadcaster ARTE – is a standout in transmedia storytelling, which uses multiple platforms to convey a narrative, and increasingly applies to documentaries.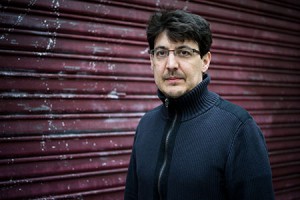 "The web gives us, as directors, a lot of possibilities, freedom and creativity to tell stories in a new way," the 46-year-old Dufresne (pictured, left) tells realscreen, adding that a broadcast version of Fort McMoney is in production.
"You don't tell the same things in a TV version that you do in a web doc or game doc," he says. "On the web, what is magical to me is that people feel they are part of the movie, part of the story – that they're inside."
The director – who will begin a fellowship at MIT's OpenDocLab next January – is describing an extension of the doc experience that many media producers are starting to capitalize on, through both interactive docs as well as feature docs with transmedia elements.
While broadcasters are using transmedia to reach previously inaccessible audiences, filmmakers are using these devices to create dialogues with viewers ahead of completing projects.
Currently, 25% of production dollars at Canada's NFB are geared towards interactive and digital production. The majority of funding still goes into feature docs, but the public producer's mandated "digital shift" caters to a new media landscape.
Loc Dao, the executive producer and creative technologist for the NFB's Vancouver-based Digital Studio, says the biggest trending demographic for its projects is the 18-34 age group, many of whom are "broadband-only" and don't have cable or television. In terms of what devices are being used, Dao says the order is computers followed by smartphones and tablets, and then smart TV applications like Apple TV.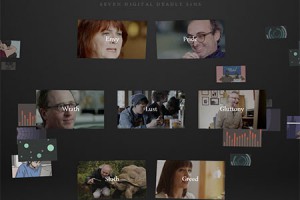 Last month, the NFB teamed with UK newspaper The Guardian to launch an interactive doc entitled Seven Digital Deadly Sins (pictured, right), which combines documentaries with infographics, articles and polls, and invites users to reflect on excessive social media use. Six days after the June 6 launch on the newspaper's website, the project had garnered 180,000 visitors who had looked at it more than 200,000 times.
"I consider this a new and evolving form of documentary because, at its core, it observes and captures things that we do and are doing and uses modern tools to do that," says Dao.
Meanwhile in the U.S., pubcaster PBS is integrating transmedia elements into its iconic investigative documentary program Frontline.
The show's digital team actively produces digital assets such as blog posts, infographics and short videos around feature docs. The recent premiere of the documentary Syria: Arming the Rebels, for example, was accompanied with the YouTube mini-doc How to Train A Rebel Army (Secretly) in Seven Steps.
"I think that being available on many different platforms in forms that are authentic to those platforms has value," says Pam Johnston, director of audience development at Frontline. "That's why you're seeing some of this experimentation in the transmedia space, because there's a whole different audience experiencing these stories in different ways on different platforms."
Johnston says Frontline's interactive push has revealed that an entirely different audience – and younger demographic – is engaging with their content online as opposed to their traditional broadcasts.
"For so many years, after being delivered on broadcast television, we thought we knew who our audience was, and I guess the big surprise is that we've learned our audience is much larger than that. It's just that they didn't know where to find us before," says Johnston.
"They didn't stumble upon us on PBS, so they're finding us maybe on Facebook or Twitter and we're seeing we have a much wider appeal than we once believed," she adds.
One early adopter of transmedia is Nuno Bernardo, founder of film and digital studio beActive, which has helped clients develop transmedia content for their projects across various platforms since 2003.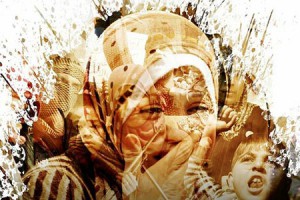 Three years ago, Bernardo waded into the documentary sphere with the transmedia doc Road to Revolution (pictured, left), which tracks three journalists following the path of the Arab Spring. But instead of building transmedia elements after the project was completed, Bernardo released blogs, photos and videos of the production as the film was being made.
"You could follow the making of the doc in the field because the filmmakers were uploading the content on a daily basis so the audience could be part of the creative process," says Bernardo. "They could feel they were there. And when the filmmakers needed help and contacts, they used the social media, the website and their following to help them."
But despite the promising nature of the field, Bernardo says that in order for more docs to provide holistic experiences, the costs and time associated with transmedia models must be accounted for.
"In Europe, a lot of networks or broadcasters that commission docs are now requiring that the filmmaker not only deliver a 50- or 90-minute doc, but also requiring the transmedia or digital elements," explains Bernardo. "What's happening is that doc makers need to do even more material with sometimes a lesser budget.
"You need people now that you didn't need in the past to manage your social media experience, as well as an interactive designer or transmedia producer to create it, and then you need to get much more footage than you need to develop a 52-minute documentary," he adds.
Dufresne is all too familiar with this scenario.
"To me, the biggest challenge is that the more you give an audience freedom, the more you have to work and the more complicated it is," he points out, adding that too much innovation can be detrimental.
"We don't want to have the audience be afraid of the experience," he says. "Innovation is the key, but it's hard to know how much people know about this kind of storytelling, and how much help they will need with it."
The director adds that securing funding for transmedia projects is still difficult because broadcasters are wary of the risks surrounding the burgeoning field, such as who the audiences are.
But despite transmedia's growing pains, Dufresne says sharing a story with an audience and seeing how they get involved is as rewarding an experience as he will ever get as a filmmaker.
"It's important to think of the Internet as a quality territory," he says. "It's not only YouTube clips and quick-and-dirty stuff. Sure, you can do that, but you can also do very professional, high-quality work. And that applies to everybody, not just filmmakers."