The wide range of genres within unscripted programming requires similar scope when it comes to music scoring. Realscreen approached various studios to find out more about the composers behind the cues, and the processes involved in making reality rock.
Joel Beckerman (pictured)
Man Made Music
manmademusic.com
Notable credits
30 for 30 (ESPN), Paranormal Witness (Syfy), Anthony Bourdain: No Reservations (Travel Channel), Meet The Press (NBC), Gangland (History), CBS This Morning (CBS).
Other activities
A proponent of 'sonic branding,' Beckerman has created sonic identities for HBO, Showtime and AT&T. He reworked the NBC Nightly News theme with composer John Williams and worked on horn arrangements for will.i.am's remix of the Entertainment Tonight theme song.
What's your approach to scoring for digital?
My approach is to draw from materials you already have. Normally you have to rethink it but I focus on making sure the experience is cohesive. You might create a sound that is simple or that gives you feedback: you hit a button and know you've accomplished something.
Scoring an iPad experience is similar to scoring a television show but it's more about providing this elegant simplicity that serves whatever the user is experiencing at that moment.
How is the idea of sonic branding evolving as programming goes multi-platform?
About a year and a half ago I produced the horn arrangements for will.i.am's Entertainment Tonight theme. Part of that assignment was to come up with a little button that worked for broadcast but was much more about, what does the show sound like when you hit a button on the iPad? The intersection between long-form storytelling, scoring and looking for what I call brand navigation sounds is becoming more organic.
I think of it almost like a print designer: I have to have a lot of silence because that's my white space. I need a lot of white space to make the sonic moments meaningful. It's really easy to annoy people in digital. It's the cayenne pepper – a little bit can make a huge difference and too much spoils the sauce.
What trends are you hearing in unscripted music these days?
We're using more live musicians and real sounds and doing a lot more recording. It's a little challenging since we know budgets are not increasing on factual shows so we have to be really crafty and smart about what we record and the way we record it. The overall feeling is that musicians add a greater sense of authenticity.
It's breaking those conventions of going to samples that have grown up over the past 10 years. Now we're coming up with ways to hear the wonderful imperfection in instrumentalists.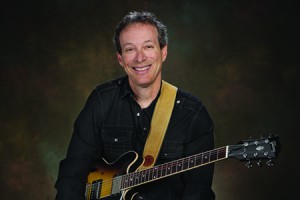 Craig Sharmat (pictured, left)
Warner Chappell Production Music (freelance)
warnerchappellpm.com
Notable credits
The Real Housewives of New Jersey (Bravo); Deadly Affairs, Southern Friend Homicide, Who the Bleep Did I Marry (Investigation Discovery); America's Most Wanted (Fox)
Other activities
Operates library ScoreDog Music.
You have a reputation for scoring crime shows. How did that happen?
I worked on America's Most Wanted and when they went to library music, they allowed me to keep my publishing and we continued working that way for 12 years. I created a library of crime music that started to grow and became sizable [he now operates the library ScoreDog Music, in addition to working as a frequent freelancer for Warner Chappell Production Music]. When new shows couldn't afford an original score but wanted custom cues, I could fill it in with that library.
What's the weirdest unscripted project you've worked on?
Probably one I didn't watch: Strange Sex. I'm just not adventurous that way so I wasn't interested to see what these people were doing. The producers would go to the library and just say, "Can you create this?" It might be an old Bryan Ferry cue like "Slave to Love" and then the show ended up being about bondage.
Can you tell me about your career as a jazz musician?
I've had three top 10 Billboard hits in the last few years. A lot of guys have used their rock notoriety to get into TV scoring but I went the other way. I was a scorer first and I then went into smooth jazz, although I toured with smooth jazz acts before becoming a TV scorer. Regular jazz has swing and Latin feels but nothing grooves with an R&B feel and allows you to have a jazz sensibility like smooth jazz.
It's got a bad moniker because of that. That being said, there are players out there who can be considered substandard but there are other players who are just spectacular. There's good and bad in everything.
Brandon Thompson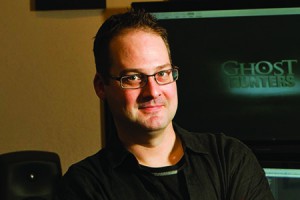 (pictured, right)
Vanacore Music
vanacoremusic.com
Notable credits
Big Brother (CBS), Wipeout (ABC), Whale Wars (Animal Planet), Off Their Rockers with Betty White (NBC), Ghost Hunters (Syfy), Beyond Scared Straight (A&E).
Other activities
Worked as a music editor on the ABC soap opera One Life to Live.
When do you decide to use live musicians versus digital/electronic sounds when composing?
It's always been about working with incredibly talented composers who are also musicians. We will record on our own tracks, but also collaborate closely with others. So if I need a solo string performance on a track I'm working on I can send it over to one of our composers who plays cello (or, if they're a better fit for the assignment, then I just let them compose it). But we're pretty picky about things sounding authentic so it's important for us to be able to have a diverse team of composers and musicians to accommodate the variety of projects we work on.
What was a particularly challenging or interesting unscripted project you worked on?
Taking On Tyson for Animal Planet definitely comes to mind. Two composers had been let go before we got the call, and this was towards the very end of the post schedule. They had temped all the episodes with soundtracks so we had to scramble to replace everything in each episode as fast as possible. The other kicker was the production company and post-house were located in London so we were essentially behind on post every day.
I remember one specific morning where I was at home meeting with some construction people and I got a call from the studio. The production team had a note on one of my cues, but no one had checked it until they were on the dub stage. It was night there and they all wanted to go home so I rushed to the studio, opened the cue, made the changes, and sent it back to London so they could finish the mix and go home. That was just the start of my work day.
Do you make music outside of your job?
I'm fortunate enough to have a job that allows me to fulfill so many of my creative needs. I am able to score to picture, work with producers who are willing to take creative chances, and work with other composers and musicians from so many backgrounds which leaves me very fulfilled at the end of the day.
 This feature appears in the May/June 2014 issue of realscreen magazine, which is out now. Not a subscriber? Click here for more information.