UK broadcaster Channel 4 has invested into four UK indies, taking minority stakes in Arrow Media, Lightbox, Popkorn and True North.
The investments come as part of the broadcaster's £20 million (US$33.2 million) Growth Fund, which was launched earlier this year and which aims to aid the growth and development of small- to medium-sized creative companies based in the UK.
Laura Franses, the head of the fund, oversees the initiative in conjunction with a Growth Fund Advisory Board.
In a statement, C4 stated that each investment was carefully evaluated to consider the indie's commercial potential, as well as "whether there was a clear growth opportunity and its value to the wider UK creative industry."
In addition, the broadcaster said that no output or minimum guarantees would be given to the invested companies, in relation to C4 commissions.
It added that the Growth Fund investments would not influence the strategy of Channel 4′s commissioning team, which will continue to work "with the broadest range of suppliers and in a manner consistent with the Code of Practice for Commissioning of Independent Productions and with equality of access." The size of the investments was not disclosed.
Of the companies receiving investment, Arrow Media was founded by Tom Brisley, John Smithson and Iain Pelling, and operates in the UK, the U.S. and other international territories.
Since launching in 2011, the indie has produced programs such as Ultimate Airport: Dubai (National Geographic Channels International), Jumbo: The Plane That Changed The World (BBC2, Smithsonian Channel, Discovery Canada) and Live From Space (Channel 4/National Geographic Channels).
Lightbox, meanwhile, was launched by two-time Academy Award-winning producer Simon Chinn (pictured below, right) and his Emmy Award-winning cousin Jonathan Chinn (left) last December. Simon's credits include Man on Wire and Searching for Sugar Man, and the duo landed their first commission from the now defunct Xbox Entertainment Studios.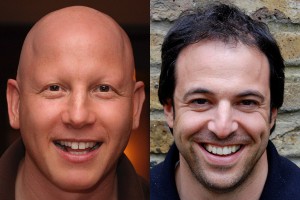 Based in Yorkshire, England, True North is led by co-founders and creative directors Jess Fowle and Andrew Sheldon, along with MD Marc Allen. The indie's portfolio includes Junior Vets (CBBC), The Valleys (MTV), Building the Dream (More4), Animal SOS (BBC Daytime) and Closing Time (Channel 5).
Finally, Popkorn is an indie specializing in producing documentaries and digital branded content, founded by Rory Wheeler and Colin Moxon. The company's credits include Football Behind Bars (Sky1), Living with My Stalker (Channel 4), Killers Behind Bars (Channel 5) and Ria: Diary of Teenage Transsexual (Channel 4).
C4 will continue to take submissions from interested independent producers and said it expects to make the next Growth Fund investment announcement at the end of Q1 next year.
In a statement, C4 CEO David Abraham said: "This is a significant moment for Channel 4 as we help support talented creative companies with our Growth Fund investments.
"I'm delighted that we've been able to invest in four diverse British independent producers and I hope both Channel 4 and the wider industry will benefit from their future success. This is just the start and we will be announcing more deals over the course of the next year."
UK-based companies can register their interest to growthfund@channel4.co.uk