As PBS dedicates this week's primetime schedule to 14-hour doc series The Roosevelts (pictured), director Ken Burns talks to realscreen about the challenge of tackling America's foremost political dynasty.
Ken Burns is never one to do things by halves.
After dedicating 11 and a half hours to America's Civil War, 18 and a half hours to the history of baseball, and 19 hours to the history of jazz, the U.S. filmmaker (pictured below) this week returns to PBS with another epic, this time tackling America's foremost political dynasty.
The 14-hour series The Roosevelts, which premiered last night (Sunday 14) and will play across seven episodes on PBS this week in primetime, focuses on the lives of two of America's most important presidents – Theodore Roosevelt and Franklin D. Roosevelt – as well as Franklin's wife, noted human rights activist Eleanor Roosevelt.
The series, which has been in the works for more than four years, is one of a number of major irons Burns has in the fire, with the 61-year-old working on various series through to 2019, including works on Jackie Robinson, Ernest Hemingway, the Vietnam war and the history of country music.
RS: When I talked to you about this project in 2010 and you said it was being prepared for 2014, that seemed like such a long way away…
KB: [laughs] And now I have things for 2019 and it's the same thing. But to me, it feels like tomorrow.
How did you come to decide to tell a story focusing on the Roosevelts as a family, rather than focusing on one particular president?
My long-term collaborator, Geoffrey Ward and I have been working together for 32 years, since 1982, and he is himself, the writer of two extraordinary books on the early life of Franklin Roosevelt.
We'd talked about doing something initially on Franklin and then finally we realized that nothing had ever been done on all three… that people have too often accentuated the differences between the two because of the very thin variations in party; Theodore was a Republican and Franklin was a Democrat.
But in fact that all three were wounded people and had to overcome whatever deficits of childhood or young adulthood that beset them. And all then tried to apply what they'd learned toward helping other people figure out how to overcome their issues.
So there seemed to be a vast way in which the Roosevelts had not really yet revealed themselves to us.
As you were making the series, were you consciously thinking about the tone you wanted to set, or the balance you wanted to achieve between the two presidents and their differing achievements? Their presidencies span almost half of the first 45 years of the 20th Century.
It is a very complex and interrelated and intertwined narrative with not just three principal characters, but secondary and tertiary characters who appear and reappear, and themes that are sort of planted in episode one that repeat again in episode two, but then not again until episode five…
These all have to be calibrated particularly, but essentially it's driven by chronology and we realized that Theodore would die by the end of our third episode, but his "ghost" would haunt the rest of the film.
The series doesn't seem to shy away from highlighting their shortcomings as individuals…
It was very important from the beginning not to descend into hagiography, not be so enthralled by our subjects that they get away from you. These are deeply flawed human beings and I think we lament, again, in that superficial media culture that we live in, the absence of heroes.
That's only our flawed understanding of what heroes are. They're not perfect. The Greeks, who defined heroism, didn't expect perfection. In fact, they assumed that there would be, accompanying great strength, great faults. Achilles had his heel and his hubris.
That's very much present with the Roosevelts, and I think we've done a good job of relating the way in which they all had – all three of them – had varying, glaring flaws. They're deeply flawed human beings. As I think we all are.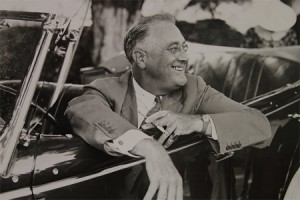 You obviously uncovered a lot in the making of the series – was there anything that was particularly revelatory to you?
Well, I think a lot of how we understand the inner workings of Franklin Roosevelt [pictured, right], who was one of the most frustratingly opaque people I've ever tried to get to know in my historical investigations, has been an understanding of him that's been painted by Eleanor, in which we assumed certain things. Like, he never complained about his braces. He never mentioned polio – it never bothered him.
Well, it was on his mind all of the time. Of course it bothered him. And in the letters to [his close friend] Daisy Suckley, he's much more revealing of that.
So I think that's an important thing to remember, how much Daisy Suckley really changes our view of Franklin Roosevelt and gives us access to his voice, and her voice.
You have a number of future projects on the go, including a series about cancer and a film on Jackie Robinson, right?
Yes, the history of Jackie Robinson, and we're also shooting a series on the history of country music, and have begun work on a biography of Ernest Hemingway.
And you've just had a screening of some of the material from the forthcoming Vietnam series?
Right, we've just been working internally with our editors over the last few weeks in edit sessions. We had a screening for historical advisers in June and they're still working through a pass, and then we'll invite some of the advisers in, in October, and then again in January, and another big one in March.
Is it difficult to get in and out of the head-spaces of these vastly different subjects, when you're going into such depth?
No, not at all. In fact, I relish it. In some ways, the distraction of the other project permits me to then see the projects anew, to see it fresh again.
And that's hugely important, to sit down in the editing room if I've been away for a few weeks and look at an episode, and really let it wash all over me as if it was new.
I also think I'm making the same film over and over again. Each one is asking the deceptively simple question, 'Who are we? Who are these strange and complicated people who like to call themselves Americans?'
The Roosevelts premiered on PBS in the U.S. last night (September 14) and continues its run on the network from 8 p.m. EST through to midnight all week long. 
Check out the first eight minutes from the premiere episode of the series, courtesy of PBS, below: