Almost two months into his new role as president of original programming and production at National Geographic Channels U.S. (NGC U.S.), Tim Pastore is pushing a wilderness-focused slate with series such as Live Free or Die (pictured below) and the forthcoming, tentatively titled Rafting Alaska.
Pastore previously served as executive VP of production and development for the company's in-house prodco National Geographic Studios (NGS), which developed Live Free or Die – a series that he says represents the brand's core values as well as a "back to nature" movement the company is aggressively pursuing.
"At the end of the day, finding those people who are truly self-reliant and moving away from modern culture – who have shared beliefs in developing and executing skills to live a life that is more self-reliant and not dependent on modern technology – clearly I think this was a space we knew the brand should be moving into," Pastore explains in an interview with realscreen.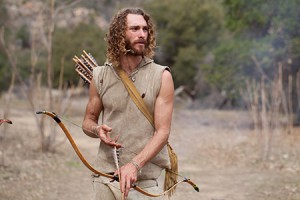 The series, which debuts Tuesday (September 30) at 10 p.m. EST/PST, follows five Americans living in the country's backwoods and swamps who rely only on their survival skills and the environment around them – a lifestyle trend called "re-wilding," which sees urban dwellers reject modern lifestyles and revert to their natural roots.
Nat Geo is further committing to the trend with the forthcoming series Rafting Alaska, Pastore tells realscreen . Produced by Duck Dynasty prodco Gurney Productions, the series – which is currently in production and set to debut next summer – will follow log-rafting Alaskans on a journey down the Yukon River.
"Hero-driven content and men who are out there in terms of Alaska and going down the Yukon? It's full of heart," says Pastore, who also created and exec produced Nat Geo's Alaska-set survival series Life Below Zero while he was VP of factual programming and production at BBC Worldwide Productions.
"It's epic and grand-scale, and the drama is there and it's visceral and real," he says.
Pastore's focus on action and adventure reflects the "broadening of scope" discussed by Nat Geo's executive VP of programming and strategy Heather Moran during a March upfront presentation.
The exec said that while the network will continue to develop its "smartertainment" platform – driven by shows such as Brain Games, which Pastore previously oversaw at Nat Geo Studios – action and adventure, and exploratory events and specials would also be highlighted this year.
Indeed, Pastore assures that the net will continue to "support and evolve" the smartertainment angle, as well as event programming such as live specials, but for the moment, he's looking to widen the breadth of programming while remaining authentic to the brand.
"The biggest change is trying to take all that transformational  growth over the last few years in terms of the broadening of the brand and starting to hone in on what our audience is telling us what they want from us, focusing on our core viewers, and trying to find pockets of new audiences and making sure their needs align with ours," he says.