In a bid to build an "ensemble of faces" for the brand, Travel Channel has given series orders to a slate of shows featuring celebrity chefs and journalists, the network revealed yesterday (October 7) at a press event in New York.
Ross Babbit, senior VP of programming and development for the Scripps Networks Interactive-owned net, told realscreen that the brand is hoping to emulate the success of Food Network and HGTV with personality-driven shows.
"We think of our hosts as expert guides for the people at home, to show them the world, and people love those docents – that fresh face to go on that journey with," Babbit explained. "We already have several of them with Andrew Zimmerm, Anthony Melchiorri and Zak Bagans of Ghost Adventures - they have these passionate fan bases – but we're really making a big push to add more faces to the network to kind of fill [it] out and make it broader."
As such, the slate of orders for personality-driven series and pilots is meant to broaden the network's scope and has been a "big push," Babbit said.
"We were needing a lot of new, fresh faces to help viewers just find new friends to hang out with on our network," he said, adding that the channel is also "going more international" than they have in the past.
"We feel we owe it to the viewers to show them not just the U.S. but the entire world," said Babbit. "It can be tricky because it's expensive to take these shows on the road but we feel it's important and the viewers want it."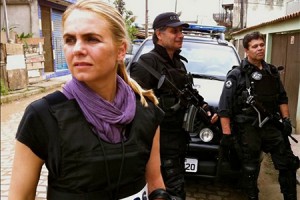 The previously announced shows now signed on for series include the MY Entertainment-made Breaking Borders (13 x 60 minutes), featuring journalist Mariana van Zeller (pictured, right) and chef Michael Voltaggio in international conflict zones; the Orion Entertainment-produced Guiding Alaska (8 x 60 minutes), which explores Alaskan wilderness resorts; and the ABC Lincoln Square Productions-made Watt's World (13 x 30 minutes), which features the travels of journalist Nick Watt.
The network has also ordered a Bizarre Foods spin-off entitled Bizarre Foods: Delicious Destinations (13 x 30 minutes), which focuses on exotic foods and is again hosted by chef Andrew Zimmern. The series is produced by Tremendous Entertainment and will premiere on January 26 at 9 p.m. EST/PST.
In addition, the previously announced Brian Unger Project has received the official title of Time Traveling with Brian Unger and has been upped to 13 episodes from the original six-episode order.
Travel Channel has ordered two half-hour pilots featuring TV personality Samantha Brown. The first, 50/50 (working title) will see Brown sharing hosting duties with Chris Grundy of DIY Network and surprising unsuspecting people with 50-hour adventures worth US$50,000. The second pilot, Track Down Samantha Brown (w/t), will see Brown report from secret destinations and ask viewers to guess her locations.
Finally, the net revealed two one-hour specials including The Trip: 2015, which showcases Hawaiian destinations and is tied to the Travel Channel's multi-platform sweepstakes event, and Travel Channel Star, which profiles the winner of the net's search for a digital travel series host.
When asked about the Travel Channel's expansion into food- and culture-focused series, Babbit said the net is aiming to hone in on integral aspects of travel.
"It's always going to be a big part of the experience, so those shows do really, really well," he said. "People love learning about what restaurants to go to, what are the locals eating that [they] can't find on the menu, and the off-the-beaten-path places that aren't in the tour guide. And they love the personalities – the people who take them on their journeys."
Babbit warned, however, that the net would steer away from series on food preparation, instead showing viewers "how to experience the food."