French indie Winds and pubcaster France 2 caused a stir earlier this year after jointly unveiling stills from a wildlife special that purportedly featured natural history footage filmed at nighttime in full color. Here, the partners tell realscreen what to expect from the groundbreaking project.
French pubcaster France 2 and production company Winds made headlines at Sunny Side of The Doc in June, unveiling Une nuit sur terre (A Night on Earth), a groundbreaking wildlife doc venture, which, at press time, also has Jacques Perrin's Galatée Films and China's CCTV9 on board.
The special promises to introduce new technology allowing producers to film in color at night. The first 90-minute installment, entitled The African Night, is currently in production, filmed in 4K on a budget of €2.5 million (approximately US$3.2 million) and set to air in primetime this Christmas.
Winds, a relatively new prodco, was launched in 2011 by Barthélémy Fougea, the former partner – together with his brother Frédéric – at Boréales (Hanuman, Homo Sapiens). The company's track record already includes a theatrical feature hit, by way of the 2014 César best documentary-winner Sur le chemin de l'école (On the Way to School), about children struggling to go to school in faraway lands, which sold 1.3 million tickets.
The rest of the creatives aren't newcomers either. Writer Stéphane Durand and director Thierry Machado both worked in the past on a number of theatrical docs with Perrin and Galatée Films, with Durand having served as the co-writer, scientific advisor and assistant director of Winged Migration, Oceans, and Seasons; and Machado having been a camera operator on Winged Migration and Microcosms, for which he won a César award for best cinematography in 1997.
This is how Perrin heard about the project and became involved as a coproducer. "It's very important that he joined us, because of his reputation," Fougea says.
"The idea of filming wildlife at night was a longtime dream," says Machado, "since I saw Gerard Vienne's [late 1970s] theatrical movie La griffe et la dent [Fang and Claw], about the very intense life of animals at night. At the time I said to myself, 'Maybe one day, technology will enable us to go further.'"
Fougea adds: "The idea resurfaced after I produced Facing the Killer Volcano in Japan with NHK, which at the time had developed the HARP camera, enabling filming in very low light. We thought there might be a way there."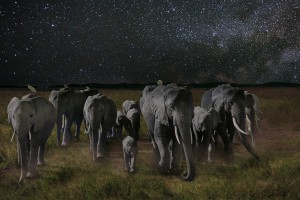 Since then, "we have been testing just about everything available to shoot at night," Machado continues. "As major technological developments are often military in nature, we explored that avenue as well, testing, for instance [Airbus Group-owned] Cassidian Optronics' thermal red light, but what the military develops does not necessarily produce quality images.
"So we continued to search and search. At one point, Canon developed a camera with a very sensitive sensor… each time we believed that we were on the right track and each time we were disappointed, until one day – finally – there was an incident during shooting with a camera… and an image appeared!"
Wildlife filmmakers across the globe will have to remain in a state of suspense – for the time being at least – as the team says it won't reveal its method until the film is complete.
"It's a big secret. Only three of us know," says Machado. "All I can say is that everything was there already. Previously, all our research was oriented solely around the sensitivity of the sensors, but the answer was elsewhere.
"We tried cameras of up to 80,000 ISO, and the one we are using is only 25,000 ISO. We are filming with the Canon C500, but it could have been another [camera]."
All in all, "the development stage took a year and a half," adds Fougea, although he says the project's business model was "a real risk" since there was no guarantee of success.
"The African Night" focuses on the story of an elephant calf learning about its group's social life during its journey through Southern Africa by night. "We decided we needed an emblematic animal focusing on its behavior when becoming nocturnal, while also showing plenty of night creatures as secondary characters, including some we don't know about," Fougea explains.
The story is based on the phenomenon studied by scientists, thanks to GPS necklaces, of families of elephants each year migrating in the dry season from Zimbabwe, across the Kalahari desert, and towards the Boteti river, travelling at night to avoid heat.
"We followed them for seven weeks in September last year, then went back in the spring, and again this autumn," says Machado. The production team worked in partnership with a team of CNRS scientists led by elephant and Africa specialist Hervé Fritz.
"The problem we had in writing the story was that scientists don't know much about animals' behavior at night," Machado adds. "Some of their theories, after we had shot, even proved to be wrong. This documentary is really like an exploration – it's quite nice when technology and documentary enable science to make progress. This documentary will be asking questions; there is a poetic dimension in it."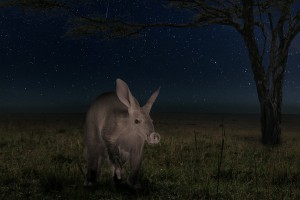 Originally, flagship pubcaster France 2 commissioned Winds for a 52-minute special for its Sunday afternoon natural history strand 'Grandeur Nature,' but upgraded it to a 90-minute primetime special after seeing the first shoots in color at night.
"We had decided to commission one or two French wildlife documentaries for primetime per year," explains Fabrice Puchault, director of documentaries for France 2, which dedicates six to 10 primetime strands to docs per year.
France 2 partners with the BBC on some wildlife docs, having previously broadcast Africa in primetime in January 2013 to a 15% share, and having this year in April shown Hidden Kingdoms, which had 13.5%.
"We are also involved in One Planet and Monkey Planet," Puchault adds. The channel's first French-led production, Boréales' Le plus beau pays du monde, was a success in December last year, pulling in seven million viewers and a 24% share, "and was also a success on BBC2′s 'Natural World,'" Puchault – who has commissioned a sequel – points out proudly.
"For primetime, we are looking for really spectacular wildlife, especially when scheduling it around Christmas, as we consider programs as gifts to our viewers. This one will definitely bring in something magical."
To make the special truly special, the filmmakers say that some creative work will be required in the post-production room as well. At Sunny Side, the company showcased images which almost looked the same as daylight shots, except for the stars in the sky, which left some feeling a bit disappointed that the shots were not more spectacular.
"We were very proud about the fact the night shots were as clear as day shots, but I agree we need to find visual codes in post-production to differentiate further between day and night, especially as the entire 90 minutes will not all take place at night," Fougea explains.
Machado adds that "everything has to be invented; there is no reference point… [but] we have great shots, such as elephants walking with city lights in the background."
All in all, the documentary will consist of 22 weeks of shooting. The €2.4 million budget is "three or four times that of a regular doc, the technology raising the cost, including in post-production," says Fougea.
At press time, the exact financial make-up had not been finalized. Puchault said that France 2 had invested the maximum amount it can, at more than €1 million. "Between France 2, Planète+ [for the second run window] and the CNC grant, and with our partner Galatée's investments, we have managed to raise roughly 65% of the budget in France," Fougea explains, "and we also have RTBF in Belgium on board."
Negotiations are also under way with CCTV9, who Fougea says originally agreed to bring 15% of the budget in cash, as well as Munich-based distributor Autentic for German-speaking rights, with NHK in Japan, and also with an as-yet-unnamed international distributor.
Fougea now plans to develop the concept into series about the nightlife of different wildlife in various continents. The next installment, the 2 x 52-minute Night in China, would be produced as part of the agreement with CCTV9, which requires that a sequel has to be shot there.
"We will be filming in the Himalayas, an area where very few [nighttime docs] have been made," says Fougea. Other episodes might focus on the Arctic and on America.
Wildscreen is taking place now in England, and runs until Friday (October 24).
This feature first appeared in the current September/October 2014 issue of realscreen magazine. Not a subscriber? Click here for more information.