With the Oculus Rift (pictured), Project Morpheus and Google Cardboard heralding a new generation of virtual reality headset devices, UK-based Atlantic Productions tells realscreen how it plans to get the jump on the competition by becoming the first major developer of natural history VR.
Virtual reality was all the rage in the 1990s, with Hollywood blockbusters such as The Lawnmower Man, Disclosure and eXistenZ planting images of headset-wearing techies into society's collective consciousness.
We were all supposed to be wearing futuristic headsets by now, but the VR revolution never took off, in part owing to the limitations of the computing power and CGI of the time.
Fast forward to the present day, however, and VR is once again a hot commodity – thanks largely to the buzz being created by U.S. firm Oculus VR, the creator of the Oculus Rift headset.
The company caused jaws to drop twice in the space of two years – first with its 2012 Kickstarter campaign, which saw it raising more than US$2.4 million on a goal of $250,000; and then again in March of this year, when Facebook announced it was buying the company in a $2 billion deal.
The immersive, feels-like-you're-there nature of the Rift has spurred renewed global interest in VR, and while gaming firms have largely been the earliest adopters of the new generation of headsets, non-fiction producers are also getting in on the game – particularly in the natural history space, where lush locales lend themselves to immersive experiences.
Leading the charge is UK indie Atlantic Productions (Flying Monsters 3D, David Attenborough's Natural History Museum Alive 3D), which in July announced it would be teaming up with VFX studio Zoo to launch Alchemy VR, a dedicated division for virtual reality production.
Atlantic chief exec Anthony Geffen Рwho also serves as CEO of Alchemy VR Рsays his firm first began exploring the potential of VR 20 years ago, as part of a partnership with Sun Microsystems. "There were a lot of problems then with rendering power and generally all the problems computing had a long time ago," he recalls.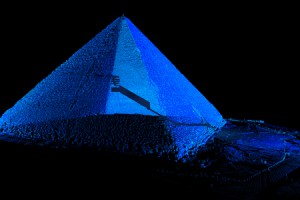 So far, Alchemy has shared details of two, as-yet-untitled VR projects on the way. The first (pictured, right), tentatively titled Egypt – A VR journey into the Ancient World, focuses on the Great Pyramid of Giza.
"We are working with various scans that allow you, in your virtual reality, to go inside the Great Pyramid, for example, and at an incredible scale walk through the different chambers and find different things," Geffen explains. "There is scanning technology using something called Lidar, which scans – in incredible detail – the pyramid inside and outside.
"Or if you are in Machu Picchu, to capture a whole site, which can then be ported into our CGI systems, allowing us to literally knit the whole thing together in virtual reality."
The second project Atlantic has on the go involves Sir David Attenborough, a frequent Atlantic collaborator (Bachelor King, Micro Monsters, Kingdom of Plants), and promises to take VR users on a journey to see some of the earth's earliest inhabitants (pictured, below).
Geffen says the production will be "a journey through the early stages of life," explaining: "What we are doing is making it so that you are in that ocean and can look anywhere in the sea, and the detail is very high – the kind of detail that people expect from natural history documentaries.
We have developed a way of rendering out the images into something that is more akin to a film than a time rendered experience, and we are really excited about the tools we have built in-house to do that."
Alchemy plans to produce both live action and CGI content in VR, but – as was the case with Atlantic's first 3D productions – CGI will lead the way.
"We are realizing that the sweet spot for us is where we can draw on the incredible CGI we have built or can build out from it," Geffen says, "and we are now planning to start shooting things back in the natural world, as it were, with various cameras."
Phil Harper, Alchemy's creative director, adds that a new medium means a new method of communicating with the audience. "Creatively, we are focusing on mainly passive experiences, but passive in a film sense; you are still engaged in a film, and in a passive VR experience you are still expected to – and in many cases required to – look all around you," he says.
Atlantic is not the only firm in the natural history space seizing the virtual bull by the virtual horns. In September, tech start-up NextVR announced that it had formed a strategic alliance with Samsung and Oculus for technology that will allow content producers to shoot and broadcast live or pre-recorded high definition, three-dimensional VR content over the Internet.
Its NextVR Virtual Reality Digital Cinema Camera System promises to film ultra high-res, 360-degree 3D virtual reality content using, for example, a set-up of six RED Epic Dragon cameras.
DJ Roller, one of NextVR's co-founders, comes into the venture after many years spent working as a producer and cinematographer on Imax films and series for networks such as Discovery, Nat Geo, PBS and the BBC.
While waxing lyrical about the broad potential for next-gen VR, Roller is particularly excited about the possibilities for natural history in the new medium. "A filmmaker can now take a content system to the South Pole, and you [the VR user] can really go there, or to the top of Mount Everest," he says.
"If you saw something like Planet Earth in a VR world… It's almost impossible to describe. It's going to be huge in factual; it's exciting in that there is going to be subject matter that people will film that will completely change people's perception."
The difficulty in describing the Oculus experience is one potential barrier to VR's growth. Just as native stereoscopic 3D had to be seen by many viewers before they were convinced that it was considerably different from the 3D of the past, so too do many Oculus advocates say one has to actually use the device to see its appeal.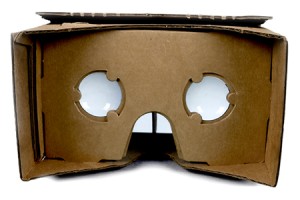 But what will help the cause will be the availability of VR devices over the course of the next two years. In addition to the Oculus Rift, Sony is launching a device code-named Project Morpheus, and Google is getting in on the action with a low-priced, assemble-it-yourself device called Google Cardboard (pictured, left).
Ultimately, Atlantic is banking on the demand being high, well in advance of a market becoming established – a risky proposition, but one that could pay off.
"We are absolutely confident that the market will arise, and if we are to be pressed on what that market will look like, it is not going to be the same model that television and production companies are used to," Harper says.
"It is going to be much more along the lines of how digital agencies and gaming production companies work, where they come up with ideas in-house, they believe in their concept enough to find the funds to create those experiences, and then sell them directly to the consumer."
Wildscreen is taking place now in England, and runs until Friday (October 24).
This article first appeared as the cover feature in the current September/October 2014 issue of realscreen magazine. Not a subscriber? Click here for more information.