With the six-part miniseries Eat: The Story of Food and two companion series also slated to air this month, realscreen talks to National Geographic Channel about plans for its own brand of food content. (Pictured: Julia Child, one of the chefs featured in Eat)
By 2050, when an additional two billion people inhabit our tiny blue planet, currently populated by seven billion, the most pressing question that might face us then will be, how on Earth do we feed us all?
It's such a serious issue that the National Geographic Society, one of the world's largest non-profit scientific and educational institutions and co-owner of the namesake magazine and TV network that boasts a global viewership of almost 400 million homes, decided to devote a number of its platforms to intensively explore the topic.
Under the overall banner "The Future of Food," the Society has devoted content within eight monthly issues of National Geographic, an exhibit at the Washington DC-based National Geographic Museum entitled "Food: Our Global Kitchen" (running through February 2015), some food-related National Geographic Live events, and a couple of books for good measure.
And on the TV front, there's what National Geographic Channel regards as one of its most ambitious projects ever – Eat: The Story of Food.
Produced with a seven-figure budget by National Geographic Studios (NGS) in association with Creative Differences, Eat: The Story of Food is a six-episode miniseries that not only aims to serve as the definitive history of the evolution of our culinary habits, but also involves the participation of nearly 90 experts on the subject, ranging from celebrity chefs such as Rachael Ray and "Iron Chef" Masaharu Morimoto and authors Ruth Reichl and Simon Majumdar, to food scientists, historians, farmers and fishermen.
"You could almost think of this as the Cosmos of food," says Pam Caragol Wells, an NGS executive producer of the series, which rolls out over three consecutive nights beginning November 21.
"Think about Cosmos from the perspective of the efforts of Fox and the National Geographic Channel. This is really looking at food in that same way – we wanted to look at it culturally, scientifically, and we wanted to do it in a way that was both entertaining and thought-provoking. It's a subject that is so ubiquitous and so big it's almost like making a TV show about air, as our executive producer and showrunner Erik Nelson [from Creative Differences] likes to say."
Covering six specific hour-long topics – "Food Revolutionaries" (innovators), "Carnivores" (meat), "Sugar Rushes" (sugar), "Sea Changes" (seafood), "Guilty Pleasures" (processed food), and "Staffs of Life" (grain) – the creative team behind Eat: The Story of Food faced some difficulties in deciding exactly what should be covered.
"We had an idea of some overall narratives, and we had an idea of some of the stories we wanted to go for," says Caragol Wells. "We were struggling with the groupings in the beginning because we were trying to figure out, where does spice fit in? Where does processed food fit in? What do they fit with?"
There were, of course, some obvious choices.
"Seafood and carnivores were two that just seemed strong, powerful and meaningful subjects," says Caragol Wells. "The story of meat is in some ways the story of us, including the story from a primatologist that the cooking of meat is what grew our brains, turning us into who we are today.
"We were really thinking about what would be the most insightful, the most surprising, and the most fun to watch, and that was our bar as we tried to pick and choose what ended up in the final shows."
In the end, it was the expert interviews – "more than one million words in 3,362 pages of single-spaced transcription," Caragol Wells notes – that gave producers the direction for the miniseries, while also ensuring the authoritative tone viewers expect from Nat Geo content.
"As our subjects were so smart, so insightful, and often so revelatory in the comments, their observations naturally meshed perfectly with the National Geographic brand, so it was easy to adopt their 'filter,'" says Creative Difference's Nelson. "I often said that the 'feel' of the project should be like the green room at The Daily Show when Jon Stewart is pre-interviewing a serious guest. The content is serious, but I imagine there is a certain amount of irreverence and spontaneity which spills out to their broadcast."
"We thought of ourselves as curators of the conversation rather than your typical
producer," says Caragol Wells.
There was also a little controversy in the kitchen behind the scenes.
"'Standards & Practices' are pretty intense here at National Geographic, so we had some really interesting debates," says Caragol Wells. "Can we really say that the flavor of vanilla was ever truly extracted from a beaver's anal glands? A strange fact, which a couple of our staff wanted to research to see if it was true. And the fact that in World War II, soldiers used [luncheon meat] Spam to polish their boots and their guns, not just to fill their bellies. There are always surprising stories there."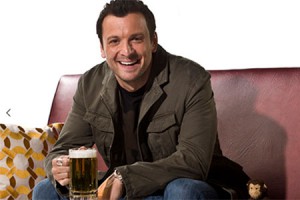 As much as Eat is the first program of its kind to appear on the National Geographic Channel, it won't be the only foodie-friendly content rolled out in November: the 6 x 30-minute Eric Greenspan is Hungry, described as "one part adventure, two parts hunger, a dash of Americana and then add a whole lotta meat," and Chug, a 6 x 30-minute program hosted by Zane Lamprey (pictured; Three Sheets, Showdown of the Unbeatables) that takes viewers on a bar crawl to exotic destinations to reveal drinking traditions and cultures, are both being launched on November 24.
Although both shows are meant to serve as companion programs to Eat: The Story of Food, Nat Geo Channel SVP of programming planning and research Brad Dancer says it also proved to be a good opportunity to strike when the iron was hot and capitalize on food culture's cachet.
"We know that a lot of viewers who tune into our channels also like the food channels, so we were trying to figure out a way of bringing them into the Nat Geo space," says Dancer. "It certainly offers us an opportunity to bring some viewers the other way to us, and perhaps to stick around if they like what they see."
As to whether audiences will have a taste for Eric Greenspan is Hungry or Chug, Dancer says that will be determined by ratings.
"It's an experiment," he admits, while adding that both series offer elements that go far beyond your usual culinary TV fare. "I would venture that no one has ever looked at food quite the same way we have," says Dancer.
Indeed, Nelson says that his work on Eat has made him look at food – and drink – differently.
"Nathan Myhrvold, a 'Food Revolutionary' who wrote the book on modernist cuisine, says the best way to make a cheap red wine taste like an expensive red wine is to run it through a blender for a few seconds," he says. "Nathan is right."
With files from Barry Walsh
This article first appeared in the current November/December 2014 issue of realscreen magazine. Not a subscriber? Click here for more information.