One day after its world premiere at the Sundance Film Festival, The Hunting Ground became a hot topic of conversation among Park City visitors.
The documentary, which was acquired by CNN and Radius in October, features first-person accounts of sexual abuse on college campuses and the uphill battle – emotionally and logistically – that the victims face when reporting the incidents.
On Saturday (January 24) afternoon, director Kirby Dick (pictured above) and producer Amy Ziering discussed the film at an intimate conversation held at the CNN Lounge on Main St.
Dick and Ziering's last collaboration, The Invisible War, tackled a similar subject: sexual abuse in the military. Ironically, it was campus tours for that film, and which students frequently identified with the events discussed onscreen, that prompted the filmmakers to keep the subject matter front and center, albeit now with a university angle.
The duo was joined on the panel by U.S. Senators Barbara Boxer and Kristen Gillebrand, who have been instrumental in pushing for stronger legislation punishing universities that stay silent. One of the film's subjects, Harvard student graduate Kamilah Willingham, was also part of the dialogue.
One of the most eye-opening points made by everyone on the panel was that sexual abuse was so pervasive at the university level. "This is a problem everywhere," said Dick. "We could have picked a school at random, and we would have had material."
Dick also said that one of the most shocking things he discovered was how much revenge played a part in the aftermath.
"There is a lot of retaliation," he said. "So there is a lot of fear by survivors. But our interview subjects saw what we did with The Invisible War and that helped the cause in terms of getting their story out."
As to the question of how the filmmakers got so close to their subjects – and captured so much information about their experiences – Ziering said she reassured the film's subjects that "their emotional health comes first.
"I told them that I wasn't there to do more harm," she explained. "We made it easy for the victims. And that safety net allowed them to trust us."
Willingham said she was nervous to be part of the film initially but eventually warmed up to the idea of sharing her story. Dick and Ziering "were very ambitious and experienced, but it was intimidating," she said. "But they were also very warm and clear that things could be at my pace… whatever I was comfortable with."
On the flip side, she said Harvard was not an easy place for her experience to have happened at.  "The process couldn't have been made more to make me feel exasperated and made me feel like giving up," she said.
Some of the most powerful statements of the afternoon came from Gillebrand, who detailed why sexual abuse is such a hard thing to fight.
"Any time you have an institutional bias, that institution will preserve itself," she said. "We are up against the status quo, and survivors have no voice. The fact they can now tell details publicly is a transformational moment. It is so powerful."
Boxer agreed emphatically, adding: "The first instinct is to protect the institution. Everybody closes ranks."
Part of the conversation also alluded to the recent journalism scandal that enveloped Rolling Stone and the University of Virginia, in which the iconic publication printed a story about a gang rape that turned out to be wholly wrong.
"The truth is that 2% of these [cases where victims claim sexual assault] are false," Ziering said. "We rigorously fact checked and did our due diligence and stand by this project 100%."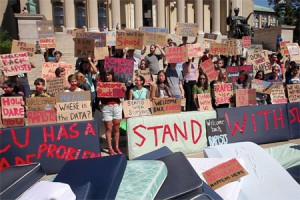 Finally, everyone agreed that the film is not just about the victims. It is also about a systematic change that needs to take place.
"We have to change the culture on campuses," said Ziering. "We have to change the broken system. And unlike other problems, this can be fixed."
Reiterating how bureaucratic the issue has become, Dick said he reached out to several institutions for interviews, and received no responses. "Nobody wants to talk about this at all," he said. "I think they should take the opposite approach. Rather than running away, they should be stepping up."
For now, the The Hunting Ground (pictured above) is slated to appear on CNN in the fall, after its theatrical run. Internationally, broadcasters in France, Denmark, Israel, Norway and Belgium have already acquired it, as previously reported.