Three of today's most prominent documentary filmmakers gathered together on one Sundance stage on Saturday afternoon (January 24) to debate the blurring lines between journalism and non-fiction storytelling.
Alex Gibney (Going Clear: Scientology, Hollywood and the Prison of Belief), Laura Poitras (Citizenfour) and Marc Silver (3½ minutes) took part in Bringing Truths to Life, one of the big mid-afternoon Main St. panel sessions in Park City, Utah.
One of the first questions revolved around the documentarian's role as a journalist.
"It's not a blurry line, it's additive," offered Poitras. "It's 'Journalism Plus.' It's not just telling the facts. We don't make films to break news. Hopefully we make lasting narratives, so that's different."
Gibney (pictured above) was more definitive on his role, saying: "I consider myself a filmmaker, but with journalistic baggage. I do have a commitment to make something in the visual medium that stands the test the time."
All of the panelists agreed that the protection afforded to journalists should absolutely be given to filmmakers as well.
"The idea of what a journalist is should be expansive, Gibney offered. "The idea that you have to work for, say, the Washington Post to be a journalist is wrong."
To illustrate how different journalists and filmmakers are perceived in the U.S., the British-born Silver said that he applied to be part of a journalists union in the UK before directing 3½ Minutes, a very American crime story debuting at the festival.
"I needed something to help me get through customs without having to explain myself," he said. "Being a journalist union member did that. And to get access to the courtroom, we couldn't have pushed that without being a journalist."
Another important talking point was the notion of humanity and their subjects. All of the panelists explained that long-form documentary filmmaking shows people in a different light than in normal circumstances.
"In Client 9, I faced dilemma," Gibney said of his Elliot Spitzer sex scandal documentary. "When we first tried to conceal a source's identity, we hated how we did it – the typical thing of clouding the face made her look like a mobster or monster. But she was sympathetic, so we hired an actress to portray her.
"It gave her a personality. But some of my journalist friends were horrified. I felt it was a more truthful way of doing it."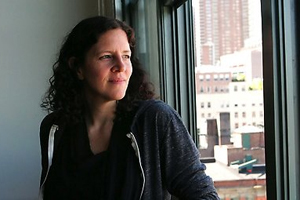 Poitras (pictured, right) took the more macro view, explaining that there is no such thing as humanizing a subject, since that's exactly what they are.
"Actually, it's the other way around – the mainstream media dehumanizes people," she said. "I don't go out of my way to humanize. To me, it's a given that they are human."
Finally, it was the question of ambiguity within documentaries that got everyone excited.
"Ambiguity is part of life, so if documentaries have it, they are richer," said Poitras.
As for Gibney, he said that he was "more gullible in the field than in the cutting room.
"With a skilled editor, you find both sides. So we embrace the contradictions. By doing that, you get reality that is three dimensional," he explained.
Silver added: "For me, trust and truth is based on the people I am filming. I don't think that changes in me when I am shooting and when I am in the edit room. That is the luxury of me not perceiving myself as a journalist."