If there was one lesson to be learned at the 17th annual Realscreen Summit in Washington DC last week – other than the fact that even a blizzard can't keep non-fiction industry professionals from doing business – it's that unscripted television will have to turn the volume down a notch and work a little harder to find its audience.
This year's Summit saw the number of registered attendees rising to 2,687, from 2,553 last year. And although some were kept away by the impact and fallout of super-storm Juno, the Washington Hilton was once again packed to the rafters with delegates from the four corners of the world.
Among the hot topics to emerge from the Hilton over the course of the four-day event was a recurring mention of the 12-episode podcast Serial, in which journalist Sarah Koenig investigates the 1999 murder of Maryland teen Hae Min Lee. The podcast was consistently heralded as one of the most innovative non-fiction ideas of the past year, and – during a panel dubbed "The Innovation Conversation" – execs pondered whether "long-durational formats" may be the next trend.
"It is about a creator who is amateur and it felt real," said Creative Differences president Erik Nelson of Serial's quiet style, adding that it was emblematic of natural, minimal and immersive storytelling that didn't hinge on contrived plot devices. "With docusoaps, people feel lied to. Ultimately, the country is vomiting that up in some way."
"These are genres that are waiting around to be re-discovered," added National Geographic Channel's president of programming and production Tim Pastore. "You can find inspiration in other mediums."
And while everyone applauded Serial and the opportunities it will inevitably create for the industry in the year ahead, execs debated the "survival of the fittest" among traditional broadcasters.
In a session entitled "Change is Good?" Ivana Kirkbride, YouTube Originals' head of unscripted, debated the need for disruption among platforms for unscripted programming with the likes of Kathleen Finch, president of HGTV, DIY Network and Great American Country, and Marc Juris, president and GM of WE tv.
"The way you create content for YouTube, it's just very unique, so we're trying to figure out what our version of storytelling is because we see so many different forms of it," Kirkbride told attendees. "It could be a cover of Frozen or is could be a cover of 'Goat Simulator.' Within unscripted, we want to help think through franchises for them that could be our version of The Kardashians or our version of Duck Dynasty but with our talent."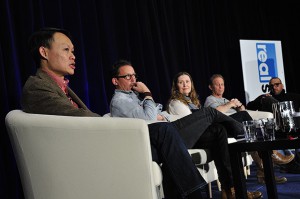 Over at the "Unscripted 2020″ panel (pictured, left), however, delegates heard that despite a shifting modus operandi for production – including faster turn-arounds, shorter programs and camera-wielding talent – the best way to monetize from television may still be getting a show greenlit by a network.
"If you want work now, and you have great characters now and you want to get a show on TV now, that's what you have to do," said Sirens Media CEO and Real Housewives of New Jersey producer Rebecca Toth Diefenbach.
Other Summit sessions showcased the rise and fall of specific genres and formats. While a panel entitled "Crime Pays…And Plays" delved into the popularity of true crime programming and the success of such shows on Discovery Communications-owned Investigation Discovery (ID) and the A+E Networks' LMN, another session examining global formats talked at length about the grim fate of Israeli singing competition format Rising Star and Earth Touch USA MD Phil Fairclough led an animated lesson on what exactly "specialist factualist" means.
Another strong trend to emerge was a ramped-up digital push among top industry players.
In their first interview about their plans for the two-month-old Endemol Shine Group, the co-chairmen and co-CEOs of Endemol Shine North America Charlie Corwin and Cris Abrego talked about a focus on the company's multi-channel network Endemol Beyond – "We want to be on every platform," said Corwin. "Beyond is our fledgling over-the-top play" - while "The Next Wave" panel questioned whether or not a hit on YouTube will ever translate into a hit on linear TV, and vice versa. Elsewhere, documentary makers pointed out a migration to digital platforms despite a return to doc roots among networks like Discovery Channel and National Geographic.
In other Summit news, UK delegates made their presence known in Washington with 50 indies in attendance, as well as a couple of major announcements. UK content producers trade body Pact revealed it would be launching a U.S. outpost this year that will represent the commercial interests of American as well as UK producers working Stateside, while London-based digital TV producer Barcroft Media announced the creation of a strand for original, long-form documentaries on its YouTube channel Barcroft TV.
Summit staples such as "Amping Up Unscripted" and the annual pitch competition – now titled "Summit Showdown - continued to prove popular with execs from Game Show Network, Pop, Discovery Family Channel and WGN America converging to outline plans for their networks, as well as last year's "So You Think You Can Pitch?" runner-up Laura Gamse of Arlington, Virginia-based indie Daydream Reels winning the "Summit Showdown" with her pitch for Hustler's Den - a competition series about ex-cons who parlay jailhouse business acumen into entrepreneurial endeavors.
Finally, a group of up-and-coming producers left the Realscreen Summit with development deals worth US$20,000 each through the FYI Development Lab Contest. The initiative – a collaboration between the U.S. network and Realscreen – aimed to give rising production talent a chance to develop innovative unscripted programming for the lifestyle network.