More than 500 supporters of independent film are expected at Manhattan's SVA Theatre today (February 23) to discuss New York-based PBS station WNET's intention to pull doc strands 'Independent Lens' and 'POV' from its primetime line-up.
New York's town hall-style meeting is the most recent stop in the nationwide listening tour that transpired when WNET revealed in December its decision to shift both 'Independent Lens' and 'POV' from its Monday primetime line-up on channel Thirteen to Sunday evenings beginning January 5. Following widespread outcry from the documentary community, the station decided to keep at least one of the doc showcases in its Monday slot until May.
'Independent Lens,' which traditionally runs at 10 p.m. on Mondays across all PBS stations, airs on the pubcaster between October and June, while 'POV' is broadcast in that same timeslot from June to October. The change in timeslots would see the two strands airing on WNET's secondary channel WLIW21 on Mondays at 10 p.m. – which was the strands' original primetime slot on Thirteen – with repeats broadcast during an 11 p.m. slot on Sundays on Thirteen.
During the five-month stay, the station said it would embark on a nationwide listening tour with teams from PBS, ITVS, 'Independent Lens' and 'POV' in order to develop a national strategy to raise the profile for independent film on public television.
As such, about 200 filmmakers and community leaders turned out in San Francisco in January to ask a panel of representatives from PBS and WNET to keep indie programming on primetime and primary channels, and further events have taken place at the Sundance Film Festival and – last week – at Washington DC's Media That Matters conference.
The New York session is the second official event in the tour, which has thus far yielded large crowds in support of doc programming, but few answers about the fate of 'Independent Lens' and 'POV' on WNET.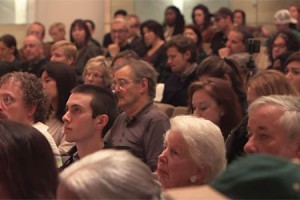 "Nothing concrete has been said about the scheduling of 'Independent Lens' and 'POV,'" said Gordon Quinn, founder of Chicago-based prodco Kartemquin Films and indie doc lobbying group Indie Caucus, in an email to realscreen. "I think we have effectively made the point that there is a big and passionate [constituency] for this programming and if it is marginalized in the schedule they will be hearing from us after the decision is announced in May."
Kartemquin and The Indie Caucus will co-host a third stop for the listening tour slated for Chicago in March.
Stephen Segaller, VP of programming for WNET, says what has happened so far is a "continuing dialogue between all parties," adding that the station is seeking ways to increase audience for both independent film and arts programming on Thirteen and WLIW.
"We feel that arts programming in New York is important and right now it's scheduled on Friday nights where it's not doing as well as it might," said Segaller in an email to realscreen.
"We intended to schedule it on Monday nights to get more audience. We're the biggest producer of PBS arts programming by far, so it matters to us more than anyone," he added. "At the same time, we were looking to increase audience for 'Independent Lens' and 'POV,' as these series are underperforming on Monday nights in the current time slot, and we want to gain as much exposure as possible for those strands as well."
The issue, says 'POV' executive director Simon Kilmurry, is that increased ratings may come at the cost of a higher profile for documentaries.
"As I understand, WNET's idea is that a premiere on WLIW followed by a repeat on WNET combined will reach the same number of people," said Kilmurry in an email to realscreen. "Our concern is that having the premiere on the secondary station lowers the overall profile of the films (press, etc.) and may not have the aggregate audience that WNET hopes for."
Segaller could not be reached for further comment at press time.
Beth Hoppe, chief programming executive and GM of general audience programming at PBS, has been present at events in both San Francisco and Park City. She says the broadcaster is trying to position independent film as best they can, while keeping ratings in mind.
"This whole idea that we were out to somehow diminish independent film in any way is completely false," said Hoppe in a phone interview.
"In fact, PBS has set out to amplify our relationship with indie filmmakers…ratings-wise it's challenging but I don't look at it and say, 'This looks challenging so let's not make it a priority.' I look at it and say, 'How do we bring more viewers? How do we get people to come to PBS for independent film?'" said Hoppe. "That's what I'm out there listening to hear, these proactive ideas about how we do that."
The exec said she "fully anticipates" PBS and WNET will move forward on a strategy by May, but wants to ensure they have input from audiences in New York and Chicago ahead of announcing a decision.
Filmmaker Jesse Moss – whose documentary The Overnighters is to air on 'POV' in September – wrote to realscreen about the impact the forthcoming broadcast may have on the doc.
"By championing independent films and stories rarely found in commercial television – like The Overnighters – and supporting them through a primetime TV broadcast, 'POV' truly fulfills the promise of American public television," said Moss.
"While we rightly celebrate new digital and online distribution platforms, it's easy to lose sight of the size, diversity and importance of the PBS audience," he added. "The knowledge that The Overnighters could find its way to a million or more American homes through a PBS/'POV' broadcast was sustenance and encouragement on the long, hard journey to make the film."