In his second feature doc Poached, director Timothy Wheeler (pictured, left) follows a group of egg thieves in the UK and the wildlife authorities who keep them in line. Ahead of the film's world premiere at SXSW today (March 16), Wheeler tells realscreen about striking the right balance between profiling the group and investigating their illegal hobby. 
Few people are wont to see the similarities between a 103-mile non-stop swim from Cuba to Florida and illegal egg collecting in the UK, or even how respective documentaries on each topic could come from the same director. But if you ask Timothy Wheeler, the themes that bind his first feature documentary The Other Shore – which chronicles his aunt Diana Nyad's historic swim – and his most recent entry Poached, on a group of male egg collectors and their peculiar and illegal hobby, are not only interactions with nature, but also obsession and addiction.
"I always had questions, like 'Why, why, why is she motivated to be swimming for 60-plus hours, putting herself through these life-threatening situations?" says Wheeler. "It was the same with these guys. They've been willing over and over to put themselves in physical danger – every single one of them knows people that have died collecting eggs – and they've gone to jail over and over. Why do they do it?"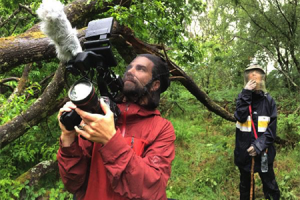 The idea for Poached came when Wheeler happened upon Julian Rubinstein's July 2013 New Yorker feature "Operation Easter," which details the UK's Royal Society for the Protection of Birds (RSPB) and its dealings with notorious egg collectors whose pastime threatens endangered species.
The bizarre nature of the crimes – which sees predominantly male collectors go to great lengths, scaling trees and cliff faces, to snatch eggs from nests – struck Wheeler as a topic fitting for a documentary, and after teaming with Spark: A Burning Man Story producer Steven Brown, the documentarian was on a plane headed to the UK last February.
While the prospect of gaining access to a group that is heavily guarded about its activities was at first insurmountable, even that hurdle resolved itself once Wheeler – who had previously tapped non-profit organizations to gain access to subjects in countries such as Cambodia and Liberia – reached out to the main investigators, the RSPB and the National Wildlife Crime Unit (NWCU).
"I went to them first and they gave me some leads, and not just leads, they kind of made some phone calls on my behalf," he explains. "They have an interesting relationship with some of these recidivist criminals that you don't really see in other criminal activity."
Wheeler's documentary – conceived, produced and completed in just 14 months – treads the line between a profile of an eccentric crew with a strange hobby, and a serious investigation into the psychology of obsession and the personal trauma behind it. Realscreen caught up with Wheeler ahead of the world premiere to discuss the legal challenges, his relationship with the collectors and authorities, and what he hopes Poached might accomplish in the UK.
Did you ever have concerns about the legalities around shooting the men and the pursuit of eggs?
There were some legal implications we had to discuss, and we had basically talked things out with a lawyer beforehand. We already had a relationship with the RSPB and the NWCU, so all the people that are enforcing these laws as well. That being said, it was really important for us to have completely autonomous relationships with the egg collectors and the authorities and everyone respected that. The authorities never really asked questions as we started getting deeper into their worlds.
We had to consult a lawyer and also the NWCU and RSPB but there were sensitivities that were going to be involved because we didn't know what was going to occur in the field. We were just letting things happen, and we just wanted to follow them in their normal everyday activities, so we didn't know if one of these guys was just spontaneously going to be like, 'Oh well, let's just go get a couple of eggs,' so we had to know what our boundaries were and we would just have to take it minute by minute.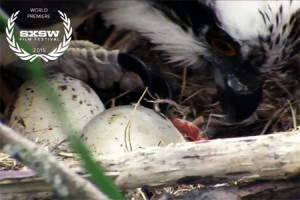 Was it at all difficult for you, because you're a confidante for some of the men, but on the other hand you're also having these very in-depth interviews with authorities?
It was. But I've done stories dealing with addicts before, and I've been around criminals before, and I feel for people. I felt it was important to sort of get beyond what had been done in the UK so far – these really superficial stories about how this egg collector has been arrested. 'How horrible, they're going after golden eagles.' We wanted to do a story more about why, what drives them to do it, and really get to know them as human beings.
Why aren't there any women egg collectors in the film?

We've heard of a couple of historical cases where there might have been women collectors but in a very different way, when it was actually much more of a scientific endeavor. But there are not contemporary female egg collectors, which was the story we decided to follow. Even in the investigation world at the NWCU or RPSB, the main people going after them are men. But it was important for us to include because the public is very passionate about birds in the UK and people will set up in barns, guarding these nests. So we decided to profile this very passionate community that are doing an eagle watch in [Scotland's] Isle of Mull, and we thought these women do ground us and, more than anyone, are the rational voices.
In terms of the tone, I felt there was a comical edge, with the choice of music and angles. Did you set out to do that, keeping it a bit light-hearted?
Yeah. The tone was something we talked about a lot in the developing of this film. But part of what I felt was going to be accessible to the public around this partiuclar issue is that it was such a bizarre crime. And that in itself could get you kind of thinking about these broader, deeper universal themes about nature and man's interaction with nature. But it's so bizarre that we felt there was a dark chamber around it and we definitely wanted to bring that into the film. For me, it wasn't a matter of being heavy-handed; it was literally a matter of setting the camera and letting our subjects do their own thing and there was an inherent kind of bizarre quality to it.
Poached premieres at SXSW at Austin's Stateside Theatre on March 16 at 1:30 p.m. Other screenings are to follow on March 17 and 18.
Read our first SXSW '15 profile on Ondi Timoner's opening night film Brand: A Second Coming.