With MIPDoc kicking off in Cannes on Saturday (April 11) followed by MIPTV on April 13, realscreen presents the third and final part in our annual round-up of new non-fiction and unscripted titles from distributors heading to the Croisette. (Read parts one and two here and here.)
Electus International
The distribution arm of Los Angeles-based multimedia studio Electus's unscripted offerings include a mix of survival, dating, adventure and law enforcement series. Social experiments are covered by seasons one and two of VH1 and Lighthearted Entertainment's Dating Naked (11 x 60 minutes/10 x 60 minutes), and National Geographic Channel's The Raft (six x 60 minutes). The series challenges two people to spend seven days adrift in the ocean on a life raft.
Other highlights include the ITV series Bear Grylls: Mission Survive (six x 60 minutes), just renewed for a second season in the UK; season one of Bravo's Online Dating Rituals of the Modern Male (six x 60 minutes), U.S. cable net WGN's first docuseries Outlaw Country (seven x 60 minutes, pictured) and NGC's Southern Justice (eight x 60 minutes). In the realms of fashion and food, Electus has the TLC series Style By Jury (six x 30 minutes) and seasons one and two of NBC's Food Fighters (eight x 60 minutes/10 x 60 minutes).
Endemol Beyond
The digital multi-channel network and division of Endemol Shine North America is bringing its first portfolio of digital formats and digital finished programming to MIPTV this month.  Formats include the programming for Icon, its online lifestyle channel with YouTube beauty guru Michelle Phan, and the series Legends of Gaming, in which YouTube stars compete in video game battles. The latter has already found deals in Brazil, France, Germany and the U.S.
In terms of finished programs, the content network is selling extreme sports channel People Are Awesome, which has more than 270 million views; and The Woop Gang, a comedy sketch show from France with more than 115 million views. Both Icon and Legends of Gaming are also available as finished programming.
Fox International Channels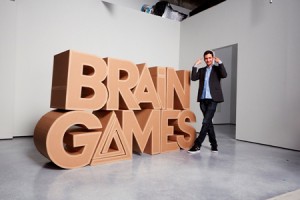 The Fox International Channels portfolio is a wide-ranging one that includes a crop of Turkish-language dramas as well as scripted hits from the U.S. such as the National Geographic Channel miniseries Killing Jesus and The Walking Dead. Its unscripted primarily comes from the Nat Geo pipeline and includes last fall's foodie miniseries Eat: The Story of Food (six x 60 minutes), the science show Brain Games (48 x 30 minutes/three x 60 minutes, pictured) and seasons one and two of Ultimate Airport Dubai (20 x 60 minutes).
Other titles include Car S.O.S. (30 x 60 minutes), about mechanics who restore classic cars to former glory; Science of Stupid (48 x 30 minutes), which looks at the science behind popular online video fails; Street Genius (32 x 30 minutes), an engineering show about using everyday objects for eye-catching experiments; and Madagascar's Legendary Lemurs (one x 60 minutes), a wildlife doc about the African island.
Red Bull Media House
The Austrian producer's offerings lean towards sports, music and natural history doc series. Max Verstappen looks at the life of the 17-year-old Belgian-Dutch Formula One driver – the youngest in the racing sport's history; while The Unrideables: Alaska Range is about the emerging world of speedriding – a cross between skiing and parachute flight.
Documentary series include Diplo Presents: @Large – Creators at Work, a music and culture show hosted by the pop and EDM producer; Creators of Tomorrow, about social entrepreneurs working in poverty-stricken neighborhoods; and One's All, a series about dangerous and "adrenaline-pumping jobs."
Natural history is covered by the Servus Media-produced The Salzkammergut, a blue-chip doc series about the Austrian lake district and UNESCO World Heritage region; and The Model and the Bushman, a Terra Mater Factual Studios production that follows model Aleksandra Ørbeck-Nilssen on a trip to Namibia's Kalahari desert.
Zodiak Rights
Zodiak Media's international distribution division is bringing RDF Television's highly rated UK special The Secret Life of Four Year Olds to the Croisette. Channel 4 recently greenlit a seven x 60-minute season of the show that is due to air later in the year.
Other key titles in the catalog include the Sky1 family entertainment game show Wild Things from IWC Media, Mad Monk and GroupM Entertainment; and the RDF TV format Eat Well For Less, which aired in the UK on BBC1 and shows families how to eat well while spending less money.