Almost three years after stepping into the role of CEO of FremantleMedia North America (FMNA), Thom Beers (pictured) is to step down from his position when his contract ends this summer.
The exec – who took on the role in September 2012 – will be replaced by Jennifer Mullin (pictured below, right), executive VP of current programming, and Craig Cegielski (left), executive VP of scripted programming, who are both to be promoted to co-CEOs of FMNA.
Prior to joining the company, Beers served as CEO and executive producer of Original Productions, which he founded in 1997 before selling a majority stake to FremantleMedia North America in 2009. The exec's credits at Original Productions included Deadliest Catch in addition to series such as Ice Road Truckers, Ax Men, Monster Garage, Black Gold, Storage Wars and Coal.
Prior to founding Original Productions, Beers spent more than 10 years working as a production executive and producer for both Turner Broadcasting and Paramount Pictures.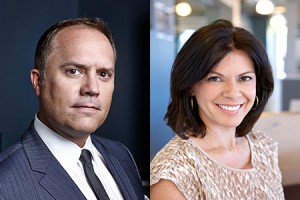 In their new roles, Mullin and Cegielski are to report directly to Cecile Frot-Coutaz, CEO of FremantleMedia, and will also have a seat on the FremantleMedia operating board beginning in June.  According to a release issued by FMNA, Mullin and Cegielski "will partner to drive continued creative and strategic growth across all of the company's key businesses."
Mullin has overseen FMNA's unscripted programming for almost 10 years, growing the company's game show and reality competition genres and most recently boosting the syndication slate with Celebrity Name Game. Mullin's other credits include Million Dollar Password, American Inventor and Hole in Wall as well as the reality competition The Great Christmas Light Fight.
Meanwhile, Cegielski joined FMNA in June 2013 to launch the company's scripted push. Since joining, the exec has overseen such series as Netflix's The Returned, and is also prepping forthcoming adaptations of the novels American Gods and The Twenty Year Death.
"It's been an unbelievable ride and I've been fortunate to build an incredibly talented team," said Beers in a statement. "We've launched shows in syndication and primetime, premiered our first scripted drama, created Buzzr – the company's first linear channel – and leaped into the digital content business with Tiny Riot!
"I'm forever thankful to Cecile for her collaborative style, brilliant leadership and friendship," he continued. "I couldn't be more energized about FMNA's future and I'm proud to pass the baton to two of my favorite powerhouses, Jennifer Mullin and Craig Cegielski."
Cecile Frot-Coutaz, CEO of FremantleMedia, added: "Thom has made great strides for the U.S. business. His extensive expertise, creativity, enthusiasm and innovative approach have opened new roads for the company, while building on its foundation.
"Jennifer and Craig are perfect successors to Thom," she said. "They are passionate, driven experts who will lead the business through the next exciting phase and continue to grow the accomplishments Thom made during his tenure."
(Photo: Thom Beers at the Realscreen Awards. Photo by Rahoul Ghose)