The International Emmy Award-winning Australian series, Go Back to Where You Came From, returns to the air after three years on Tuesday (July 28), but it's already making headlines through a confrontation with ISIS insurgents in Syria. Series producer Rick McPhee and CJZ creative director and executive producer Michael Cordell talk to realscreen about why Go Back has come back, and why they took participants to the Syrian frontline. 
After two successful series on Australian broadcaster SBS, producers on the reality format Go Back to Where You Came From weren't sure how they could further the debate through their ground-breaking social experiment, which challenges beliefs held regarding asylum seekers.
"When series one was broadcast in 2011, we thought the refugee and asylum seeker debate was at its height in Australia," Rick McPhee, a series producer for Cordell Jigsaw Zapruder (CJZ) who has worked on all three series of the show, tells realscreen. "How wrong we were."
Since series two wrapped in 2012, the 2013 federal election has seen a government come to power with a "stop the boats" platform as one of its four core election promises. And sure enough, within weeks of taking office, the Tony Abbott-led government launched Operation Sovereign Borders, a military-led, border security operation combating people smuggling into the country by towing refugee and asylum seeker boats back to Indonesian waters, and the region where many refugees heading to Australia originate from.
It seemed the time had come for a new season that would address the government's hard-line policies and the Australians who subscribe to them, and series three – which debuts in a three-night television event beginning July 28 – has not backed down from the challenge, even when confronted by ISIS insurgents.
The premise behind Go Back is to find six ordinary Australians – this season includes a 'Stop the Boats' Facebook campaigner, a former refugee and a detention center whistle-blower – and challenge their preconceptions about refugees and asylum seekers on an "immersive, reverse journey."
"They all have different motivations for participating in the program," says McPhee. "Some want to validate their opinions. One participant wanted to exorcise hatred from her heart. I think most of them realize they are being offered the opportunity of a lifetime."
First, the participants are divided into two groups, with both sent to live as guests of refugees in Australia. While one group stays with a Palestinian family resettled from Iraq, another lives with a Burmese refugee on a bridging visa. Later, the participants are transferred from a people smuggler's boat to a lifeboat and turned back to Indonesia, where they live with asylum seekers who have been turned away.
This season also finds the groups in Thailand, Bangladesh, Myanmar and Syria, where the show has made headlines and garnered criticism for taking participants to that region's frontline of conflict, where they were shot at by ISIS militants (clip below).
"The format is to follow the reverse refugee journey," explains McPhee. "The Palestinian family fled Iraq to Syria, which is why we were there. The participants met Syrian refugees at a border crossing and spoke to them about why they fled. It was more powerful to actually take the participants there so they could experience it for themselves."
Michael Cordell, CJZ creative director and executive producer on the series, adds that the encounter was pursued because the team wanted the experience to be as visceral and authentic as possible.
"Experiencing the fear of a war zone and the specter of ISIS is exactly what untold numbers of asylum seekers are fleeing from right now," he says. "We take our duty-of-care very seriously. We're not cowboys and wouldn't send people into places where the risk was unacceptably high. We have detailed and up-to-the-minute security assessments for each location and travel with the best security advisers available."
The exec adds that all participants are informed about precautions in place to mitigate risks and can pull out of the situation at any time if they are uncomfortable. The incident was intense, he admits, but he's not concerned it will take attention away from the rest of the series.
"The ISIS encounter is a dramatic moment, but we don't feel it overpowers the rest of the series or distracts from the core issues," he says.
Without doubt, in the three years since the last season, Go Back to Where You Came From hasn't become any easier from a production perspective. Cordell, a former reporter, says it's hard to imagine a tougher show to produce given the war-torn areas visited by a cast and crew of 15 people.
"The greatest challenge for me is always the storytelling," he says. "Go Back is a hybrid of good journalism, traditional observational documentary and more constructed reality. Getting that mix right to create an intelligent and compelling series is the holy grail."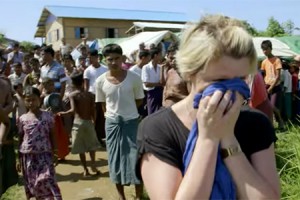 Four years on since the first series aired, Go Back has been produced for Denmark's TV2, the Netherlands' NPO2 and Germany's ZDF, and the format was most recently licensed by SBS Belgium for its Vier channel. Cordell says the prodco is also in talks for a format sale in the U.S.
International versions will differ depending on the refugees' primary source countries, the types of journeys they will make (by truck or by boat, for example) and perhaps even a producer or broadcaster's political agenda, but Cordell says that, at least for Australia, there are no ulterior motives for the show.
"The only agenda we have is to challenge people's opinions and help contribute to a more informed debate," he says. "Whatever view you take on asylum seeker and refugee issues, you can watch the series without feeling you're being lectured to. But I'd challenge anyone to watch Go Back and not have a deeper understanding and empathy for the complex issues involved."
Go Back to Where You Came From airs on SBS on July 28, 29 and 30 at 8:30 p.m.
Check out a preview for series three below: