In the history of U.S. corrections, there have been few incidents more chilling than the February 1980 prison riot at the Penitentiary of New Mexico (PNM), when a group of inmates overwhelmed their correctional officers, and took control of the prison.
According to news reports, over the course of 30 hours, 33 inmates were brutally killed using axes and acetylene torches among other weapons, while more than 200 others were injured and 12 officers were held hostage. In accounting for what caused the riot, officials pointed to eroded facilities as well as the poor training of correctional officers: missteps the institution has worked to remedy in the 35 years since the incident through, among other things, a grueling selection process of its corrections team.
Now, a docuseries from U.S. cable net A&E and Lockdown producer Lucky 8 TV is revisiting PNM to focus not on the facility's inmates – of which there are 850 – but on a group of 10 rookie correctional officers hoping to carve out a place for themselves in one of the country's most challenging prisons. (Check out an exclusive clip of the series below.)
"Very little has been done that is through the lens of the correctional officer, particularly the rookie correctional officer," Greg Henry, an executive producer on the series, tells realscreen. "Those folks are kind of the front line and they're experiencing it for the first time."
Prison programming is familiar territory for Henry and his team, who have done about 150 hours collectively, including such programs as National Geographic Channel's Lockdown, Inside Guantanamo and Hard Time. Behind Bars, Henry explains, was an idea he brought to A&E at a pitching event, and which the network later acquired.
Elaine Frontain Bryant - head of programming at A&E – wasn't involved in commissioning the series, having just returned to the net after two years at History, but calls Behind Bars the net's "next evolution" of the prison show, following its success with Beyond Scared Straight, which follows intervention programs for young offenders.
"It's not an inmates show," the exec says plainly. "Just by nature of seeing a young girl training and coming in, and seeing [a rookie] on his very first day, we're trying as much as possible to have the audience relate to the rookie experience of going in."
Crime and justice programming has been growing for A&E. The long-running The First 48, which looks at the world of homicide investigators, has been around for 10 years and is still growing in audience, says Frontain Bryant. And Behind Bars revisits the criminal arena, bringing a new twist on the prison show while still meeting audience expectations.
"This kind of crime and justice [show] will always have a place at A&E," says the exec. "We're not high on recreations. We try and bring that kind of observational doc, where you feel like you're a fly on the wall. There haven't been many of these because we just want to get it right when we do it."
Since the net picked up Behind Bars in the fall of 2014, Henry says the team has been filming over the course of eight months – spending "literally every day" in the prison during some periods – and wrapped in June.
Though the team looked at a number of different states, New Mexico was a prime candidate because of intended state prison reforms that look to reduce segregation among inmates and ramp up duties of correctional officers, says Henry.
"They're trying to give more freedom of movement to the inmates and that's increasing the difficulty of the job for the corrections officers, but it also means that the training these guys get is some of the best in the nation," says Henry. "They were very much interested in allowing us in because they're at this moment and they really want to put the job of the corrections officer front and center."
As far as what separates Behind Bars from Lockdown, there's little hesitation on Henry's part in pointing to the perspective a long-term production affords.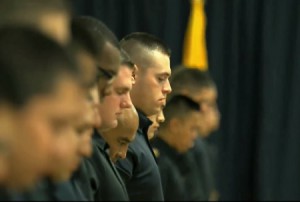 While the former series films for 10 to 12 days in a different prison for each episode and interacts with both inmates and corrections officers, Behind Bars filmed over eight months and provides deep access into the rookies still finding their way in the field and questioning whether the job is worth the risk.
Safety measures, meanwhile, aren't as extensive as one might expect in a facility where 75% of inmates are incarcerated for violent offenses. The rules, the producer says, are simple and straight-forward: you don't take anything, you don't give anything. You always use first names and you never distribute phone numbers.
"In there, if you are respectful to an officer or an inmate, you stand a very good chance of being fine," says Henry. "It's only when respect is broken that things go south, and also because this series follows correctional officers, we're always over their shoulders. At all times, our crew was with them."
Being a constant presence alongside the corrections officers also meant that, occasionally, Lucky 8 producers and camera crew would interact with subjects while filming, whether it's to ask a panicked question after a tense moment or to inquire into a hovering inmate's opinion while interviewing an officer. But rather than being a gimmick, this breaking of the fourth wall is organic, says Henry, who notes the company has only ever extensively used the technique in the comedic series No Limits for Animal Planet.
"At the end of the day, it makes it seem much more compelling, much more real," says the producer. "This is happening in real time."
Behind Bars: Rookie Year airs on A&E tonight (August 6) at 10 p.m. EST/PST
Check out an exclusive clip from the series below: