When it comes to diversity in independent TV docs, a new study has found that PBS doc strands 'Independent Lens' and 'POV' are leaders in the field for minority and women directors, while commercial series such as HBO Documentaries and CNN Films excel in hiring female producers.
The study by American University's Center for Media and Social Impact (CMSI) – titled "Diversity in Independent Documentaries on Public and Commercial TV: Is Public TV Different?" – looked to determine whether docs on U.S. pubcaster PBS are more likely to be diverse than similar programming on commercial TV. Authors Patricia Aufderheide (pictured, left), co-creator of the Documentary Filmmakers' Statement of Best Practices in Fair Use, and colleagues Caty Borum Chattoo, Kenneth Merrill and Modupeola Oyebolu carried out the research from June to September.
The results come almost a year since New York-based PBS station WNET attempted to pull 'Independent Lens' and 'POV' from its primetime line-up, sparking a backlash from the doc community, which rallied for more support and exposure for independent film. The response prompted a months-long, multi-city listening tour that in April resulted in a revamped, multi-platform strategy that promised to keep the strands in primetime for a one-year period, ending May 2016.
"One of the things we hoped to do with this research was to create some info that was free of all the controversy about the programming and could just be evidence about what these shows are actually bringing," says Aufderheide. "We know they're quality, but what else are they bringing? A huge difference between commercial [TV] and everybody else in public TV is this commitment to diversity."
The researchers examined 165 documentaries that aired in the 2014 season, along with some broadcast in the first few months of 2015. The focus was social-issue documentaries produced by independent makers and featured in series that curate authorial works.
Under the commercial TV category, the authors selected HBO Documentaries and CNN Documentaries. The PBS representatives, meanwhile, were 'Independent Lens' and 'POV' alongside 'Frontline,' 'American Experience' and 'American Masters,' with the latter three used for comparison within the public TV group.
Aufderheide tells realscreen that all data was extracted from public records, including reviews, IMDB.com, series and film websites. The scholar says the team managed to successfully check its data with all series producers, except for HBO and 'American Masters,' which did not participate.
"We asked questions about both minority and female participation, both as directors and producers," reads the study. "In asking about minority makers, our standard was whether at least one member of the relevant group was a U.S. minority within the federal categories. We also asked whether the documentaries featured minority, international and/or female characters in a major role, which was considered as recurring characters who shape the core narrative and motivate the arc of the action or explanation."
Results show that 'Independent Lens' and 'POV' – which were grouped together because they yielded similar results – featured many more programs with at least one minority director than either commercial TV or any other public TV program. Further, the two doc strands had more films with at least one woman director than HBO and CNN, though 'American Experience' had the most women directors.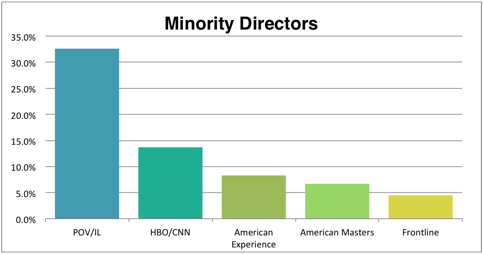 In the study's examination of minority and international characters, researchers found that 'Independent Lens' and 'POV' aired more films with at least one minority character or international character of color than both commercial and public TV, with the exception of 'Frontline.'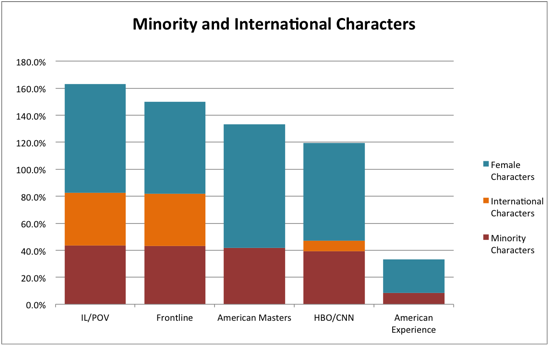 When it comes to female producers, however, results show that HBO and CNN lead the pack, followed by 'American Masters,' 'American Experience' and then 'Independent Lens' and 'POV.' 'Frontline' had the least amount of female producers.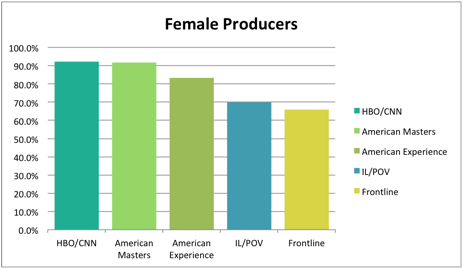 Aufderheide explains that the study's limitations include not knowing exactly how women and minorities are portrayed in the films examined, or further nuances such as whether these individuals are famous celebrities or not.
"Our question was, 'Is there at least one person who is either a women or a minority in a directorial and producing or speaking role?' so there are presumably shows where there are multiple women or people of color represented," says the researcher.
She adds that 'Independent Lens' and 'POV' are distinct for their representation of women and minorities in programming – a pattern that was not as strong in other public TV documentary series – but noted that both programs are facing competition from commercial TV.
"The takeaway for me out of this study is that even makers of color and women filmmakers have more of an option to go commercial than they might have had in the past, because HBO and CNN aren't doing a bad job of representing those people in some way," says Aufderheide.
From the study, the American University professor hopes public television execs view the results as an opportunity to nurture minority and female voices.
"The conclusion that we drew, from the level of information this is, is when you have numbers as high as ['Independent Lens'] and ['POV'] for both women directors and for minorities and for speaking parts, and it's consistent across all three of those categories, you have a clear commitment to diversity because all of those numbers exceed the representation of the general population."