Just weeks after its world premiere at DOC NYC in November, The Anthropologist is being presented at the UN Climate Change Conference in Paris today (December 7). Directors Seth Kramer, Daniel A. Miller and Jeremy Newberger of Ironbound Films tell realscreen how their film looks to move the dialog forward for environmental docs. 
The new guard of environmental documentaries comes with a set of high expectations. The genre's modern entries need to have comprehensive impact campaigns, provide feasible solutions, tackle topics through innovative angles and, above all, entertain audiences.
The team behind The Anthropologist, which had its world premiere at Doc NYC last month, is welcoming the challenge with a film considering climate change through the lens of two anthropologists. While Susie Crate is a leading environmental anthropologist examining how climate change is directly affecting some communities right now, rather than in the future, cultural anthropologist Mary Catherine Bateson is the daughter of famed researcher Margaret Mead.
Throughout the doc – which is five years in the making – Crate goes on expeditions to Kiribati, Peru and Siberia with her teenage daughter in tow, all to understand how communities are coping with such effects as permafrost and rising tides. Bateson, meanwhile, discusses growing up with a visionary of social science, and explains how anthropologists, much like environmental scientists, might also provide some answers on climate change.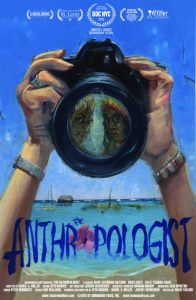 "At this point you can probably write a very long list of [docs on climate change], but one thing that they mainly have in common is that scientists are presented as the voice of authority, coming in to explain what's causing climate change, the mechanics of climate change, why is the Earth warming, why are the glaciers receding," co-director Seth Kramer tells realscreen. "But to really understand the human dimension of it, I think a social scientist is required."
Daniel A. Miller, who directed the film alongside Kramer and Jeremy Newberger, explains the team wanted the doc to be different from broad survey films that travel to a number of places "with this beautiful, American Express commercial-style photography and the sweeping score, [talking about] what can be done.
"We felt we needed to be different, even from the current crop of climate change films," Miller explains. "To tell a personal human story, to tell it from a perspective that's not a broad, corrective 'what we can tell our Congressman to invest in' [approach] but what people can do on a basic level."
For these reasons, The Anthropologist doesn't feature any flashy graphics explaining how greenhouse gases work. That conversation has evolved, says Miller, and the modern environmental doc needs to follow suit and move the dialog forward.
The Anthropologist comes seven years after the directors' 2008 Emmy Award-nominated film The Linguists, which followed two such professionals documenting languages on the verge of death. Both docs were funded by the National Science Foundation, but if that film was the team's Star Wars, The Anthropologist is their Empire Strikes Back, says Miller.
"Even though The Linguists had a cult audience, we wanted this to have a sort of broader following," says the director. "The fact that Crate was an anthropologist dealing with how people and communities reacted to climate change was really on the mark."
The directors were approached by UNESCO to present their film in Paris during the UN Climate Change Conference, which began on November 30 and wraps December 11. They will today (December 7) participate in a panel discussion about The Anthropologist, present the trailer and participate in a debate on social transformation in the face of climate change.
Check out an exclusive clip from The Anthropologist below: