Around the time reality star Caitlyn Jenner sat down for a headline-grabbing interview with Diane Sawyer last April, another series focused on the lives of LGBT characters was becoming a sleeper hit for Oxygen Media.
The debut episode of The Prancing Elites Project (pictured) attracted 1.13 million total viewers, making it the NBCUniversal-owned cable net's highest-rated series among key demos since a network rebrand the previous year.
The show follows a group of five gay and non-gender-conforming African-American dancers from Mobile, Alabama, who practice "J-setting," a mix of cheerleading and hip-hop dancing traditionally performed by women during college football games.
Known as the Prancing Elites, Adrian Clemons, Kentrell Collins, Kareem Davis, Jerel Maddox and Timothy Smith first made headlines when they were barred from dancing in a local Christmas parade in 2013. They then gained national notoriety after Shaquille O'Neal tweeted a video of them dancing at a basketball game that same year.
"They were an extreme force from the second I met them. They were so not scared to be themselves."
- Sarah Quick, executive producer
The tweet also attracted the attention of several production communities, who competed to secure the Elites for a reality series. Atlanta- and Los Angeles-based Crazy Legs Productions ultimately landed the team, shot a sizzle reel and sold the show to Oxygen.
On Tuesday (January 19), the network will begin airing the second season, which focuses on the ways the Elites' increasing profile has complicated the group's dynamic. Oxygen extended the show from 30 minutes to an hour, giving producers a chance to delve deeper into each of the Elites' personal stories.
As a result, season two is much more dramatic than the first.
"In the first week we showed up in Mobile, Jerel's house burned down," explains showrunner and executive producer Sarah Quick (Dance Moms), who was brought in after Oxygen picked up the show.
"In two weeks, I started noticing Kareem was very ill," she added. "I started talking to him and his HIV diagnosis was revealed. We had gone in thinking this was a half-hour comedy and right off the bat we realized there was a lot more to this."
This season, the challenge for Quick and Oxygen was to balance the Elites' attempts to transcend novelty act status with personal story threads. In the premiere episode, Davis' grandmother confronts him over his decision to come out as HIV-positive on television before telling many of his loved ones. Meanwhile, the Elites hire a new manager after a performance at a local charity benefit goes poorly, and Collins – the group's workhorse leader – ponders a solo gig.
Although the storylines are more complicated, the production has become seamless. The Elites were naturals on camera from day one, but this season they are savvier when it comes to working with Quick's 20-person crew.
"Any time you start a new show with a new cast, they're nervous," she says. "They hold back and it takes time to get them to open up and share their stories. With the Prancing Elites, they didn't hold back whatsoever. They were an extreme force from the second I met them. They were so not scared to be themselves."
Shooting around Mobile is also easier. City officials and local businesses are more accommodating now that the show is a hit and the Elites' fanbase is growing. That's not to say, however, that the group doesn't encounter discrimination.
Quick has had a problem with small business owners rescinding permission to shoot after finding out what the show was about.
"The South is the South. There's still racism and homophobia. The show inherently has a hard time locking locations and events because of that – more than on other shows I've worked on," she explains. "Somebody who we deal with at a location might love them, but then somebody above them doesn't."
During a road trip in season one, the Elites and the crew had pulled over at a gas station when locals started harassing the group.
"People were yelling 'Call the KKK!' and 'Wrong jurisdiction!' It was actually pretty scary," Quick recalls. "We were literally just stopping to get gas. We finished up and got the hell out of there. I knew the show was going to be very different once that started happening."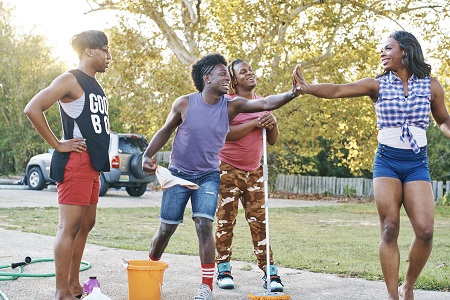 Offsetting this drama is the Elites' playful sense of humor and positive attitudes in the face of such negativity – a key part of what prompted Oxygen to greenlight the show in the first place.
"They have gone through so much adversity and it's made them strong because of it. That's what ties them together," says Quick.
Indeed, the Prancing Elites' "against-all-odds" attitude fits with Oxygen's revamped programming strategy following a rebrand. In October 2014, the network unveiled a new logo and tagline to target millennial women (age 18-34) with series about "authentic, proudly imperfect and diverse characters."
Other shows with this thematic thread include Sisterhood of Hip-Hop, about female rappers trying to make it in the male-dominated hip-hop world, and the family reunion series Finding My Father, which follows young women who track down their estranged fathers.
"I call it the 'feel the fear and do it anyway' programming," says Rod Aissa, Oxygen Media's executive VP of original programming and development. "Finding My Father is about young women who just go, 'I want to find my father. Not because I'm destitute or my life is so [screwed] up. I just need to fulfill myself.'
"That show helped me affirm that, for this millennial audience, there is a real connection to being truthfully who you are, even if the journey is scary," he adds.
By developing the Elites' personal stories in season two, Aissa hopes viewers will see them "in a way that makes them individuals and not just one group of people going against the odds."
"We like characters to be real and based in reality as opposed to something we're contriving for the sake of it," he notes. "What we won't be doing in our programming is pretending people are friends just because we want them to be friends and they live in a certain community."
In rolling out The Prancing Elites Project, the network has used mobile apps such as Instagram and Periscope as well as YouTube to get the word out among young women. The series has racked up two million VOD transactions, as well as eight million Facebook engagements.
Initially, social media chatter around the show was "very intense," Aissa says, with some users arguing that men should not dress up in sequins or leotards and others expressing support for the Elites.
"What was amazing was the conversations people were having socially about the show. That, I think, is what kept people hooked and consistently coming back to it," he explains, adding that social media has been driving VOD.
"If we're going to say we're the youngest-skewing female cable network, then we have to make sure we're having these conversations in places that viewers are," he adds. "It all added up to a great alchemy of the show being discussed on the right platform and being watched where they wanted to watch it, when they wanted to watch it. But also showing up when I needed them to, which is [for] he linear TV rating."
Season two of The Prancing Elites Project premieres on Oxygen on January 19 at 8 p.m. EST /7 p.m. CST.