In the three years since Gabriela Cowperthwaite's documentary Blackfish bowed at the Sundance Film Festival, the film has sparked such a passionate – and results-oriented – dialog on animal rights that the so-called "Blackfish effect" has seen dwindling attendance and a noticeable decline in profits for Florida-based company SeaWorld. Now, Park City will welcome a documentary that hopes to take the animal rights discussion a step further through the work of two vérité pioneers and their longest-term project to date, Unlocking the Cage.
In what is their first feature documentary since 2009′s Kings of Pastry, filmmaking partners and spouses Chris Hegedus and DA Pennebaker – who have, separately and together, documented the likes of Jimi Hendrix, David Bowie, Al Franken and Elaine Stritch – are back with their first story documenting a legal proceeding, following animal rights activist and legal scholar Steven Wise as he mounts a case to expand legal "personhood" for four New York-based chimpanzees in order to protect them from physical abuse. A victory for Wise would alter an animal's legal status from "thing" to person, with such rights as bodily integrity and bodily liberty.
Hegedus was first introduced to Wise through a friend from Startup.com, a 2001 doc she co-directed with The Square's Jehane Noujaim. Shortly thereafter, the lawyer came to the team's New York office and explained his plan to argue in court, for the first time, for the legal rights of animals. "It sounded intriguing and novel and probably a little bit crazy," says Hegedus, whom Pennebaker credits with taking the reins on the project.
To demonstrate why the species should be afforded personhood, Pennebaker and Hegedus follow Wise to various sanctuaries where chimpanzees communicate with their handlers through sign language – scenes that may remind some of James Marsh's 2011 documentary, Project Nim.
In 2013, once Wise settles on his nonhuman plaintiffs with members of the Nonhuman Rights Project, they use writs of habeus corpus (used to free people from unlawful imprisonment) to file lawsuits seeking limited personhood rights for the chimpanzees. Unlocking the Cage - which HBO boarded in January 2015 – follows along as the case is directed to the Appellate Courts for a decision on animal personhood.
The film makes its broadcast debut on HBO in July of this year.
Is this the first legal story you both have followed? And for such a long period of time?
D. A. Pennebaker: Yeah, it is very long for us. Usually we have to try and make a film within a year, or we're going to lose a lot of money.
Chris Hegedus: Yes, it's the first legal story that I've done. We've done political stories but never legal stories. [It's also] the first animal rights story or animal protection story we've done.
In terms of tackling this legal case – and its unknown trajectory – can you describe your journey with the film?
Hegedus: I always joke that if anybody asks me to do a legal story again, just shoot me. I had no idea the process was going to be so long and I think that was one of the largest obstacles for us. Trying to make a film that coherently explains a legal case that's quite complex was a very big challenge to us… I hope [the audience] understands enough of it to be excited by some of the challenges that, legally, he was trying to do and argue his case.
Pennebaker: Also, a difficulty [is] getting in the court when a trial is taking place, and having a judge let you hear everything. The legal bastion is very hard to climb up and overwhelm. Filmmaking just doesn't do it by itself necessarily. They have to believe that what you're doing really serves the legal kind of decision as much as it serves your filmmaking tradition.
What Wise is arguing is fairly controversial. How did you feel about his cause initially, and did that shift over time?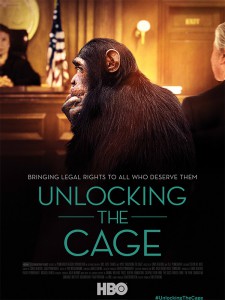 Pennebaker: He says when he first started giving his talks at universities, people would bark when he came into the room. He was looked on as a kind of clown. The whole idea that there was basically no other way to really protect animals didn't come through for a while. It took [some time] for people to understand what his motivation was, because he's been thinking about this for 30 years.
Hegedus: We were interested but also skeptical of what it was. I think the culture has changed enormously in the four years we've been doing this film. In the beginning, if we told somebody what he was trying to do, they pretty much thought it was crazy. In the process of his perseverance and getting into courts and actually trying to argue what he's doing, I think the culture has changed. The Internet has a lot to do with it. The whole idea of animals and caring about animals has been pushed forward from the Internet. So many things working together on this film have gotten to a point that a lot of changes have happened and are happening for animals.
You're remiss to talk about animal rights today without talking about Blackfish, and the "Blackfish effect" we've seen take place. Obviously you're not dealing with a corporation, and this is a much more nuanced story, but was that film a consideration in tackling this type of film?
Hegedus: Actually, we met the director of Blackfish when we were filming in the San Juan Islands. In the beginning, we didn't know which state or which plaintiffs Steve was going to argue for, so he was talking to scientists and kind of looking at what was happening for three different species of animals: the great apes; the cetaceans, which included dolphins and orcas and whales; and then elephants. So when we were on San Juan Islands, we met the people shooting Blackfish and they were very helpful to me and extremely nice, and they were in the process of making their film. When their film came out it was really wonderful to see how much impact their story had on the public.
This film also marked your first time using Kickstarter, and you raised 116% of your goal. Also, I think a lot of people were talking about the perks you were offering.
Pennebaker: It was a lot of work, believe me. It was a lot more work than we're used to doing for things that actually deal with the film itself. I think it was a great way to spread a kind of information and ideas to an audience that normally you don't get to with film.
Hegedus: That something like Kickstarter happened when we were doing this project really made it possible for us to make this film, because there's a lot of competition now. We've been making films for many, many decades and more and more people can make their own film, which is a great thing, but it's very competitive to get funding. They're expensive to hang on [to] for a long time. But we did try to make interesting perks. If people were going to support the campaign, [we wanted] to make it worth their while.
Do you think you'll pursue such a long-term project again?
Pennebaker: You hope when you start that it's not going to go for five years, but whatever gets you into it, you're really looking for an impassioned person. And that person, you have to follow. Once you hook up to them you can't leave 'em.
Are you planning any kind of social impact campaign around this film?
Hegedus: We'd like to do a couple of things. The first thing we'd like to do is make the film available with some kind of syllabus for law schools, because Steve was one of the first people to teach animal rights law in a law school – he was the first person to teach at Harvard – and since then there are probably about 140 law schools around the U.S. that now have animal rights courses. I think showing the film and understanding some of his philosophy about how to encourage rights would be an interesting discussion at law schools, so we'd like to put it there.
I would like to do some kind of campaign with the film for sanctuaries. Because in the case of most of these animals, there's no sense in freeing them if there's no place for them to go. And the sanctuaries we visited in the course of making this film, they're run by incredibly passionate people – all women – who have devoted their lives to taking in either medically abused [chimps], or chimps that were used in space research, chimps that were used in HIV [testing].
Unlocking the Cage bows at Sundance today (January 25) at 2:45 p.m. MST at The Marc. For further screening info, please click here.