A documentary cameraperson-for-hire must be ready to drop in and out of a variety of seemingly incongruous situations.
That experience of moving from job to job is mirrored in the pace of Kirsten Johnson's Cameraperson, an essay film that skips between Nigeria, Rwanda, Bosnia, New York, Texas, Darfur, Afghanistan and many other locations she has traveled to during her 15-year career as a doc shooter.
A filmmaker and director of photography (DP) whose camera work can be seen in such films as Citizenfour , Darfur Now, Fahrenheit 9/11, Happy Valley and The Invisible War, Johnson was inspired to make the doc after a project she was directing in Afghanistan fell through, causing her to ponder the nature of her memories and the ethical questions inherent to her field.
I was able to see my eye through the footage in a way I'd never really seen or understood before.
-Kirsten Johnson
She began contacting directors she had worked with to request unused footage she had shot, and then assembled the footage into a visual memoir of her experiences behind the camera. Throughout Cameraperson, she frequently returns to the Bosnian town of Foča, the site of massacres and mass rapes during the Bosnian war in the 1990s.
"I had completely blanked out on the fact that we had been filming a movie about rape as a weapon of war," she says. "I had one of these moments when you realize your brain is functioning to protect you in some way that you are not even aware of at all."
Six months into making Cameraperson, Johnson reached out to E-Team and 1971 producer Marilyn Ness who began contacting various foundations, including the Sundance Institute. Filmmaker and philanthropist Abigail Disney also backed the film, but financing proved tricky as Johnson's essayist approach meant it would not make sense to most funders until it was done.
"Now they're saying we've never seen anything like it, but when we were trying to get it financed, people were saying we can't imagine it," she explains.
Cameraperson world premiered at this year's Sundance Film Festival in the New Frontier program and screened at SXSW last weekend.
In addition to a theatrical run, Johnson – who frequently leads workshops and teaches at Columbia University and School of Visual Arts – hopes the doc has a long life on the educational circuit.
Ahead of SXSW, realscreen spoke with the filmmaker and DP about creating a visual memoir and the ethical quandaries that inspired it.
What do you love about camerawork?
It's a remarkable opportunity to drop into the world that the director is trying to understand and pursue, story-wise. Environment-wise, it's always this remarkable opportunity to be a part of a world that you would never have imagined being a part of. The range of what I've gotten to experience as a human being has been incredibly expanded by being a DP. If I'd only directed the films I wanted to direct, it would've been a much smaller range of subject matter. The access that other people have created for me as directors has been phenomenal.
How did the idea for Cameraperson come about?
It came out of a film shot in Afghanistan that I was unable to complete because the protagonist, a young woman, didn't feel safe being in it. I had made the film with her complicity and suddenly it felt so dangerous to her. I realized the world has changed from when I started making documentaries. We didn't have the Internet, where any footage you filmed of a person could end up being seen in the village they come from.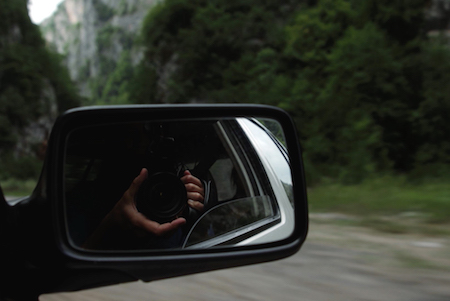 It's one of these things we need to think about as documentarians, because we used to be able to control where the image went and we can't do it any more. That has different implications to the people we film and even to us as filmmakers. It sent me back into thinking about other situations in which there have been questions around permission and complicity, or where time has changed the meaning of things, so it started bringing up memories of things I had filmed where we had question marks about choices we'd made. That's when I reached out to different directors and asked to look at footage to see how far was the space between what I remembered and what was actually in the footage.
Did you find your memory was more powerful than the reality? Or vice versa?
Vice versa. In a few cases, I had remembered a really strong ethical dilemma and there was no evidence of it in the footage because I'd turned off the camera. So I couldn't know how on or off my memory was. But what was true, in particular that footage from Nigeria [shot for Dawn Shapiro's The Edge of Joy], was even more disturbing and stronger than my mind had allowed me to remember it.
I knew what had happened while we were in the Nigerian maternity ward and I knew I was haunted by it in many ways, but I had a blurry memory of the midwife's face in my mind. It was a very powerful experience to get the footage, see it again and realize how intense that had been and how impotent I felt at the time. I had to contend with what that footage meant to me.
How have these experiences informed your style as a DP and filmmaker?
I was so caught up in these questions around ethical dilemmas, unintended consequences and moral dilemmas that it wasn't until my editor did the first cut without voiceover that I could see the ways in which I shoot. I do have a particular eye. There are things that I'm obsessed with and framing that resonates across time and space. I was able to see my eye through the footage in a way I'd never really seen or understood before. That felt like a gift because, at the time, I was being hard on myself. I could see all these difficult, complicated consequences. It was harder for me to see the beauty in a moment.
You are frequently in positions where you drop in on people's lives and then leave. What is it like navigating those relationships once a film is done?
There's such a range of ways to do it, but as a cameraperson, I have limited choices because I am beholden to the director's choices about it. One of the things that is absolutely true is that filming people is it's own peculiar kind of relationship. It changes over time – there is a difference between what happens while you're making the film and once the film emerges into the world. That relationship changes.
There is no way in the world that I could've maintained relationships with every person I filmed. My role is to make an emotional connection while I'm filming. This thing of having to be in the present is what I do really well, and yet over time that starts to feel [different]: you maintain that intensity and then you walk away from it. That's something that I have to live with over time.