It's been more than two decades since former NFL player O.J. Simpson was acquitted for the 1994 murders of his ex-wife, Nicole Brown Simpson, and her friend, Ronald Goldman, but the media-dubbed "trial of the century" is living up to the moniker.
Timed with the 20th anniversary of the criminal trial verdict, A+ E Networks-owned nets LMN and A&E in fall 2015 aired the specials The Secret Tapes of the O.J. Case: The Untold Story and O.J. Speaks: The Hidden Tapes. Meanwhile, the Sundance Film Festival in January hosted the world premiere of Ezra Edelman's 7.5-hour documentary O.J.: Made in America, produced by ESPN Films.
In February, FX debuted its wildly popular drama series American Crime Story: The People vs. O.J. Simpson. And then, in an almost Jinx-like turn, Los Angeles police in early March revealed detectives were investigating a knife reportedly found buried on Simpson's former property years ago.
The case is far from what may typically be thought of as "history," and its corresponding programming reflects a strong appetite among North American audiences for modern historical fare – events from the past 20 to 30 years viewers can still remember from the news, or perhaps their youth.
They're not necessarily the historical watersheds in school textbooks, but incidents experienced first-hand. Recent examples include the National Geographic special Challenger Disaster: Lost Tapes, on the Space Shuttle Challenger's ill-fated 1986 flight, as well as the net's upcoming documentary LA 92, on the Los Angeles riots over the arrest and beating of Rodney King.
Elsewhere, History has launched its 'Breaking History' programming strand, featuring Alcatraz: Search for the Truth, a special on the iconic San Francisco prison; and the recent History Now digital-first series, highlighting current events.
Laura Fleury, the senior VP at LMN who programmed A+ E Networks' two Simpson specials, reasons that audiences are more interested in contemporary events because they're growing accustomed to unscripted programming taking deeper dives into relevant topics, and are eager for more information on events that happened in their lifetimes.
"The 20th anniversary [of the Simpson case] falls at a time when viewers are very compelled towards digging more deeply into the granular level of cases, whether it's Serial, The Jinx or Making a Murderer," Fleury tells realscreen.
"Twenty years later, that's enough time to be able to re-examine the case and have people speak more candidly, and there are a lot of people who thought he was innocent then, who don't think he's innocent now," the exec says of Simpson, who was acquitted in a criminal trial, but then found responsible for the deaths in a civil trial.
But the impetus for programming these specials, says Fleury, is the introduction of new information. A&E, for example, doesn't focus on historical events unless there is a contemporary angle – something more substantial than an anniversary – and a fresh perspective.
As such, LMN and A&E boarded the two specials from ABS Productions – exec produced by Stephen Auerbach, Chuck Braverman and Lawrence Schiller – because they offered a trove of new material on the case.
LMN's two-hour The Secret Tapes of the O.J. Case is focused on "unpeeling the onion" of Simpson's personality through recordings of him speaking, including a rare seven-minute recording made before the theatrical Bronco chase. Meanwhile, the Tom Jennings-produced O.J. Speaks: The Hidden Tapes for A&E was crafted from video footage from the civil deposition – of particular importance as Simpson never testified in the criminal trial.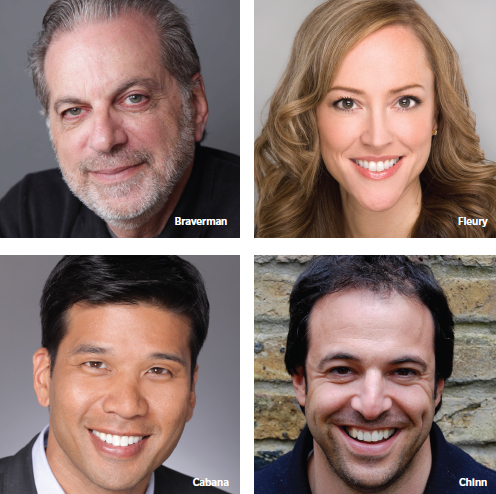 "I was sitting in the office interviewing Dan Petrocelli about the civil case, which he was the attorney for," recalls Braverman about O.J. Speaks. "And he said, 'Well, you realize this was the first time O.J. Simpson had to testify under oath,' and my mind started spinning and I asked, 'Was there any audio taken?' and he said, 'No, there was no audio, but there were video tapes.' Long story short, we were able to get access to 100 hours which nobody else had ever gotten access to."
Fleury adds that when tackling a relatively current story, networks can't merely program what viewers could get from the news. "We've got to deliver something deeper, [while] also having a real set of first-person perspectives on it that are actually telling a comprehensive story," she advises.
British producer Simon Chinn, co-founder of UK- and U.S.-based indie Lightbox Entertainment, is in a similar position with the tentatively titled documentary LA 92 for National Geographic Channel, directed by Undefeated helmers Dan Lindsay and TJ Martin.
First announced ahead of Sundance, the two-hour film revisits the six-day riots that began in South Central Los Angeles when four police officers caught on camera beating an unarmed African-American man, Rodney King, following a high-speed chase in 1991 were acquitted of any wrongdoing. The acquittals resulted in mass protests, looting, fires and the blocking of freeway traffic.
"We were thinking very much about recent significant historical events that might be a story that hadn't been told in some time, maybe never, but by telling them now in a particular way, with the benefit of hindsight, we might somehow shed light on something that's in the zeitgeist at the moment," says Chinn, pointing out the racial polarization in the U.S., recently evoked by the Michael Brown shooting in Ferguson, Missouri.
"This is a riot that basically erupted – to be slightly reductive about this – as a result of a piece of home movie footage and it struck us quite quickly that this might be the first modern riot that was sort of captured in some way on film," he continues.
Chinn produced the Oscar-winning docs Man on Wire and Searching for Sugar Man. He set up Lightbox in 2013 with his cousin, Emmy-winning producer Jonathan Chinn, who has lived in LA for a number of years and remembers the riots.
"We hope to tell a different story that perhaps people weren't aware of at the time because the story was covered in a very particular way by a particular kind of people – by news agencies that were on the ground that perhaps had limited access because, frankly, it was dangerous," says Chinn.
"They were covering stories from the air or from safe parts of the city. Perhaps there were aspects of the story that the [journalists] simply weren't interested in."
Paul Cabana, executive VP and head of programming for History and H2, says the brand has been taking a different tack in its modern history coverage, most notably through the 'Breaking History' strand, which assigns "new information to iconic topics."
While some audiences might assume the net has a mandate to cover more traditionally historic events, Cabana says he is trying to tap into a spectrum of programming, meaning that History is prepping a "big special" around the 15th anniversary of the 9/11 attacks that promises "untold stories," but also following Europe's refugee crisis and the U.S. presidential election through its multi-platform History Now series, launched in February.
"It became an effort of creating a platform where we could highlight some of these stories that could only be experienced, documented and shared now. We knew that if we not only curated stories but also created a platform for them, what we would ultimately create is this living, breathing time capsule," says Cabana, adding that each episode is three to four minutes in length and accessible through a YouTube channel, as well as on Facebook and Instagram.
The exec has a couple of theories on the appetite for modern history. He wasn't a history buff growing up, he assures, but the older he gets, the more he sees personal experiences overlapping with events that are, in retrospect, pivotal.
"The fact that the LA Riots were 25 years ago, or the fact that the Challenger disaster was 30 years ago, and the fact that the 1984 Olympics was a turning point in the Cold War, it's weird because you can remember exactly where you were for all those things. Experiences become memory, which becomes nostalgia, which just naturally becomes history."
This article first appeared in the current March/April 2016 issue of 

realscreen 

magazine. Not a subscriber? Click here for more information.