Women took center stage at the round-table as directors, producers and subjects in several of the remaining projects on day one (May 3) of the Hot Docs Forum.
Hope Litoff pitched a deeply personal portrait of her late sister Ruth in Rules to Live By; Marta Prus presented her study of the competition between two Russian gymnasts in Over the Limit; and Minji Ma turned the lens on her parents in Family in the Bubble. Anna Thomson and co-director David Baksh, meanwhile, pitched their film on the workers at a Catalan yoghurt company, Yoghurt Utopia.
Themes of mental illness and family dysfunction were a common thread running through many of the projects, which were all, on balance, well-received by commissioners who were both compassionate and welcoming of personal stories that also reflected larger societal problems.
Please note that coverage of one pitch, from filmmakers Daniel Sivan and Alon Sahar for The Patriot, has been withheld due to concerns by producers and Forum organizers over the sensitive nature of the project.
The first part of this report can be found here. Look for the third and final installment of our report on Monday (May 9).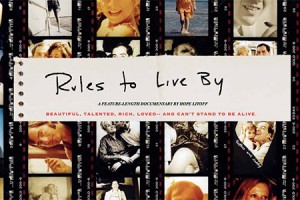 RULES TO LIVE BY
Production Company: Little Darkroom Films, LLC (USA)
Director: Hope Litoff
Production budget: $799,189 (Some financing secured from Impact Partners, Little Darkroom Films, HBO, Chicken & Egg Pictures)
Still needed: $399,189
Logline: She's beautiful, artistic, loved and can't stand to be alive. Rules to Live By traces my efforts to piece together the life, mental illness and suicide of my sister Ruth.
There was little preamble ahead of the trailer for Rules to Live By, Hope Litoff's moving portrait of her sister, the artist Ruth Litoff, who committed suicide in 2008. The New York-based editor-turned-director told the Forum that she is looking to "get to know [her] sister in death in a way she couldn't in life," and an elegant trailer detailed the story of the two sisters, focusing on Ruth's artwork and effervescence in life, as well as the mental illness that led to her death.
The artist kept diligent records of her successes and memories, and Hope is delving into these belongings to tell her sister's story. Rules will be comprised of vérité scenes, animation and journal entries, culminating in the realization of a photo exhibit Ruth had planned months before her death. "The film will be a work of art," said Litoff.
Rules is two-thirds of the way through production, and simultaneously in post-production. The team is aiming for an early 2017 festival premiere, with plans for a "robust global outreach strategy" to further efforts in fighting misconceptions surrounding mental illness. Rules is looking for production and post-production funds through foundations or international pre-sales or copros. The team is also looking for potential outreach partners and funding for that strategy.
HBO is backing the film and Jesse Weinraub, director of HBO Documentary Films, sat briefly at the round-table to tell the Forum that the broadcaster has been "driving the project" for a year, and has a first-look deal with Litoff. "We've long been interested in issues related to mental illness," he said, commending the director's "intimate visual approach to exploring suicide."
Elsewhere, Chris White, executive producer for PBS doc strand 'POV,' said he was a friend of Litoff's, and got some laughs after admitting he was "bereft" about HBO's first-look deal "but looking forward to them making a mistake and letting it go." Addressing Litoff, he added: "I'm interested to see how your dark and sometimes edgy but very funny personality comes through in a very personal and grieving exploration."
Later on, Noland Walker – senior content director and 'Independent Lens' co-curator, for ITVS – asked what rights are available (answer: all of them), and Bruce Cowley of Canada's documentary channel asked if the film would offer any sense of hope.
Litoff cheekily responded, "I am very funny," but went on to explain that Ruth's journal entries would offer some "edgy comedy" and the photo exhibit would be an uplifting note to end on for the doc.
Nick Fraser, series editor for BBC's 'Storyville' doc strand, called the project "very brave and very terrific," adding that, "It's the realities, and texture of the film that matters – the observation – and that's so beautifully apparent in your trailer."
OVER THE LIMIT
Production Companies: Telemark, Ventana-Film GmbH. (Poland, Germany)
Director: Marta Prus
Production budget: $452,731 (Some financing secured from the Polish Film Institute, Telemark, Ventana-Film GmbH)
Still needed: $242,731
Logline: What can you sacrifice to fulfill a dream? A film about a top Russian rhythmic gymnast on her way to gold in Rio 2016.
Over the Limit follows a critical year in the life of Russian gymnast Margarita Mamun, who is working towards a chance to represent her team and country in this year's summer Olympics in Rio de Janeiro, Brazil. Mamun competes alongside two teammates – whom she lives and trains with – for two coveted spots, and must also overcome a nervous breakdown. Director Marta Prus, a gymnast herself, said it took her more than two years to gain access. She began shooting in September 2015 and expects to complete filming this October.
Producer Maciej Kubicki added that they have an agreement with the Russian Federation of Gymnastics and the International Federation of Gymnastics to film all the events the protagonists take part in. A 52-minute and feature-length version of the film will be made. A rough cut is expected early next year.
PBS' Chris White said the Olympic run featured in the doc was an obvious benefit, as well as the performances of the girls, but what would be interesting is how deeply the team could mine the relationships.
Arno Becker, commissioner for Germany's RTL Television, said he liked the access and the different layers to the doc (Russian culture, the emotions behind the sport, etc.), but suggested that audiences should also feel the pain of the competition.
Marie Nelson, PBS VP of news and public affairs, pointed out the "incredible beauty and power of the sport," and said the team should continue to push its cinematography in how they're shooting the gymnastics matches. "I think this is one of those stories that transcends nationality, and it's something I'd love to see at PBS."
Margje de Koning, commissioner of docs for the Netherlands' EO and IKONdocs, bravely raised the issue of the scandals sometimes associated with Russian gymnastics, to which Prus replied there has not been a doping affair so far. "I think [the girls] are smart and they know what they're doing, and the Olympic Games are the most important and they are very safe about this."
Asking what might happen after the Olympics was Guy Lavie, channel manager for Israel's yesDocu. There is a large Russian community in Israel, he said, and a great interest in gymnastics. The director said she wants to shoot after the event, but that could potentially be another film.
YOGHURT UTOPIA
Production Companies: Chimerica Media, Massa D'or Produccions (UK, Spain)
Directors: David Baksh, Anna Thomson
Production budget: $234,450 (Some financing secured from Chimerica Media, TV3 Televisao de Catalunya, Sundance Institute, DR)
Still needed: $139,950
Logline: This film is about a yoghurt factory in a forest called La Fageda in Catalunya, Spain, where all 300 of the workers are patients at a hospital for people with mental illnesses.
Bruni Burres, a senior consultant with the Sundance Institute's Documentary Film Program, introduced the pitch, noting that when the program received the application, they were "thrilled and alert with anticipation" and hoped the team would come back to them with a proposal for production.
The film follows a Catalan psychiatrist called Cristobal Colon (which translates in English to Christopher Columbus) who oversees a number of mentally and physically challenged patients in a psychiatric hospital. When he resigns, he takes a bus-load of patients with him and starts a yoghurt company called La Fageda, where he employs his former patients. "The film is about how La Fageda can inspire a more enlightened attitude and more practical approach towards mental illness," reads a synopsis for the doc.
Yoghurt Utopia's first act will detail the history of the company, while its second will find the group in present day, faced with Colon's retirement. The final act will glimpse the future of La Fageda.
Mark Edwards, commissioner for ARTE France, said the broader issue of finding alternative venues for medicalized psychiatric treatment in Europe is important, and should be emphasized in the film. "I think the larger issue is a huge one, and I'd be interested in knowing more about Columbus' philosophy, where his ideas came from and how hard it is to be a maverick in [this] system."
Representing Vice Canada was development executive John Turner, who clarified the brand's programming strategy. "I think one of the things that is most misunderstood about Vice actually is [the conception] that we're only interested in telling stories about young people."
Youthful qualities in a subject and topic, however, still seemed to be an important component of a selected project.
Despite Colon being of retiring age, the exec said he had a "beautiful, youthful energy" and a renegade approach that would still resonate with the Vice audience. He added: "When I started to see some of the younger characters within the factory I got really excited because I think the more youthful face of mental illness is something we don't see as much of."
Elsewhere, Brianna Little, a development executive with Amazon Studios, said she loved the trailer and the directors' unique point-of-view in the film, adding that Amazon looks to shift the status quo. "It's very much in the Amazon philosophy that we challenge the status quo, for better or worse."
FAMILY IN THE BUBBLE
Production Companies: Documoon, Shangma Pictures, napafilms ltd. (South Korea, Finland)
Director: Minji Ma
Production budget: $174,300 (Some financing secured from Shangma Pictures, Docs Port Incheon)
Still needed: $111,274
Logline: An acid portrait of a family in Gangnam, South Korea, that dreams of winning the jackpot through real estate involvement.
Minji Ma's Family in the Bubble is a personal story touching on issues around class, wealth and barriers to upward mobility. Ma's parents were successful real estate developers and dealers in the 1980s but lost everything 15 years ago during the Asian financial crisis. Fixated by real estate as a means to accumulate wealth, the couple continues to speculate about the next real estate boom, despite poor finances and a forthcoming move from their rented home.
The project is pursuing a copro with Finland, and producer Liisa Juntunen was also on hand for the pitch. "Global recession and real estate has affected us deeply in Europe, too, and apparently there is a new real estate bubble, at least in Finland," said the Helsinki-based producer. "We want to bring to Western audiences this intimate story about global economy flavored with black humor."
Family is currently in production and 70% of the film has been shot. The team is looking for financing partners and distribution out of Korea and Finland. The film will be complete in 2017.
Marie Nelson of PBS kicked off the feedback by remarking on the doc's universal theme. "Many of us in North America and the U.S. can relate to what it was like after the bubble burst, and I think that having the opportunity to see this in another context and also brought down to the microcosm level of the family would be very effective for us."
The BBC's Nick Fraser, meanwhile, commented that the tone was "pitch perfect" and the images were fantastic, while PBS' Chris White said he also liked what he saw and was interested in seeing more. "This is a very sad story and you enter into it in a light way, and in the trailer it is balanced well."
Murray Battle, director of original content and brand for Canada's Knowledge Network, said the British Columbia-based net sees itself as a Pacific broadcaster and the project could make for a great pairing with a film in the works with Haida Gwaii: On the Edge of the World helmer Charles Wilkinson. That film, entitled Vancouver: No Fixed Address, is "a portrait of the city from the point of view of the people who can't afford to live there," said Battle.
Finally, when asked by the moderator if Japan's public broadcaster would be interested, Yoko Imai, a senior producer for international copro and acquisitions with NHK, said that while she saw a lot of similarities and universal themes, on a macro level there are differences in how the two countries developed. Because the broadcaster has an in-house production team and has also covered Korea extensively, Imai said she needed further explanation of the differences and what kind of conclusion would be drawn in the film.