In the third and final part of realscreen's comprehensive coverage, we present six projects pitched on day two (May 4) of the Hot Docs Forum. The first part of this report can be found here, while the second is here.
The second day saw a bevy of high-quality projects tackling a range of subject matter, from endangered white rhinos to Pakistani "smut theater," and the threatened sustainability of Easter Island to an American true crime case – the latter serving as the 2016 Forum's first multi-part doc series pitch.
The Laurie David-exec produced and highly coveted eco-thriller The Last Animals saw a feisty discussion around what the best platform for that particular story might be. Digital players such as Amazon Studios and Condé Nast Entertainment – the latter is backing the film – were quick to jump in, but a number of public broadcasters such as PBS and the BBC were also interested, leading moderator Axel Arno of Sweden's SVT to suggest a pubcaster "uprising."
Later on, the presentation of pitch prizes took place at an evening reception. Winning the Corus-Hot Docs Forum Pitch Prize was Saad Khan's Showgirls of Pakistan (pitch below), while the Cuban Hat Award went to the "charm offensive" that was Giovanni Totaro's Happy Winter. Runner-up for the Cuban Hat was Kate Brooks' The Last Animals. Meanwhile, winning Best Commissioning Editor honors was Marie Nelson, PBS VP of news and public affairs.
Please note that 10 projects were pitched in total on day two, but the coverage of four pitches has been withheld due to concerns by producers and Forum organizers over the sensitive nature of the projects. These include: Erika Cohn's The Judge (Idle Wild Films), Lindsey Dryden's Billy (Parabola Films, Little By Little Films), Tim Travers-Hawkins' XY Chelsea (Pulse Films) and Cynthia Wade and Sasha Friedlander's Mudflow (Cynthia Wade Productions, Inc.).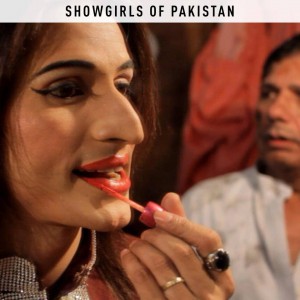 SHOWGIRLS OF PAKISTAN
Production Company: Nomad Films Inc. (Canada, Pakistan)
Director: Saad Khan
Production budget: $238,320 (Some financing secured from federal and provincial Canadian tax credits, Zunn Productions, Indiegogo)
Still needed: $164,533
Logline: A behind-the-scenes look at the lives of three Pakistani showgirls. We see inside the secret world of the dancers who inhabit the seemingly paradoxical "smut theater" in Punjab.
Director Saad Khan and producer/cinematographer Anam Abbas were on hand with producer Mark Johnston to present this colorful, provocative doc on Pakistani showgirls. Set in Lahore, the film follows the on- and off-stage lives of three burlesque dancers who must constantly fight for legitimacy and survival in their society. Showgirls follows three women in different stages of their careers: while one is a veteran star of "smut theater," another is an up-and-coming star, and a third dancer's star is in decline.
"For these women to get up everyday and take ownership of these spaces is radical," said Abbas, adding that over the last two years, a number of showgirls have been shot by admirers and ex-boyfriends. "The subjects have led us into their lives so they can share their stories with the world on their own terms," she said.
About 75% of the doc has been shot, with one final production period left. Johnston said the team was at the Forum because their online fundraising campaign had to be taken down due to online death threats. Canadian prodco EyeSteel Film is helping to cut the doc, which will be delivered by year's end.
Starting the round of feedback was Michael Kronish, executive VP of TV and online at Vice Canada, who admitted the project was a "bit of a natural fit" for the brand. "I'm not sure if it's a digital property for [Vice female-centric online channel] Broadly or something for Viceland, but we should keep talking."
Other commissioners were interested in the project, but not fans of its trailer. Nick Fraser, series editor for the BBC's 'Storyville' doc strand, said he "couldn't quite see what the point of the film is" from the trailer.
"The lives of the women are very interesting, but I don't see what you end up telling us about Pakistani pornography, or Pakistani moral attitudes," he said.
Fraser's comments were echoed by Mark Edwards, commissioner for ARTE France, who also questioned the larger context. Similarly, Mette Hoffmann Meyer, head of docs and copros for Denmark's DR, agreed the trailer didn't properly tell the story: "The pace was not in tribute to the characters and it's got to be contextualized much more."
Elsewhere, Guy Lavie, channel manager for Israel's yesDocu, reflected on recent burlesque-themed docs such as League of Exotique Dancers and Tempest Storm, and applauded Showgirls' unique angle, but still wondered how the team would weave the three different stories and make connections between them.
The pitch ended on a high note, however, with Brianna Little, a development executive with Amazon Studios, fully on board with the project.
"I think this is incredible," she said, adding that the doc would be a natural extension to Amazon's scripted series Transparent.
"We're interested in exploring sexual repression of oppressed countries. I love the cinematic choices you made in the trailer, and I don't agree it's working against you. It's controversial – not in subject matter, but controversial around the table."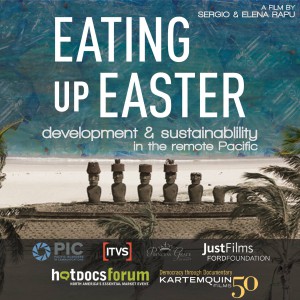 EATING UP EASTER
Production Companies: Mara Films, LLC, Kartemquin Films (USA, Chile)
Director: Sergio Rapu
Production budget: $575,095 (Some financing secured from Pacific Islanders in Communications, JustFilms/Ford Foundation, ITVS, Mara Films)
Still needed: $408,305
Logline: On Easter Island, the most isolated community in the Pacific uses lessons learned from their past to solve environmental and social challenges brought on by booming tourism and rapid development.
The Kartemquin Films-coproduced Eating Up Easter gave the Forum one of its most realized stories and trailers, with Kartemquin artistic director Gordon Quinn introducing the doc as "a powerful story for the future."
Filmmaker Sergio Rapu is an Easter Islander, and a direct descendant of the island's famous statue carvings. His film follows the trajectory of the island from an independent, sustainability community, into one that is feeling the effects of booming tourism and rapid development. With more and more tourists coming to the island each year (an infographic noted that Easter Island hosted 100,000 tourists in 2015, but the island's population was only about 8,000), contact with the outside world is fundamentally changing how the island functions as a society.
About 80% of the doc is shot, and the team is entering post-production. They are seeking completion financing, funds for a global outreach strategy, and also looking for distributors, film funds and pre-sale opportunities.
Eating Up Easter has received backing from the CPB National Minority Consortia, and U.S. broadcast rights are tied to PBS.
Arno Becker, commissioner for Germany's RTL Television, said he met previously with the team and it would be an interesting project for the broadcaster's environmentally-focused GEO channel, while Yoko Imai, a senior producer for international copro and acquisitions with NHK, also wanted to follow up, given the number of Japanese tourists who visit Easter Island.
"So many tourists go to Easter Island but all we focus on is the ancient history and mystery of the island, and we don't know much about the citizens living there," she said, adding she'd like to follow up.
Elsewhere, Marie Nelson, PBS VP of news and public affairs, appreciated the diverse subjects and storytellers behind Eating up Easter.
"For all those people who say they can't find diverse filmmakers telling diverse stories, Sergio is a fine example of that," she said. "I love that you chose characters that represent traditional and also modern experience of life on island. You're focusing on people trying to find the smaller-scale local solution, and you're not mired in the macroeconomics of the story."
Nelson advised that, because not many people are exposed to the problems plaguing Easter Island, Rapu should find a device "to set the table a bit" and provide the broader context.
THE LAST ANIMALS
Production Company: Atlas Films (USA)
Director: Kate Brooks
Production budget: $1,577,071 (Some financing secured from individual donations)
Still needed: $477,071
Logline: The Last Animals follows the conservationists, scientists and activists battling poachers and criminal networks to save elephants and rhinos from the edge of extinction.
Kate Brooks' eco-thriller was by far one of the most-discussed pitches at this year's Forum, eliciting spirited reactions from several commissioners and some competition between gathered pubcasters and digital players.
Exec produced by Heather Reisman, CEO of Canadian book and lifestyle retailer Indigo, and An Inconvenient Truth and Fed Up producer Laurie David, Last Animals spans four continents to follow the conservationists, scientists and activists battling poachers and criminal networks in order to protect elephants and rhinos.
Brooks, a war photographer and first-time director, has been tracking the endangered Northern White rhinoceros and its position within a global wildlife trafficking crisis. The film examines how these animals – among others – are being killed, and how their body parts (particularly the ivory and rhino horn trade) are circulated among international networks.
The doc has completed principal photography, and is eyeing a festival run, theatrical release, VOD release and TV broadcast. The team is also planning a "robust" impact campaign that will call for a total ban on the ivory trade.
Joe LaBracio, executive VP of Condé Nast Entertainment, joined the round-table only for this presentation, and announced the company is backing the project as one of its first feature doc projects.
"Condé Nast is obviously known for giving great journalists a platform to tell the most important stories that need to be seen or heard, and we are thrilled to be part [of the film] as creative and producing partners," he said, adding that Condé Nast's 21 brands reach over 120 million people.
Soon after, Nick Fraser of the BBC chimed in: "If I were Netflix I would buy this on the spot. If it's not bought and sucked up by Netflix and Amazon, I am absolutely certain we would want it at the BBC."
Meanwhile, Justine Nagan, head of American Documentary for PBS, noted there was a lot that public television could bring to the project, and asked to have a further conversation, while Marie Nelson of PBS appreciated the humanity brought to the subject matter, particularly in handling stories of the poachers involved.
"The moment you put the poacher in that helicopter and he puts a hand on his face and you see the crushing weight of his circumstance and what he's done, that degree of humanity is important and I really applaud you for that.
"I'm not prepared to concede this to Netflix or anyone else. The engagement and outreach piece is infinitely important, and we want to have a conversation with you about how to do that."
It was, however, Brianna Little of Amazon Studios who was most enthusiastic about The Last Animals, noting that even the trailer made her emotional.
"This embodies a lot of what we're looking for in the doc space, and even if we don't get it – if our brethren digital distributors get it – I'm so glad this is out in the world and I'll be the first one to buy a ticket," she said.
Ultimately, Mette Hoffmann Meyer of Denmark's DR, suggested pubcasters band together to get the doc to as many people around the world as possible. Moderator Axel Arno of Sweden's SVT later joked it could be the start of a pubcaster "uprising."
"This is a really, really, really important story. I do think it's a way in which we might be able to work together with all public broadcasters in the world, where you can reach 500 to 600 million people," she said.
"Instead of [giving it] to Netflix, we could do one day where everyone shows the film. So you actually reach the countries where the poachers work, by making it a one-day huge impact around the world. I think you can do that, but you've got to work with the public broadcasters who are the biggest in the world."
MOUNTIE'S HAT PITCH - LIKE A PEBBLE IN THE BOOT
Production company: EMA Films (Canada), IOTA Productions (Belgium)
Director: Helene Choquette
Production budget: $360,000
Like a Pebble in the Boot has been in development for two years and follows Senegalese street vendors working in Florence, Italy. A trailer for the project explained that in December 2011, the murder of two Senegalese street vendors in Florence sparked protests among the vendors. One of Choquette's subjects in the film asks how you're supposed to survive if you can't work. "If you don't have papers or work, the only thing you can do is sell," he says.
The street sellers present a portrait of broader reality and they are facing harder times with the unprecedented flow of immigrants knocking on Europe's door, Choquette said.
The film is a 75-minute feature for theatrical and festival release, and will be delivered in spring of 2017. The budget is 80% financed through the Canadian Media Fund and tax credits in Belgium, among other sources. The team is looking for completion funds, pre-sales and acquisitions. Production is starting soon in Florence and will continue in the fall.
Kicking off the comments was Fabio Mancini, commissioner for Italian pubcaster Rai. "The project is not easy and I think it's a good thing. At first I thought we know [this story], but then in the second moment I thought maybe we don't. Maybe it could be a new way to see ourselves in Italy, and the new citizens in Florence."
He noted that this year the pubcaster has Italian directors filming various stories around the world, but next year, perhaps they could try to have international directors filming in Italy. "Maybe the opposite could be a way to see ourselves in a different way," he said.
Bilaal Hossein, head of film acquisitions for the Qatar-based Al Jazeera English, said the doc is in line with the broadcaster's worldview, and would be an important film for them. "I need to see something unique in the characters coming through. The issues delivered are universal and we need something else to latch on to, something unique that will make it an issue, something that will stick in people's minds."
Pebble also seemed to be a good match for PBS doc strand 'POV.' Executive producer Chris White noted that the immigration debate bubbling up with presidential elections is "extremely topical and timely."
"I have hope in the characters that I've been briefly introduced to, and so I'm definitely looking forward to seeing more. I think you can't tell enough of these stories and finding that strong human and personal connection is important," he said.
Finally, Bruce Cowley of CBC digital channel documentary and Mette Hoffmann Meyer of DR advised the team to clarify any legal issues inherent to the film ahead of time. Hoffmann Meyer in particular said she had worked on similar docs in the past, and you have to be careful not to compromise the subjects' legal situations within a country.
HAPPY WINTER
Production Companies: Indyca, Zenit Arti Audiovisive (Italy)
Director: Giovanni Totaro
Production budget: $335,037 (Some financing secured from Ministero dei Beni e delle Attivita Culturali e del Turismo, Indyca, Zenit Arti Audiovisive)
Still needed: $130,000
Set in Sicily, Happy Winter is a portrait of the Italian families who descend each year on the city of Palermo for holidays, despite difficult economic conditions. Although a beautifully cut trailer did not feature the subjects who will be ultimately followed (those will be decided this summer during filming), it set the scene at the beach, where hundreds of families rent tiny shed-like cabins for the day, and congregate outside to socialize.
The doc – meant to show how Italian people live with the economic crisis in a funny and ironic way – will highlight the importance of holidays for some Italians, who view them as a symbol of wealth. Director Giovanni Totaro told the audience, "It's my first film, it's my dream, it's everything to me."
About 60% of the film has been financed, most recently through an $80,000 investment by Reich Cinema.
Beate Thalberg, commissioner for culture documentaries at Austria's ORF, said that Austrians often holiday in Italy, and the project could be a good fit for the channel, while Bruni Burres, a senior consultant with the Sundance Institute's Documentary Film Program, complimented the film's "very creative and personal" style, adding that it's a nice match with Sundance.
Meanwhile, Kathleen Lingo, series producer and curator of The New York Times' 'Op-Docs' arm, said Happy Winter would make for an excellent doc short, suggesting it could be a "lovely day at the beach, a short portrait, [and] a taste of life in Italy for the global audience."
Chris White of PBS' 'POV' said the quirky trailer was a "visual treat" and loved the aesthetic, colors and composition, particularly the wide beach expanses and close cabins. He wondered, though, how rigorously the director would stick to one type of aesthetic form, and asked if the doc was all vérité, or were there interviews as well.
Elsewhere, Mark Edwards, commissioner for ARTE France, said the charming Totaro was giving Italian Oscar-winning director Roberto Benigni a run for his money.
"We don't work enough in Italy and we want to work more with Italian producers and copros," he said. "We did a three-part series on the middle class in France and it was very successful and very anxiety-producing. It's a real problem on how to deal with the crisis and keep up appearances, and the tone you've found to deal with a serious issue works really well. There's a real seductive aspect to what you're doing and a real style."
AMERICAN MONSTER
Production Company: Yellowbelly Films, LLC (USA)
Director: Patricia E. Gillespie
Production budget: $300,862 (Some financing secured from Kickstarter, Worley Works, Yellowbelly Films)
Still needed: $243,287
Logline: When two bodies are discovered in self-proclaimed "Islamic Satanist" Pazuzu Algarad's backyard, the quiet, conservative suburb of Clemmons, North Carolina, will never be the same.
Before the pitch for this non-fiction crime thriller, the Forum audience was told that Morgan Spurlock's production company Warrior Poets boarded the project as a backer just two days prior, and would make the film into a multi-part doc series.
American Monster centers on North Carolina man John Lawson, who grew up neglected and poor in an affluent suburb called Clemmons. After changing his name to "Pazuzu Algarad," he went on to foster a band of outsiders, who were given sanctuary in his home. He and two others were charged in October 2014 for the murders of two people, who were found buried in Lawson's backyard. Director Trish Gillespie made it clear that the doc would be different from other true crime narratives because it would apply a social lens on its protagonist's upbringing and the systemic causes behind the violence.
"We're challenging the comfortable narrative of true crime by weaving a suspenseful tale of the personal stories of those typically left at the margins of the genre," said Gillespie, who added that she comes from a working-class background, and also lost a friend to a murder that was "swept under the rug in our working-class town." This background, she says, helped her gain access.
American Monster is halfway through production and plans to wrap principal photography in January 2017. The team is currently reworking the material with Warrior Poets.
John Turner, a development executive with Vice Canada, was keen on speaking with the team, noting that the doc was "the most creatively exciting thing [he's] seen at Hot Docs, without question." It's absolutely right for Vice, he said.
Marie Nelson of PBS, meanwhile, had some knowledge of Clemmons and said there was an interesting back-story there involving the racial climate. Gillespie explained, however, that this particular white, working-class neighborhood doesn't interface with many other communities.
Elsewhere, Margje de Koning, commissioner of docs for the Netherlands' EO and IKONdocs, wondered what Gillespie would add to the story that audiences wouldn't already know or perhaps estimate, while Mette Hoffmann Meyer of DR compared American Monster to Joe Berlinger's Paradise Lost trilogy and liked the focus on the structural problems behind the case.
Finally, Nick Fraser of the BBC noted the recent boom in the genre, but warned that "the boom is going to bust."
"A lot of the stuff I'm being offered is crap and should be one-offs instead of five- or six-part series," he said. The commissioner added, however, that if Gillespie can delve more into the class issues behind the true crime it would be doing "a real service."
The project is not to be confused with a series debuting in June on Investigation Discovery, which delves into several cases of American killers that led "twisted double lives."