Italian television is traditionally better known for variety shows than world-beating reality formats.
In a country where broadcasters are more inclined to adapt big international titles such as The Voice  and Got Talent, Banijay Group-owned Magnolia Italy is hoping to score a breakout hit for the market with the dating series Undressed.
In a reversal of the typical first-date scenario, the show asks two strangers who are meeting for the first time to undress each other and get into bed. The pair then spends 30 minutes lounging in their underwear as a big-screen TV asks questions and assigns various tasks designed to foster intimacy. At the end, they must decide to stay in bed or make an exit.
So far, the Zodiak Rights-distributed Undressed has been a hit in Italy where Discovery Networks International-owned lifestyle net Nove ordered a 40-episode second season, three episodes into season one. TLC in the Netherlands is in the midst of airing a Dutch version, and production recently wrapped on the UK and Ireland version, also set to air on TLC. Meanwhile, SBS has picked up the format for Australia.
Undressed's early success has been bolstered by Magnolia's affiliation with the newly formed Banijay Group and its network of international prodcos, as well as new players in the Italian TV market.
A year ago, Magnolia chief creative officer Stefano Orsucci challenged his team to come up with a format with international appeal. Dating series were trending in unscripted and the idea came up for a social experiment-type series inspired by a 1997 study on intimacy by Stony Brook University psychology researcher Arthur Aron.
Aron's original experiment, which was the subject of a New York Times story last year, tested whether or not strangers could form close friendships or romantic relationships by asking each other a series of 36 questions over 45 minutes. The reality TV twist? The participants take each other's clothes off before the questioning begins.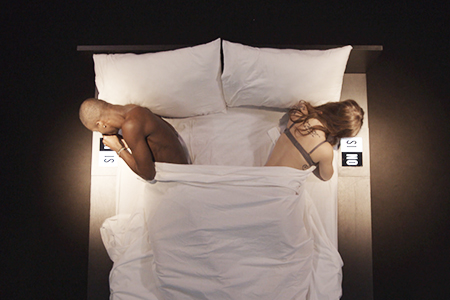 Orsucci pitched the concept during a quarterly meeting of Zodiak Media producers (Magnolia was owned by Zodiak Media prior to its merger with Banijay Group) and exec VP of global creative development and format acquisition Grant Ross was enthusiastic enough to finance a Milan-shot, English-language pilot.
"It gave me the 'whoa' factor," Ross recalls. "We made the decision instantly to say let's keep this one away from the broadcasters and budget, invest and pilot it ourselves. That's how strongly we felt about the potential of the show."
The idea was not the only selling point. The spartan studio set-up of a bed, a screen and two people meant the format could be produced and adapted inexpensively.
"Here we have a show that we believe is going to cut through the fat of all the other channels and do it for a much cheaper price," adds Ross. "We were on to something."
Although Undressed has a titillating hook, the casting is largely what determines if viewers continue to tune in, which is why Orsucci was insistent on finding relatable contestants – who also happen to look good in their underwear.
"We didn't want a show starring wannabe models," says Orsucci, adding the team was "very happily surprised" that a lot of gay people auditioned given Italy's relative slowness to fully embrace LGBT rights. (A recent report from advocacy group ILGA-Europe ranked Italy as 35th out of 49 Western European countries.)
Finding people wiling to get nearly naked on camera was the big challenge for Magnolia at the outset. When Nove picked up the series, execs also emphasized that personality should be the emphasis.
"It's a 'catch-the-eye' type process but then the depth of the characters is even more important because that's what's going to make or break the time after the undressing," explains Ross. "It takes a certain type of mentality to go along with an experiment and not a classic television show."
The Italian version of the series airs at 11 p.m. and crosscuts between two couples per 24-minute episode, while the upcoming British and Irish version will air in late primetime, run 44 minutes and feature at least three couples.
No adaptation has gone off the core format, though standards of beauty and what is considered relatable vary from market to market. "The English very much wanted to make it about the 'everyday girl' and the 'everyday boy' you might come across in the supermarket," explains Ross.
Although nude twists such as Dating Naked and Naked and Afraid have aired in the U.S. for more than a year, the only similar program airing in Italy was an adaptation of Eyeworks' naked dating format Adam Looking For Eve, which supplants nude contestants on a desert island.
Orsucci believes the company's track record for adapting popular international formats such as MasterChef, Hell's Kitchen, Celebrity Survivor and Bake Off helped persuade potential contestants to trust that producers would turn around a respectable show.
With Discovery and News Corp's Sky Italia pay-TV platform increasing market shares in Italy, Orsucci hopes the success of programs such as Undressed – which has been watched by more than 15 million viewers in Italy – will influence national broadcasters Rai and Mediaset.
"[Discovery and Sky] are fresher and younger," he says. "They are giving us signs of the market changing."