If film festivals are any indication, then virtual reality is edging closer to the cusp of mainstream movie acceptance than it's ever been before.
The Toronto International Film Festival (TIFF), which wraps up Sept. 18, is just the latest in the festival circuit so far this year to give prominence to the immersive technology in a way previously unseen, with VR's storytelling capacity across fiction and documentaries featured in a very real way in panel discussions and on screen.
In fact, one of TIFF's earliest events was its POP VR event, which featured five virtual reality film selections, curated to create intimate immersive experiences for TIFF-goers and "explore together where the future of storytelling will take us," according to TIFF artistic director Cameron Bailey. Film submissions from around the world were invited.
Three submissions were docs: Ch'aak S'aagi, which had its international premiere at POP and put viewers in the shoes of Pacific Northwest Indigenous peoples; Jari, which bowed its North American premiere, and made viewers a part of the daily life of the film's titular character and his silent protest against racism in Australia; and Right to Pray (pictured), which screened (maybe 'head-setted' is more appropriate here?) its world premiere at the event, and put viewers in the midst of a group of female activists fighting against regressive institutional forces of patriarchy and tradition in order to win the right to pray in their local shrine's sanctum sanctorum.
"Virtual reality can be applied to any type of film and that is what we wanted to convey when we selected the VR films: to show festival-goers the diversity of formats and stories that come with virtual reality." Michael Lerman, acting director of festival programming for TIFF
The remaining two POP films included an animated short called Invasion! and a Cirque du Soleil-produced martial arts exhibition based on its theatrical production KÀ. 
Michael Lerman, acting director of festival programming for TIFF told realscreen the emphasis on VR at TIFF this year was inspired by the availability of strong projects this year from global creators.
"Virtual reality can be applied to any type of film and that is what we wanted to convey when we selected the VR films: to show festival-goers the diversity of formats and stories that come with virtual reality," he said in an email.
On docs in particular, Lerman added, "Virtual reality has the power to transport a person to a specific location or situation. Traditional documentary film presents reality and circumstantial storytelling, but does it actually place the viewer directly in the depicted crisis or dilemma? VR has the potential to place a person within the actual context of the narrative, and that could be hugely powerful for a documentary filmmaker."
Indeed, that was was often the case for the three docs selected for TIFF's POP event. In Right to Pray, for example, the viewer was not spared from scrutinizing glances from all angles, nor the impact of stones thrown at the camera, and was almost always there along with subjects with a 360-degree view of busy intersections, bustling temple crowds, or from their own seat on a packed bus.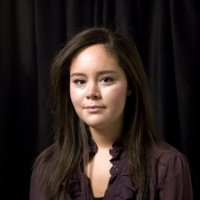 Nyla Innuksuk, a Canadian producer, director and featured TIFF panel speaker this year, said documentary filmmakers (and, she believes, filmmakers in general) still have a way to go to embrace the full potential of VR. Innuksuk (pictured, left), who through her association with Pinnquaq Productions, a 360-VR filmmaking division of the Nunavut-based tech brand Pinnaquaq, has been an enthusiastic pioneer in the immersive storytelling space, and has collaborated on VR projects with the National Hockey League and composer Philip Glass.
But, to date, filmmakers experimenting with immersive tech, particularly in documentary pieces, have relied on 360 to create what she calls "passive" experiential pieces — "like you are sitting in an experience that is evolving around you," she said.
True VR, on the other hand, is fundamentally more interactive and requires the filmmaker to hand over a certain amount of control to the viewers because they are able to look whereever they like.
"If you take film and video games and mash them together, you get virtual reality," said Innuksuk.
Getting that blend just right is much tougher to effectively pull off, she added, noting, "there really hasn't been a breakout hit in VR just yet.
"We are actually still trying to figure out how to shoot, what works well, how to tell stories."
Innuksuk said one of the biggest innovators in the space she's worked with recently has notably not come from a traditional filmmaking background. In this case, she's working with a DJ to create an interactive music video that allows viewers to mix a sound track based on where they are looking.
That non-traditional background is proving a major boost to the project, she said.
"Right now, filmmakers tend to be traditional directors who are hired to direct VR or 360 projects and they sometimes think of it in the same way and follow the same rules (as a traditional film) instead of trying to embrace new mediums," she said.
"If you take film and video games and mash them together, you get virtual reality." Nyla Innuksuk, director and producer
In the case of the DJ, though, "he didn't even have to think outside the box because the box wasn't a reference place in the first place."
Ultimately, despite the ongoing challenges, Innuksuk is among those who strongly believe VR is here to stay, and said film festivals such as TIFF are right to get ahead of the technology curve.
"The problem is, you can describe it to someone, but unless you've actually tried it, you kind of think it's nuts. But once you've tried it it's like, yeah, this is the future," she said.
While the POP event was the first time that TIFF has brought VR tech to audiences at the film festival, it's not the first time the organization has dabbled with it. It's previously proffered two VR-related projects at its Lightbox HQ, first its interactive children's exhibition digiPlaySpace, which ran this year at the venue from March 5 to April 24, and then a three-part POP VR installation series that ran over June, July and August. POP 01 featured music and art, 02 empathy and real-world storytelling, and 03 experimental film. All of them sold-out. The three-part POP event was a precursors to the POP exhibition at the 2016 festival, which won't be TIFF's last VR project. It recently announced a Canadian sesquicentennial project, 2167, which will feature six-commissioned VR projects from Indigenous filmmakers and artists.
TIFF isn't the only festival getting in on the VR game. Sundance and Tribeca also highlighted the technology and, coming up, the Vancouver International Film Festival will be holding a series of talks devoted to the medium called Expanding Frontiers in Storytelling: Virtual Reality on Oct 4. Presented by Creative BC, it will transport attendees into the new mediums of VR and its cousin AR (augmented reality), with key insights from respected futurists as well as conversations and demos from leading VR creators, companies, technologists and distributors, with live demonstrations of VR headset tech including the HTC Vive, Oculus Rift and Gear VR.
with files from Darah Hansen , realscreen